"Mighty Sexy" says the husband
This chemise is easy to put on and take off with no snaps, hooks or clasps. It is very form fitting and moves easily when you do, like a second skin. This could be a pro or con depending upon how comfortable you are with having your body's every bump accentuated. It can be worn under a dress, around the house or for fun sexy times! The breast section includes padding and under-wires so no additional breast support is needed.
Published:
Pros:
comfortable, clings to and moves with body, soft, sexy, has breast support, one piece easy on/off
Cons:
small only good for women with B or C cup, accentuates all curves and bumps
Size/Fit
I ordered this chemise in a small and it fits me just about right. According to Coquette a small will fit you if you are:
Size 4-6
B cup
34-36" Bust
26-28" Waist
36-38" Hips
My sizes:
Height 5' 4 1/2"
Size 4-6 depending on the clothes
B cup
30" Bust (under the breasts)
34" Bust (around the nipples)
28" Waist
38" Hips
Here are some pictures of me in it. As others have noted in their reviews, it shows everything. If you have a bump or a roll that you don't want accentuated, this chemise is not for you. If you don't mind, and want to celebrate your body in comfort and style, go for it! The material has mostly a matte finish; the flash makes it look shinier than it actually is.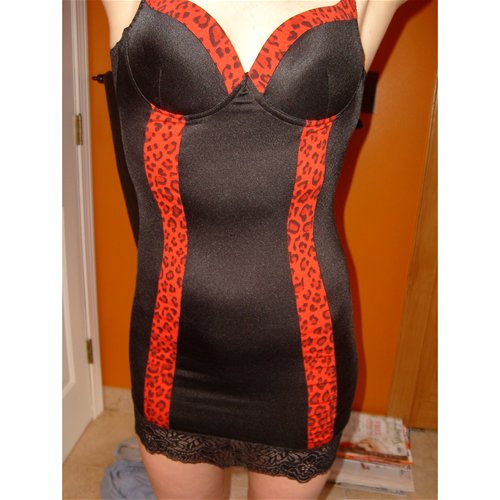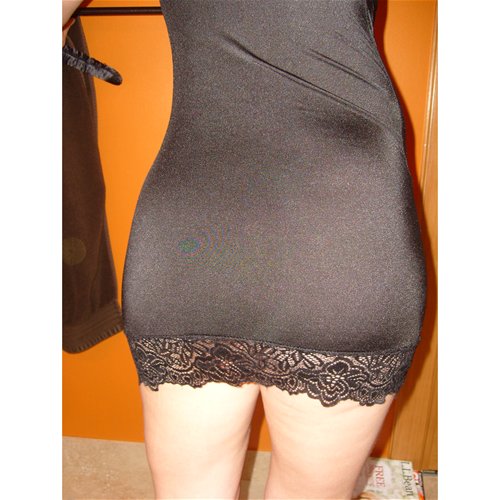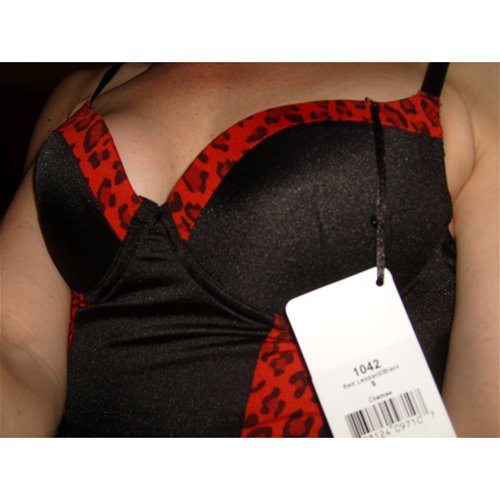 As you can see I'm on the high end of a small in the waist and hips but on the low end in the bust. The body part fits me perfectly, it's not too tight at all, and it fits my body like a glove, which it is supposed to do. This is not a piece meant to fit loosely. The material stretches comfortably and easily when you move. The bottom of the solid part of the chemise fits just below my butt cheeks and the lace goes down my thighs another 2 1/2 - 3" as it is scalloped at the end. There were a few pieces of thread hanging off the edge of the lace that I had to trim. It hasn't unraveled at all yet though.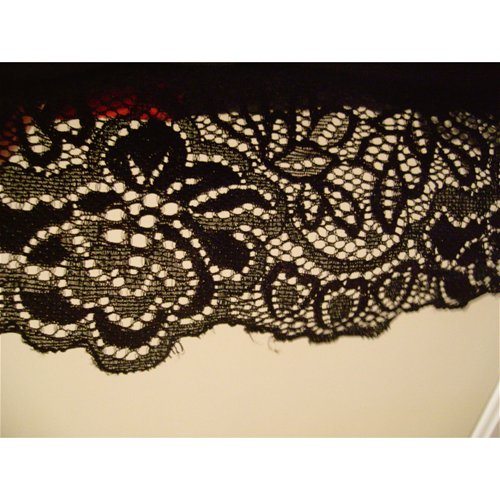 The breast cups are padded in two sections. There is a seam about halfway through each cup and the bottom of the breast section is padded more heavily than the top, pushing your boobs up more for presentation. There is a wire sewn into the material at the base of each boob cup.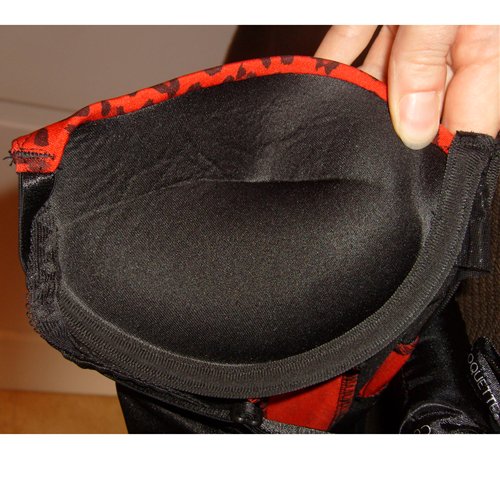 Material and Care
The tag sewn into the back of the chemise says it is 80% nylon and 20% spandex "exclusive of trim". The tag recommends to hand wash only and hang to dry. It's made in China. Due to the padding in the bust and the delicate lace around the bottom I have only followed the manufacturer's directions and hand washed it and hung it to dry. I am concerned about the lace fraying or catching in the wash and I'm also concerned that the padded breast cups may get wrinkled, squished, shifted, lumpy or otherwise deformed by a regular wash and spin cycle.
Packaging
The chemise came on a soft, padded, what I think is satin covered hanger with a small metal pin about two inches from each end. I think these are to hold the straps in place and keep them from falling off the hanger; however, they don't accomplish this. No biggie though, the hanger is wide enough and straight enough so that you don't have to worry about the chemise accidentally slipping off. There is a black ribbon 1/2" wise tied around the top of the hanger where the hook is that says COQUETTE on it every 1/2" or so in silvery writing. The hook is not fixed and can be turned.
The hanger and chemise were inside a clear plastic bag, which is shorter than the length of the chemise, with a seal at the bottom that is sticky and can be easily sealed and unsealed. The plastic is very loud and crinkly and I decided to throw it out as the constant noise of it in my closet when even bumped slightly was annoying.
Here is a picture of the chemise in the plastic bag with the bag opened up so you can see all of it.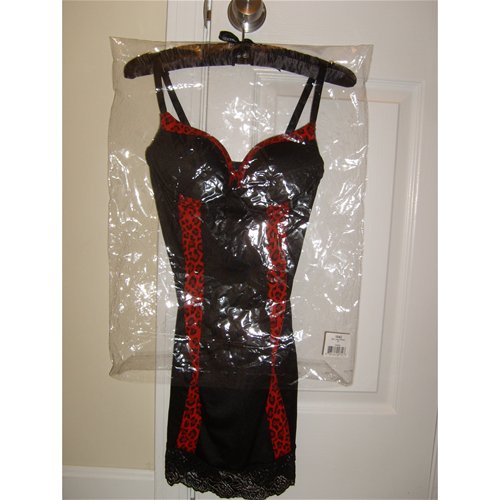 There was a tag with a ribbon through it attached to the top of the chemise by a little black safety pin. Pictures of the front and back of this tag are here: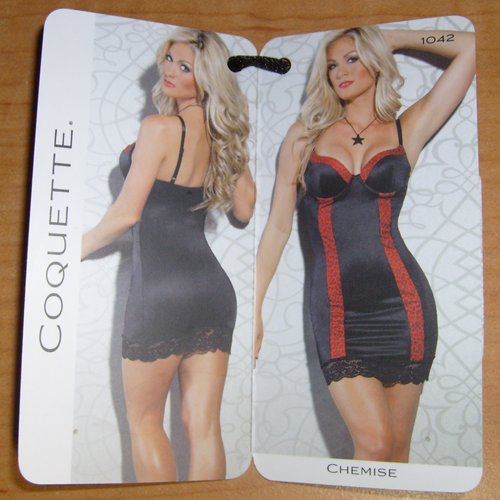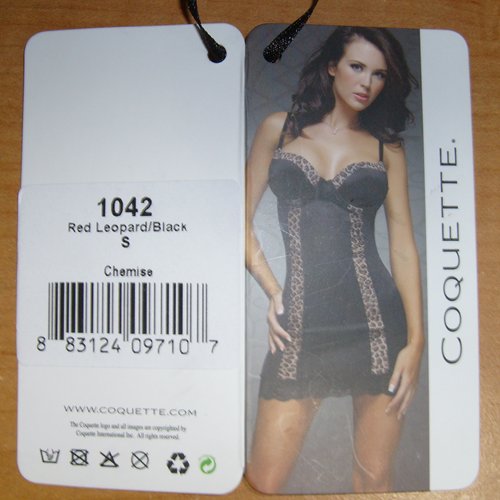 Outside of the plastic bag, the chemise looks very sexy and sophisticated on the soft satin hanger with the bow tied at the top. It's like a little gift, waiting for you, and a gift for the person lucky enough to see you in it!
Experience
With a lot of movement (jogging up and down the stairs in the house because I'm in a hurry and don't want to walk, a lot of bending for laundry, taking things out of the oven, vacuuming, etc.) causes my boobs to fall below the wire. While this isn't hugely uncomfortable, it looks goofy and is not very flattering. I have to pull the material and wire down with one hand and my boob up with the other to get them back in place. There is no way to tighten this area as there is no hook in the back like a bra would have. It's a simple, one piece chemise.

When wearing this chemise under a dress for work, my boobs mostly stay in place as I'm only walking and sitting, but it does tend to ride up across my ass. There's not much material, so it doesn't bunch much, and it's not very uncomfortable, so I usually just let it ride and adjust every time I go to the bathroom. If you have a see-through dress or skirt, this would not work as a slip as it a) is not long enough to provide coverage and b) as I mentioned it rides up.

When worn for fun, which is how I wear this most of the time, it is totally comfortable and sexy. When the kids are gone I wear it around the house to do chores, though usually more than just chores get done if my husband is home! It does ride up as mentioned above, but this is a good thing when my husband is checking me out and admiring the view of my lady bits presented through sexy black lace.
Follow-up commentary
4 months after original review
I see this has been discontinued and I hope they bring it back! I love this little number. It makes me look and feel sexy and I can wear it around the house for fun and under dresses for work and going out. My husband loves it too, especially when it rides up and shows my ass cheeks hanging out. That inevitably leads to fondling and fun sexy times!
This content is the opinion of the submitting contributor and is not endorsed by EdenFantasys.com

Forum
| Discussion | Posts | Last Update |
| --- | --- | --- |
| colors | 7 | |
Thank you for viewing
Red leopard chemise
review page!