Not a pushup bra, and it has questionable quality
This is a standard bra with a cute pattern. It does not function like a push-up bra nor does it have the best support, so I recommended it for women with large, perky breasts. While it has questionable craftsmanship, it is sturdy enough to work well as an everyday bra that you can wear under T-shirts. This bra is highly recommended for plunge-line outfits.
Published:
Pros:
cute design, comfortable, multi-function with different strap configurations, plunge-line
Cons:
not the most support, not a push-up, not great craftsmanship, fragile padding (denting)
Product Information

Size: 32C
Material: 90% polyester, 10% spandex
Care Instructions: Hand wash warm. Do not bleach. Wash colors separately. Line dry. (I've thrown this bra into the wash and dryer and it came out pretty well although one of the cups became a tiny bit dented. If you want it to last longer, follow the recommended directions).
Description: A simple, lightly-padded, zebra print convertible bra. It has a plunge line, but it is not a push-up bra. It has adjustable straps, hook and eye closures, and an underwire. The bra does not feature silicone-like sticky lines on the back of the bra, so I would not recommend wearing this strapless. The adjustable bra allow you to crisscross the straps in the back, use only one strap as a halter, or come up with whatever strap combination you can think of.
Packaging: Plastic bag with tissue paper.

Initial Impressions

The bra seemed really cute with its zebra print on the front. However, just on a slightly closer inspection, I realized that there were many loose threads. While not the push-up it was advertised to be (there is hardly any padding), it does have molded cups so you can wear this as a T-shirt bra. It features a deep plunge, so I was happy I got a bra I could wear with my V-neck shirts.

Fit

I was measured as a 32C in various shops and so I usually only buy 32C bras. This bra fit me perfectly -- my breasts felt supported and covered up enough when wearing. I think it should be fine to buy the actual size that you are.

Support

This bra provides a good amount of support. My breasts are normally perky enough, so I actually don't know if my boobs looked fine because of the bra or their natural perkiness. I think the underwire will provide some support but, if you have more saggy breasts, I am not sure that the bra will hold them up. I feel that the bra is delicate. It seems more like a fashion bra for its stripes rather than having extremely good function. There is a small amolunt of strain on the cloth/underwire at the bottom of the bra between the cups. Some women may not get enough support. Otherwise, I found it comfortable.

Functionality

The function is okay. It does not work as a push-up but it does work fine as an everyday bra. It's especially good to wear under low-collar shirts or dresses because it has a plunge neckline. It seems sturdy enough for everyday wear, although I can't imagine it lasting for more than few months if you throw it into the washer and dryer like I do. If you hand wash it and line dry as recommended, it will most likely last quite a long time. Compared to the other Baci bras though, I think this bra is a little weaker (compared to the four-way convertible bra -- the one like a bandeau). Regardless, it works well enough and the design is quite cute.

If you play around with the strap configurations, you can also make good crisscross and halter styles. Thus, this would be good to wear under dresses or shirts that require those designs so that you can hide your bra under those clothes.

Conclusion

I think this bra is just okay. If I had to spend my money on another bra, I would not spend it on this one. It seems a little more fragile than the other Baci bras I have bought. At this price it is a good buy. Buy at least one of these bras so you have something to wear for those low neck shirts.
Experience
I think this is a cute bra that I'll wear mainly in the summer. It'll be good for slightly sheer shirts because it has an interesting zebra design.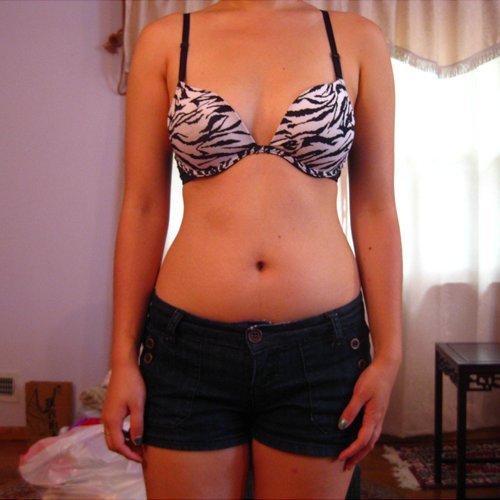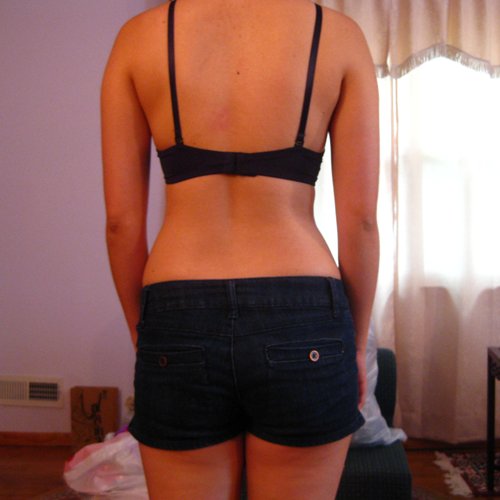 This content is the opinion of the submitting contributor and is not endorsed by EdenFantasys.com

Thank you for viewing
Zebra four-way deep-v push up bra
review page!