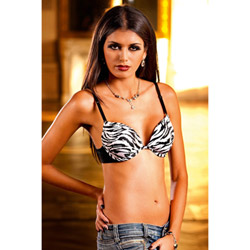 Zebra four-way deep-v push up bra
Bra
by Baci
Zee Bra
I cannot say that I expected too much from an $11 bra, but I can say that this did not let me down to significantly. The sizing is a bit narrow for the cups, which most women will probably not notice or have too much of a problem with. Also, the cups are kind of floppy because it is, after all, a bit cheap for a bra. But, again, for the price... This is a wonderful bra with lots of options.
Published:
Pros
cheap, fits moderately well, variety in sizes and colors and cuts
Cons
cheap, slightly narrow in cup size
Presentation

I have a weakness for zebra styled things. One that I do not understand, and no one else in my life seems to support it! When I saw a new bra offered in multiple sizes, and with a zebra print option that did not include ostentatious colors (like hot pink or electric blue)... I pounced.

This bra came to me wrapped in a little plastic bag, with balled up tissue paper to keep the cups from folding. I thought that this was a push up bra, and assumed that the tissue paper wouldn't be necessary to keep the cups from collapsing... However, I was mistaken. This is a deep-v cut bra, but it is in NO way a push-up bra. Any cleavage you may experience will be from the deep cut.

Materials and Craftsmanship

The bra has a tag attached to it by a looped around thread. I appreciate this because the integrity of the fabric is not compromised by a botched plastic tag attachment.

The tag attached to the bra, as well as the cloth tag inside the bra, will tell you that this is 90% polyester and 10% spandex.

It is soft and stretchy, and it has two removable and adjustable bra straps. The fabric does not itch or bug me at all.

This is a bra for $11, though, and the materials are not going to hold shape very well on their own. When I took the tissue paper out from the cups, the tops of the cups flop down easily in a wavy pattern on the top of the cup.

The bra is padded enough to be appropriate for every day wear, but if you have prominent nipples when you are chilly, you may find them showing through the bra. It is thin padding. As I said before, there is NO additional push-up bra padding to this bra. There is an wire to support the breasts. While it feels thin when I grab onto it to feel it, it does not poke out at all. It is fairly well sewn in.

The craftsmanship is done pretty well for the price. The only flaws I have found at on the unfinished threads on the sides of the cups where the under wire ends. Even this is not too noticeable.

The bra has three double-hooked closure options, like the classic bra designs usually include.

Care

This is made in China.
This bra should be hand washed warm. Do not bleach. Hang it up to dry and be sure to wash other colors separately.
This is the type of bra that I fear will have warped bra pads if thrown into the washer and dryer. Luckily, I don't usually need to wash my bras too often.
Experience
Sizing
I usually wear a 36C bra very comfortably.
Now, I am told by most size charts that I would be wearing an incorrect size. However, this size fits me perfectly without gaping cups or falling straps or the bra pulling up on my chest.
A well fitting bra will lie flat on your sternum area, have pokey underwires in your armpits, or straps that constantly fall down (or dig in).
The part under my bust is roughly 32.5". The fullest part of my breasts measures about 39".
According to some methods of bra sizing, this would make me a 38A or a 34C-D.
Certain methods require you to measure under the bust, add five inches and then round to the nearest even number, giving you your band size. Then take that fullest measurement and subtract that band size from it, giving you your cup size by inches. A being 1", B being 2", etc.
Some methods just say take your under the bust measurement and keep it as your band size, and then add 5"... yadayadayada.
For me, 36C works and is what I purchased.
I believe that it is more accurately a 36B because the cups do not seem as wide as 36C bras. This leaves me with more skin exposed on the sides of my chest, and doesn't feel sexy and comfortable.
I measured this against my 36C deep V-cut bras from VS and AE. They both have wider cups. This is important to me because I have wide shoulders (under my armpit area I measure 37" around).
Now, this is NOT to say that there is a fatal flaw in sizing. It is just something that I noticed.
As far as a bra goes, this is okay to wear. I hope that the cups will reform to my breast and not stay crumpled.
For $11, I cannot complain.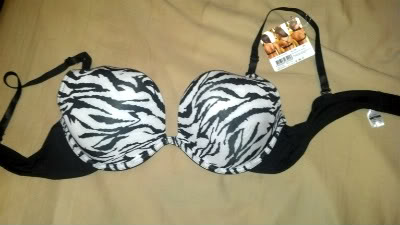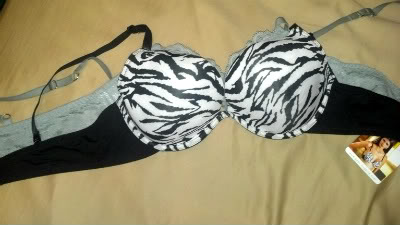 Overtop my AE 36C bra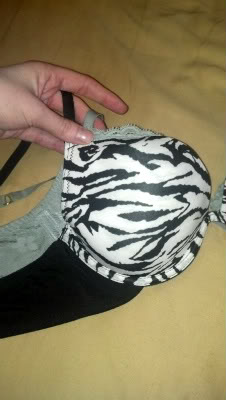 Close-up so you can see the AE 36C is about an inch wider around the wire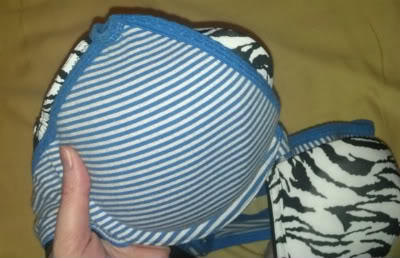 Comparison to a 36B Target deep-V bra. As you can see, the Baci bra is only slightly bigger around the inner edges of the cups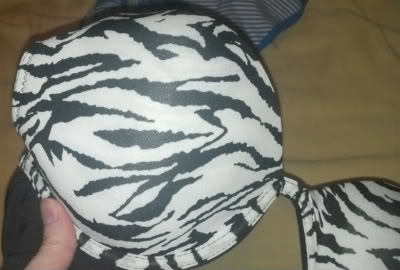 Wavy cups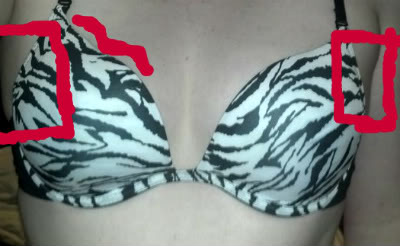 Boxes around areas that are normally inside my bra because, well, it's part of my upper side boob! Wavy line shows that the cup is floppy.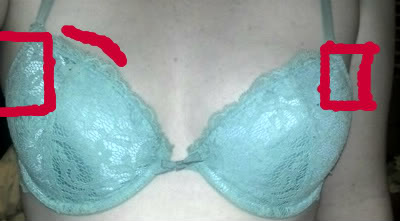 AE 36C... not even my best bra, but I highlighted the same areas. I fill the cups, lines are smooth, and there's no extra boob chilling on the outside of the top of the cups.
Follow-up commentary
2 months after original review
I still wear this bra on occasion, but it has not by any means replaced my preferred rotation of bras. It's sort of a "need to do laundry" type of bra for me. It feels cheap, but it does the job.

I'd still recommend it as a cheap ten dollar bra.
This product was provided at a discounted price in exchange for an unbiased review. This review is in compliance with the FTC guidelines.
Thank you for viewing
Zebra four-way deep-v push up bra
review page!