Rawr, I have sexy bras!
While this bra won't replace your everyday bra it will add a bit od spice to your wardrobe. It can be worn several ways and is surprisingly comfortable. Ladies larger than a D cup might need to adjust periodically or get creative with some double sided tape. These are not meant for everyday wear and won't last long under that kind of use. They are, however, very sexy and make breasts look scrumptious.
Published:
Pros:
Fit well and comfortably, beautiful fabric and colors
Cons:
Poorly sewn, straps carry the whole load, oddly shaped cups
One of the things I regret doing when I was a twenty something was wearing sexy underthings. At the time I rationalized a hundred ways that I didn't need to wear such things but now I think I missed out on something really great. When I saw that some of the Baci bras come in a 38DD I decided that I was going to buy some and see if it DID make me feel a bit sexier.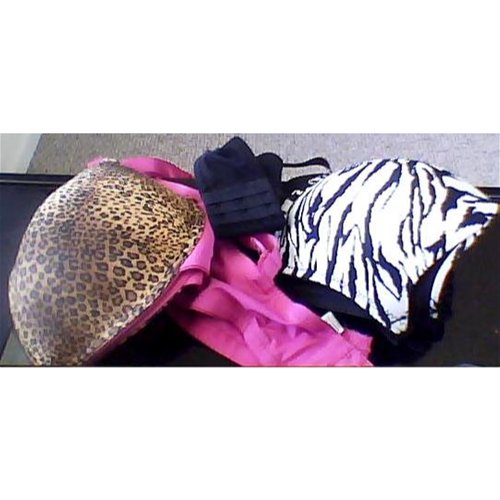 I bought the Zebra Print and the Leopard Print bras. I reasoned that I have plenty of black and white bras but I didn't have any funky colored ones. Imagine it....me, wearing zebra or leopard print! Holy cow, I was excited before I ever saw the bras. I felt like a teenager again and, I have to say that, although these are about the quality you would expect from a $10 bra they are worth so much more to me. These bras won't last forever and they aren't comfortable enough for me to give up my more expensive and substantial utilitarian bras. These are perfect for wearing when I am wanting to dress up all sexy like and go out on a date, or just to go shopping, you know, whenever I am alone with my guy!
The bra fits very well around the rib cage, I was able to wear it comfortably on the last of the three hooks. I probably could have gone with the size 36, but I worry that it might have cut into my ribcage and caused unsightly bulge. I have found that with bras, going down a band size can be like trying to go down two dress sizes. This being said, I feel the bra sizing is pretty damn spot on correct sizing since I normally buy a 38 and wear my bra on the last set of hooks. As a larger, busty gal I need support and I find that a tighter band doesn't irritate my overly sensitive ribcage.
The bra is made of 90% polyester and 10% spandex meaning it is soft and fairly stretchy. The lack of higher levels of spandex, however, means that the band has more give than a higher quality bra will. It doesn't give firm posture support nor will it entirely take the strain off your shoulders from the bra strap. For me, this is ok because it means my bra strap will not fall down my shoulder as often as it will on my more expensive bras, but for heavier breasts this could lead to discomfort. I haven't noticed any undue stretching of the elastic portion of the band or any fraying even after washing in the washing machine. Normally, I hand wash my sexy underthings but Sigel didn't realize these bras are classified as sexy underthings and threw them in the washer AND dryer. They held up well but I would recommend that the reader washes them like any other lingerie to prevent stitch raveling and elastic twisting.
The bra straps have metal hardware and are completely detachable. You cannot wear these bras without the straps as the cups have nothing to support them if the straps are removed. It does, however, mean you can wear them in various ways. You can wear them straight over the shoulder, crossed in the back, crossed in the front, over only one shoulder (if your breasts are smaller and won't pull down the cups), or if you hook the bottom of the bra strap as I have illustrated as a halter bra.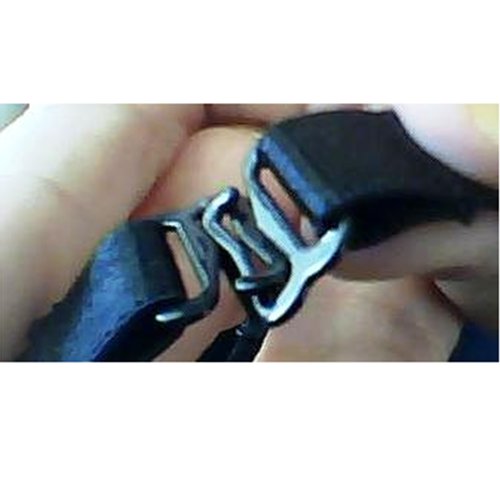 The clasp won't lie flat but it will stay firm and can be hidden under hair or a halter strap. You could also tie or safety pin the bra to create a pretty good halter bra. You could also use one strap to hook the cups and stretch around your neck if you are small enough to do this comfortably.
Experience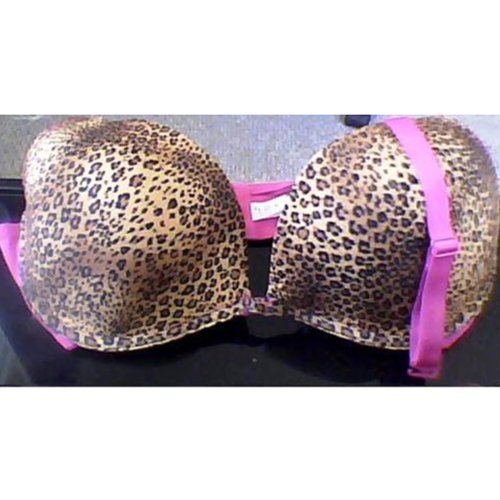 The area on the cup where the bra strap attaches is poorly sewn and I urge the buyer to take a good long look at the way the metal hook attaches to the bra. There is a small and almost hidden pocket through with the metal clasp slides. The user must be careful to attach the bra through the entire thickness of the pocket or risk tearing the fabric or having a strap come undone while wearing. I put in a couple of extra supporting stitches on my bra just for security. We can't have the girls jumping out and frightening a bystander!
The stitching on these bras is about what you would expect from a $10 bra. Some loose ends and unfinished threads are evident and easily taken care of, or ignored. This isn't a piece of lingerie that will last many years of constant wear. It's meant to be a part of your wardrobe not a staple!
As far as the cup size, well here things become a bit more complicated. I have breast dysmorphia which, in a nutshell, means one breast is significantly larger than the other. My left breast is almost one cup size larger than the right one. My right breast is just at a DD meaning my left breast is closer to an E though it measures right at the very tip top range of the DD measurement, if I tighten the measuring tape a little more than most people do. I have tried buying a bra with cups measuring E but it was a disaster because it was just too big for the right breast and uncomfortable. I am pretty damn comfortable in a DD bra so I usually stick to that. My breasts are long rather than round which further complicates the bra buying!
This particular bra has a different cut than the ones I normally wear, in that it is a plunge bra, or a deep V push up, which means I need to take a bit more time than I normally do to situate my breasts properly in the cup. I do not want the quadruple boob bulging over the top of the cup nor the sideways bulge into the armpit look. Neither are flattering!
With this style bra I find that I can balance the breast fairly well and with normal movement my breasts stay put and look amazing! I find that I might need to excuse myself to a restroom or quiet corner to readjust slightly if I have to pick up my son who loves to pull at my bra straps when he is startled, which is fairly often. Otherwise I don't have much trouble with wayward boobs.
The cups are lightly padded and have a half cut underwire that really helps to shape my bustline and don't poke me in the side or underarm. The underwire rests firmly against my ribcage and is actually very comfortable though not as flexible as my everyday, all day, utilitarian bra. I don't feel as though the bra really pushes anything up or gives really firm support but it does hold my breasts where they are supposed to be and make them look yummy.
Follow-up commentary
10 months after original review
While I still like and wear this bra it isn't the most comfortable bra in my lingerie drawer. The cups are just a shade awkward and require me to adjust my breasts to prevent bugling and "wardrobe failures". It is still very pretty, sexy and makes my breasts look amazing. Honestly, if I was just a half cup smaller than my DD it would probably be much more comfortable and I'd wear it more often.
This content is the opinion of the submitting contributor and is not endorsed by EdenFantasys.com

Thank you for viewing
Zebra four-way deep-v push up bra
review page!