Oh baby...if only you fit (Large)
The Pink Daisy Lace babydoll is absolutely gorgeous. I love the soft pink lace and the smooth black beneath it. However, it just doesn't work for me. As a pear-shaped woman with a smaller chest, it's just not flattering on my body. I would recommend this to any woman who has the chest to pull it off. It's stunning and can be amazing on the right woman.
Published:
Pros:
Gorgeous colors, smooth fabric, adjustable straps and band
Cons:
Cups are too large
Description
The Pink Daisy Lace Babydoll set is a babydoll and g-string from Coquette. It arrived in a plastic bag with a plastic Coquette hanger. The hanger can be kept for storage, but a regular clothes hanger would suffice.
The cups of the babydoll are a light pink lace. They have no padding or lining so they are see through. They do, however, have underwire for bust support. Between the cups is a small black bow and a lips charm. The straps of the babydoll are adjustable so the level of bust support can be adjusted to an extent. At the point where the straps meet the pink lace cups are small black bows. All of the bows are not removable.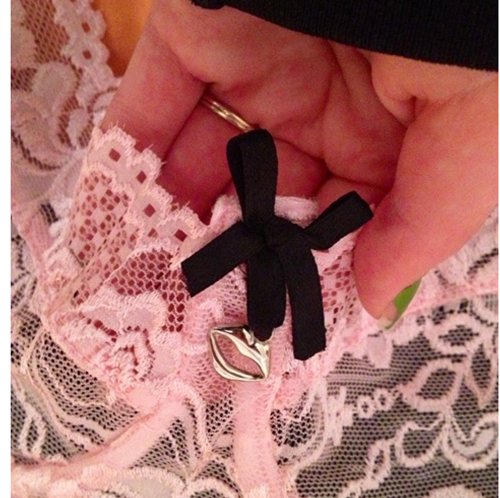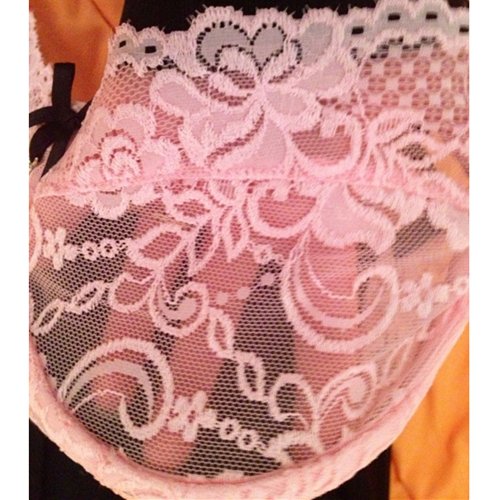 The back of babydoll has three sets of hook and eye fasteners, similar to many bras. This allows you to adjust the tightness of the "band" under and around the bust of the babydoll. Underneath the fasteners is a small keyhole. The pink lace of the cups continues around the back so part of the back is also see through.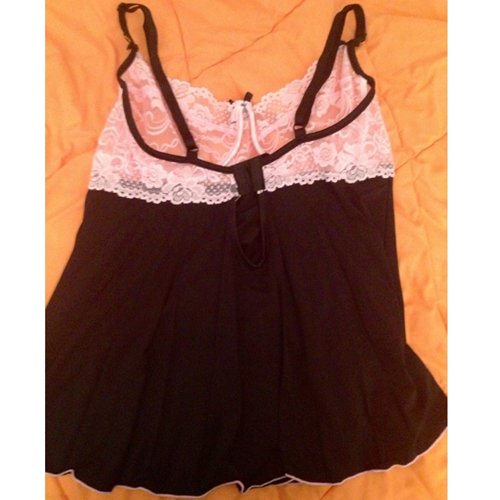 Under the pink lace of the bust and upper back is a solid, opaque black portion that flows nicely over your torso and your curves. The black portion is trimmed with pink around the bottom. The black portion is 80% nylon and 20% lycra. It is incredibly smooth and slinky fabric. It feels cool to the touch and glides over skin so easily. The lycra does give this babydoll a fair amount of stretch. I wish more lingerie were made of this fabric blend. The babydoll is 17 inches from the center of the cups to the hem and 14 inches from the armpit to the hem. From the center of the back to the hem, it is also 14 inches. Along the bottom, the hem is roughly 26 inches across. It is designed to crease and pleat when it is worn so it is not going to be that large when it is worn.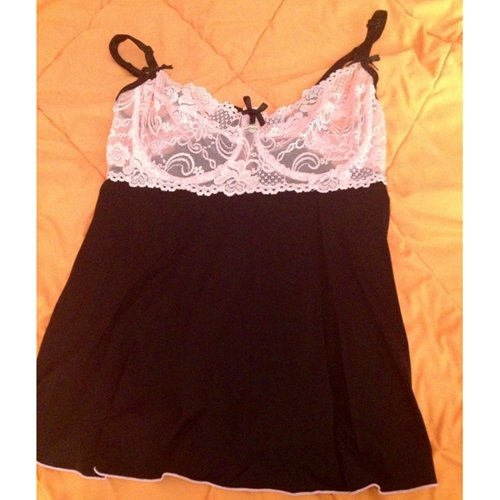 The included g-string is solid black and does not have a liner. The g-string is made of the same nylon and lycra blend that the torso portion is made of. It probably wouldn't be suitable for long-term or everyday wear because it is not cotton and does not have a liner. I found the g-string to be too tight and uncomfortable. I don't like string style underwear so I wouldn't wear it even if it fit well. I have a pair of lacy black underwear that I wear in place of this g-string. The waist of the g-string is 14 inches. It has some stretch to it, but not enough for it to fit over my hips.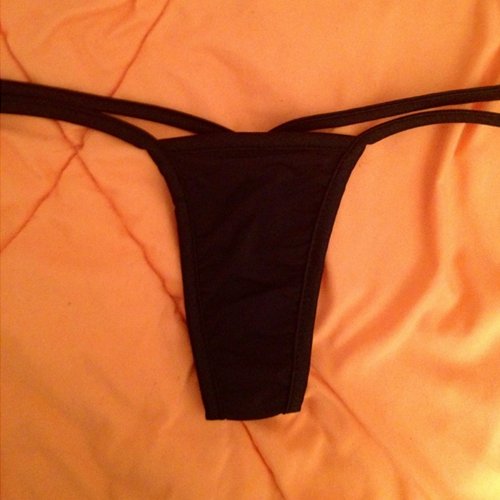 Cleaning and Care
This babydoll must be hand washed and hung to dry. The lace is delicate and can easily tear in a washing machine. The material can also shrink if you machine dry it. Use a mild detergent or a designated lingerie wash on this material. This babydoll can be hung in a closet for storage or it can be folded and placed in a drawer. Please keep in mind that this babydoll does wrinkle fairly easily so it may be best to keep this hanging in a closet.
Craftsmanship
I looked this over and everything appeared perfect. The lace didn't have a single tear, the torso portion didn't have a single run. There were no crooked seams or loose strings. As I was putting this on the first time, I noticed the band felt a little awkward so I reached back to check that I had properly hooked the fasteners. The lace had started to separate from the fasteners on one side. I'm sure this compromised the quality of the fasteners and the band. This made it sit weird on my body.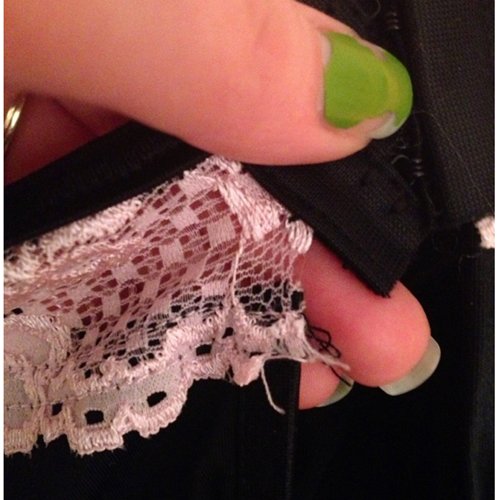 Experience
I'm kind of convinced that Coquette doesn't like pear-shaped women with smaller chests. Every Coquette piece I have had has been just right or too small in the hips but way too big in the chest. This piece was no exception. When I put this piece on, the lace cups swallowed my chest. I had absolutely no cleavage and the underwire would not sit against my skin under my bust. When I moved, the underwire wouldn't stay under my chest. No matter how I adjusted the band or the straps, I couldn't find a way for this to flatter my chest. This past year, my weight has undergone a lot of fluctuation. I lost 25 lbs between January and June. I lost most of my weight in my chest (how unfair!) so my chest changed shape and size dramatically. In June, I started putting some weight back on. Of course, none of it came back in my chest. Because of this, I've been on the hunt for lingerie that can flatter my "new" chest. This piece just couldn't do it. A smaller size would have fit my chest much better but it would have been too small on my big hips. As it was, the large barely "skimmed" over my hips. If it were any smaller, it would have sat tight on my hips and would not have provided the flowy property that babydolls need. If I move in a certain way, it clings to my lower stomach or hips in a very unflattering way. The babydoll was short enough that the bottom hit at the widest part of my hips, which I also found unflattering. I prefer lingerie to accentuate my smaller waist and hide my wide hips. Looking at the size chart, I am below the measurements for a large, so it's no surprise the cups are too large. However, my hips wouldn't fit well in a medium.

My measurements, at last time I measured:
Bust: 36C (maybe a large B cup by now)
Waist: 29"
Hips: 39"
Weight: 155 lbs
Height: 5'4
Size: Usually a 10 or 12

Coquette's Size Chart for Large:

Size: 14-12
Cup: C
Chest: 38-40
Waist: 30-32
Hips: 40-42

On the right person, this babydoll can be absolutely stunning. I have read so many great reviews on this set so I was excited to receive it. However, it just doesn't work for me and my body shape. I do love this babydoll, just not on me. I would definitely recommend it if you have the chest to pull this off. It's comfortable and the material feels amazing on the skin. The babydoll has a sexy, playful look to it that can bring out your sweet, angelic side.
This content is the opinion of the submitting contributor and is not endorsed by EdenFantasys.com
Thank you for viewing
Pink daisy lace babydoll set
– babydoll and panty set review page!