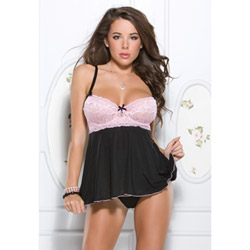 Pink daisy lace babydoll set
Babydoll and panty set by Coquette
Pretty pink babydoll set (L)
This is a gorgeous, well-made, and comfortable babydoll that should fit and flatter many different sizes and shapes. It actually supports my larger breasts which is a feature that most lingerie lacks in. With not a thread out of place and everything else that is going for this babydoll I'm giving it the whole 5 stars!
Published:
Pros:
~Price ~Many sizes available
~Comfortable
~Craftmanship
~Flattering
Cons:
~Thong has no liner and is designed weird in the back
~Nothing at all about the babydoll!
This is something that I have returned to numerous times and debated on getting but always chose something else until now! I figured I wouldn't stop looking at it until I just took the chance and purchased it, and I am so happy I did. I find myself kicking myself in the ass for is not getting it sooner now that I see how beautiful it is!


The Pink Daisy Lace Babydoll Set by Coquette has two pieces included in their set, a thong and the babydoll. It is available in two different colors, the pink I'm reviewing and a baby blue. It is also available in five different sizes, those being SM, MED., LG., XL., and 1X/2X. My review will be based on the large.

Even though the design is simple I'm going to describe it the best I can, but I'm sure I won't do it justice because it is just gorgeous! Suprisingly, this is one item that looks exactly like it does on the stock photo, it just feels so much softer than you would imagine. Made from 80% nylon and 20% lycra (exclusive of trim) it is extremely soft. You can barely feel the lace against your skin, and the bottom is so soft and silky it almost reminds me of a a very high quality bathingsuit material. Out of all the lingerie I own I have to say I think this is by far the softest textured and most comfortable! The adjustable black bra straps are even silky! On each side of the straps where they meet the pink lace cups are two small black bows. From those bows down to right under the bust is a semi large floral lace pattern. I don't really think the floral pattern looks like daisies, but it is still pretty. The pink lace wraps around to the back hooking together like a bra strap with its three sets of hook and eye for better adjustment. Underwires are built into the bust for support with larger breasts, and they are very well padded leaving you not even realizing that they are even there. Note though, that there is no padding or lining in the cups just purely the soft lace. Inbetween the two cups is another small black bow with a little charm of lips dangling beneath it adding to the cutesy look. The black silky material that starts right under the bust is opaque and formed into an "A" line shape so it grazes over your body hiding any imperfection you might have. This babydoll unlike some isn't open in the front or the back, but is solid all the way around besides for a small keyhole right under the hook and eye in the back. Even the hems are well thought out having the baby pink thread on the black and black thread on the pink lace. I think the different colored thread balances out the piece.

-Unstretched under bust is 14 3/4" inches wide
-Difficult to get an accurate measurement of the bottom due to the way it is cut, but it is about 23" inches wide when laid out flat.
-From top of strap to the bottom is 23" inches long
-From the top of one end of the underwire to the other is 6" inches



The thong is alittle akward with the way it was constructed. The back is in a "V" shape and twists when you try to lay it flat. Made from the same material as the babydoll means that it is soft and silky, but also a breeding ground for bacteria since it holds in heat and there is no cottonliner inside. The front is wider than the back at 3 3/4" inches wide at the top and 2" inches wide at the bottom of the crotch. The back is 1/2" inch wide at the top and 1 1/2" inches wide at the bottom. Although it is quite stretchy and should fit a wide range of woman because it is 14" inches unstretched and 22 1/2" inches when fully stretched out.
Experience
Cup Bust (in) Waist (in) Hip (in)
Small 4 - 6 B 34 - 36 26 - 28 36 - 38
Sm/Med 6 - 10 B 34 - 38 26 - 30 36 - 40
Medium 8 - 10 B 36 - 38 26 - 30 38 - 40
Med/Lg 10 - 12 C 36 - 40 28 - 32 38 - 42
Large 14 - 12 C 38 - 40 30 - 32 40 - 42
X Large 14 - 16 D 42 - 44 34 - 36 44 - 46
One Size 4 - 14 B 34 - 40 26 - 32 36 - 42
1X/2X 18 - 22 D 46 - 50 38 - 42 46 - 52
3X/4X 24 - 28 D 52 - 56 44 - 48 54 - 58
My sizes:
10-12
155-160lbs
38D-DD (depending on brand)
5'5"
I can't gush enough on how beautiful this babydoll is! It is very well excuted with the design, and the craftmanship is flawless with no loose threads or out of place stiching. I believe the sizing is quite accurate besides for the cups which I think run alittle larger than they say. That is perfect for me though as you can see the cups fit me pretty well when in reality my breasts should be hanging out of them.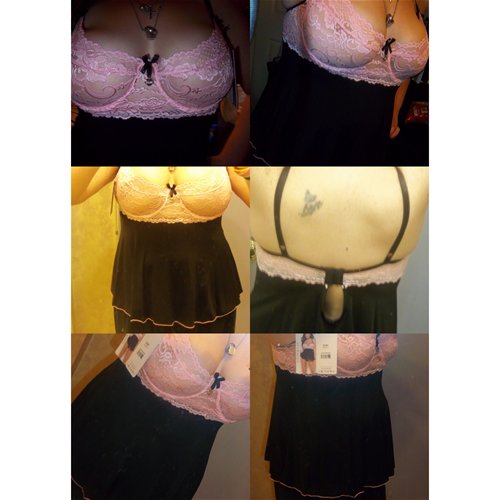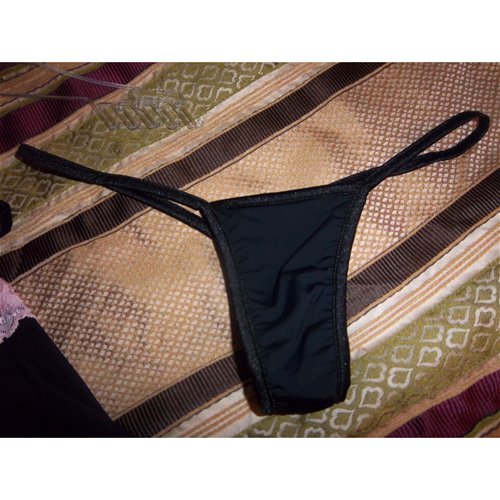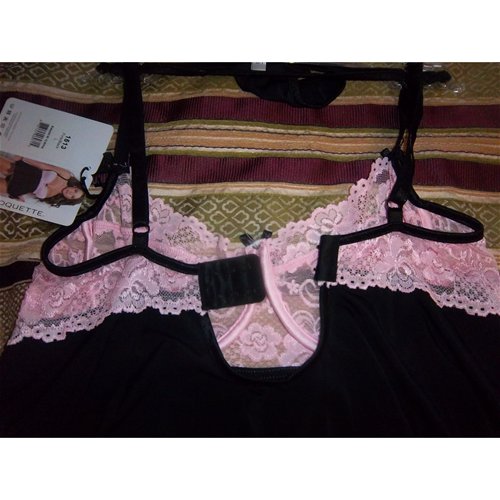 As with most lingerie it is recommended to hand wash and line dry.
Follow-up commentary
1 month after original review
So soft and comfortable still after a few washings in the washing machine, confirms to me that this is a beautiful set worth every penny! I still absolutely love it and have found myself more open to getting more of the babydoll style because of this one.
This product was provided at a discounted price in exchange for an unbiased review. This review is in compliance with the FTC guidelines.

Thank you for viewing
Pink daisy lace babydoll set
– babydoll and panty set review page!