Paging my underwear: Are you there? I can't tell.
These practical and sexy black boyshorts are the softest underwear I own, good quality, and still maintain a sexiness inherent to black underwear. It's no wonder these are never in stock.
Published:
Pros:
comfortable, super soft, great fit, stretchy, substantial liner, does not create love handles
Cons:
none I found but unfinished/non-elastic waistband could bother some people
The Holiday Black Panty by Coquette is quite popular, and it took me several tries before I could throw one into my order because the one size fits all was always out of stock. Now I understand why! I love these.
How they feel:
These microfiber boyshorts are the softest underwear. They feel almost like liquid, if that makes any sense. They are so comfortable I can't even tell they are on as I sit here with them underneath my jeans.
How they fit:
A feature of these that can be a curse or blessing depending on your body is that there is no real waistband. I hate that even underwear that fits can create love handles that aren't there when I'm naked. These do not do that. However, if you are too small for them (I'm a size 2 so that's unlikely) they could fall down due to lack of elastic, or if you find that they don't stretch enough, that could also cause problems, but I think that this one size fits all is pretty successful in its sizing. They're about 13" across in the waist, but they can stretch much more.
How to care for them: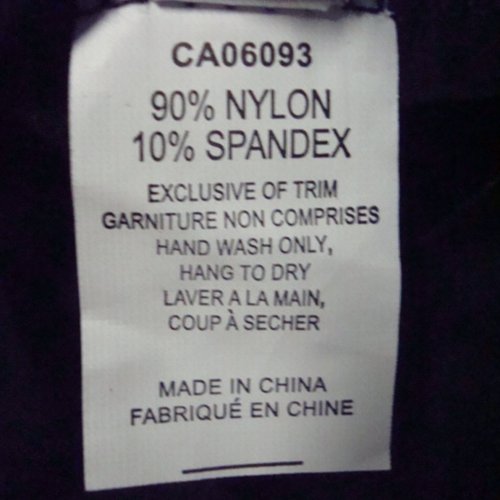 As the tag indicates, these 90% nylon and 10% spandex underwear are hand wash only and should not be put in a dryer. The color did not bleed when I washed them with cold water in a hand-cranked hand washing machine that I use to hand wash my lingerie. I squeezed out the water without wringing them, hung them up, and let them dry. They were not ruined by this process, unsurprisingly, but I would not be surprised if I put them in a regular washing machine and they came out sad. I would definitely not be surprised at their destruction by a dryer or iron. They don't get wrinkled so there would be no need for these things anyway.
What do they look like for real?:
Just like the product description! Here are some pictures of the package, them off, the tag safety-pinned to it, and them on me!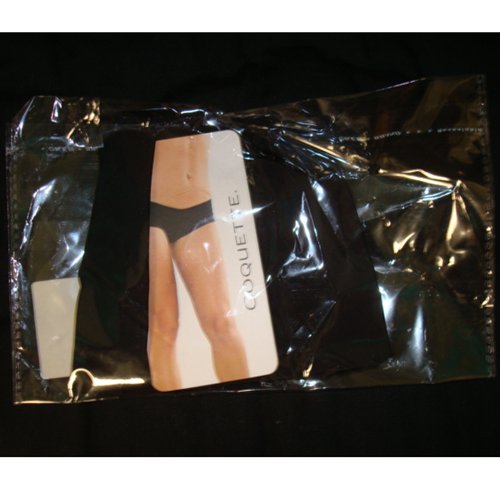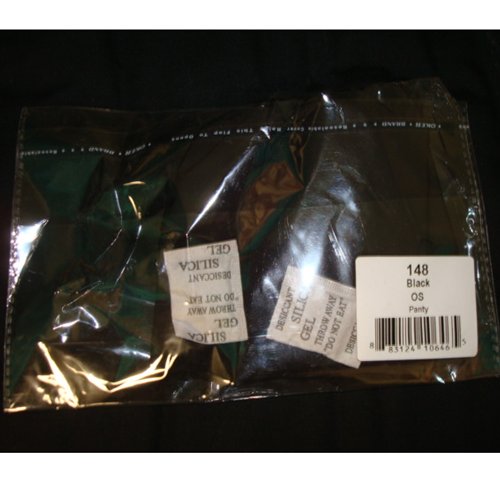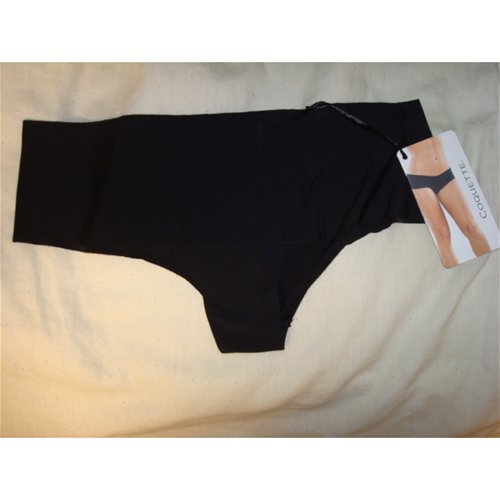 As you can see, there is a seam in the back.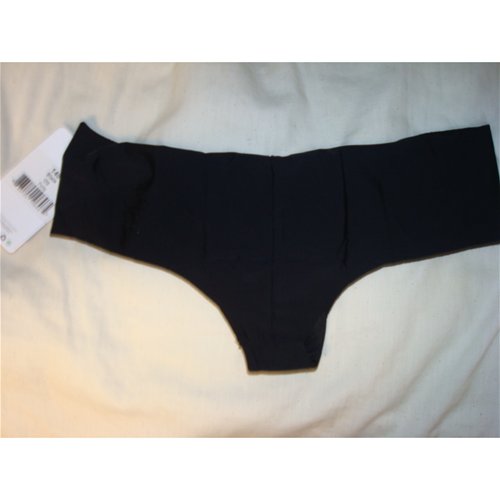 There is also a bit of an unfinished look since there's no hem. This isn't noticeable when worn.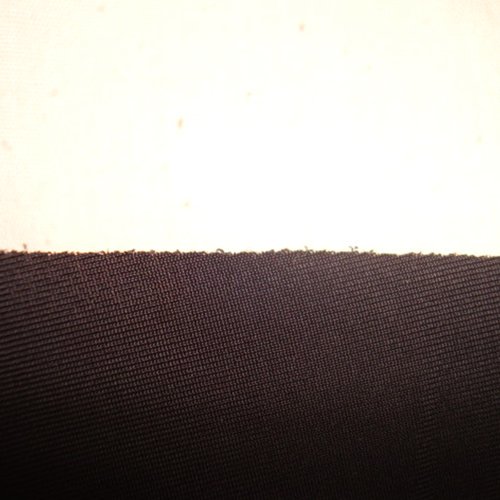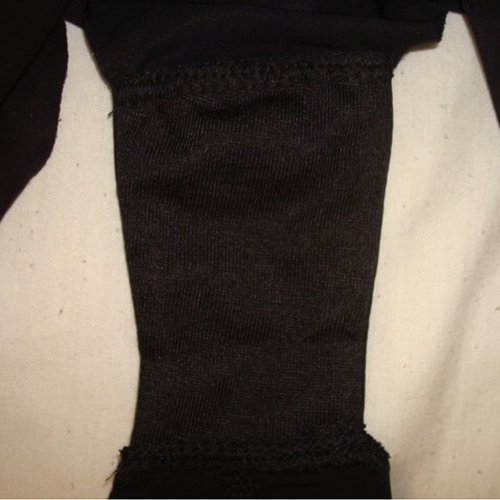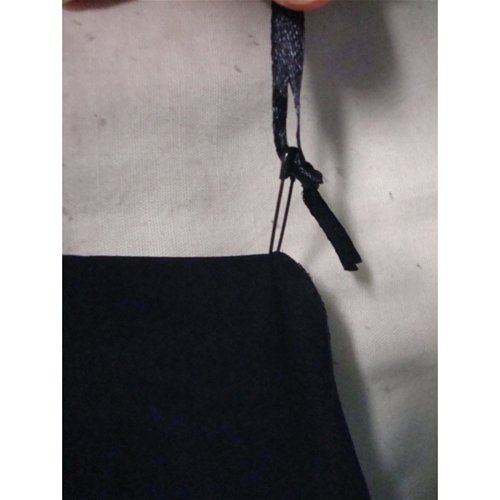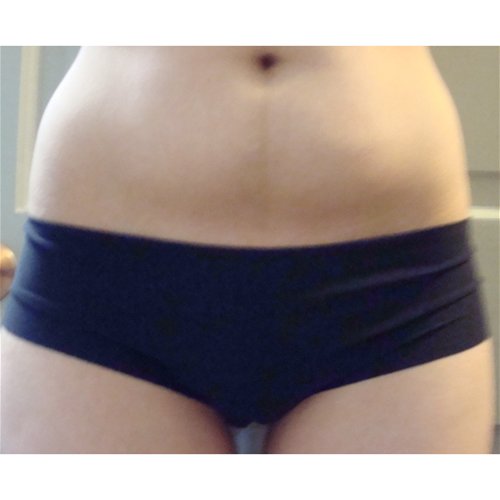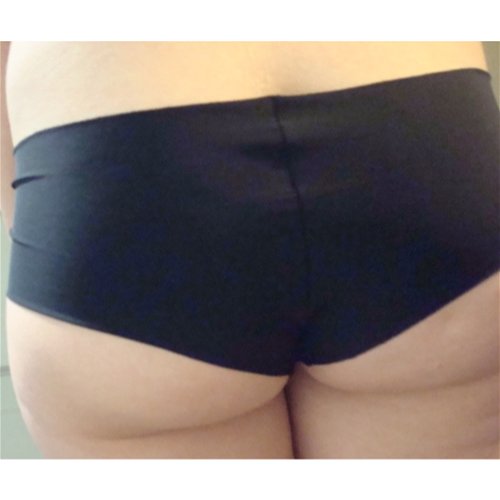 Experience
I am having a great experience with these thus far. My partner really likes them, and so do I! These are super practical--what woman does not need black underwear? Black underwear are perfect for periods, sex, underneath little black dresses at work functions, or just for yourself on regular days. These are incredibly comfortable and I am definitely interested in nabbing a red pair or even a second black pair. These are good quality, especially in comparison to the Holiday Stretch Panty also available this season from Coquette. I thought I had scored with those because I liked them a lot but I took them out this morning and they had a tear despite me caring for them properly. I don't anticipate having those issues with these underwear.

What I noticed immediately after putting them on was that I felt like I was wearing nothing, and they didn't ride up like a lot of boyshorts do. I then put my jeans on and wore them the whole day. I wore them for 12 hours, and I couldn't tell I was wearing them aside from that I could not feel denim against my ass. They're super soft to the touch and they fit great. They're not tight, so they don't make any areas bulge in ways I don't want them to. They also don't feel like they're going to tear or have other problems, aside from possible loose strings from the unfinished waistband. However, that's worth it to me to not have love handles from underwear. These are great!
This content is the opinion of the submitting contributor and is not endorsed by EdenFantasys.com

Thank you for viewing
Seamless black panty
– sexy panties review page!