Simple, Soft, Sexy...and a Wedgie - is the Seamless Panty.
These sexy seamless undies come in both red and black. There are two sizes available - OS and XL. They are a "barely there" feel because they are smooth, seamless and so simple. They tend to slide since they are so smooth, and this results in a major wedgie. If you can get past that, they are great. They look super sexy on, and feel like nothing's there (until you get the wedgie of course).
Published:
Pros:
Seamless
Soft and Smooth
Comfortable
Cons:
Can give you wedgie as you walk!
I really need more underwear (that are not thongs) in my life. My entire underwear drawer seems to be thongs now-a-days. I am not sure what happened, because boy shorts used to be my favorite! While I do like thongs because they are small and don't have a panty line, they can also be terribly uncomfortable. So when I saw these undies "hit the shelves" at EdenFantasys, I immediately added them to my cart. So now that I have gone back to a boy short cut style of panty, what do I think? Well you'll have to read more to find out!
Packaging:
Nothing special
The Seamless Black Panty by Coquette came with no packaging other than a small plastic sleeve. It was just the panty with an attached product tag inside. The product tag is typical to Coquette – high quality paper, nice photo images and descriptions. The information on the tag included care instructions, size (OS), product number (148) and barcode. The tag was attached with a satin string and small safety pin. For now I am keeping this tag, just in case I decide to take the tag off the panty, if they ever do become bothersome. That being said, the panty does have some information on them on the sewn in tag on the back. I tugged at the tag and it feels easy to take off if needed.
The Contents: Panty
Made in China.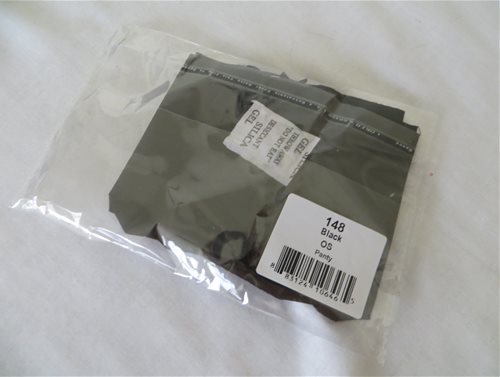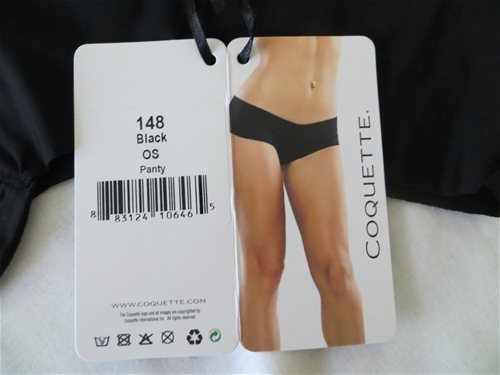 Care/ Maintenance:
Forgot to handwash, no problems.
The care instructions for this item: Include hand washing, hanging to dry and no bleach. I think it is terribly inconvenient to hand wash underwear, so I always test my luck in the washing machine. Typically I put them on a delicate cycle, but these accidentally got thrown in with a normal wash that included tee shirts, jeans and socks. Whoops. Luckily, there were no problems. I noticed when I was transferring my clothing to the dryer, so I was able to snag them at this point and hang them to dry.
I have worn them since washing them in the washer on a normal setting, and they are totally fine. Next time I will do them on a delicate cycle or in a lingerie bag though. I don't want the main thing that is going for these – the material softness- to wear out by not caring for them correctly.
As for storing these, I don't do anything extra special. These seamless undies get thrown in with all of my other undies in an underwear drawer in my dresser.
Size:
Two available, take it or leave it.
These panties by Coquette have a very basic sizing available. There is either OS or XL. I choose the OS undies. I am typically a size small-medium. I wear size 4-6 in dresses and jeans. The rest of my measurements can be found on my
profile page.
According to coquette sizing chart Size OS fits sizes 4 - 14, 26 to 32 inch waist, and 36- 42 inch hips. The measurements I took of these - waist unstretched is 30 inches. The waist stretched is 37 inches. From back to the front is 16 inches. The sanitary panty line is 3 inches long and 2 inches wide.
I feel like the OS was a good fit for me. I can see how these could fit those bigger, but for those smaller, they might be a little loose. They stretch well, and you can definitely squeeze into them. I would say they are a good fit for medium-large.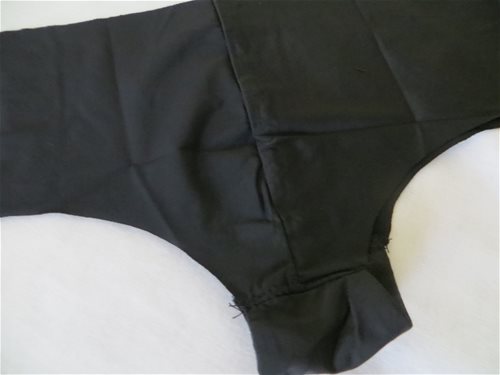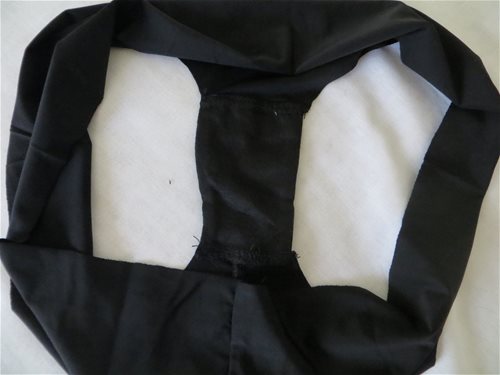 Design/Shape:
Really? Seamless?
This item comes in the colors: black and red.
I choose the black since I was looking for everyday undies, I didn't need any more bedroom undies. However the red looks really stunning and would be excellent for holidays or special occasions. Maybe I will order those if these last me a bit longer.
Experience
continued...
The cut is like a boy short, but even shorter. Depending on how bubbly your butt is, they might even be more like a thick thong. There is no waist band to hold these up, the fabric just finished in a cut off manner. There is a little uneven section because of the way it is cut. The fabric just sort of ends. They aren't completely seamless either. Say what?! There is a seam down the back of these, right on the butt crack. There are also seams in the panty's crotch area where the cloth panty liner is. The undies don't sit straight on your hips, they are in the shape of "V", which can be flattering or not depending on your tummy. They are very easy to slip on and off, which might be a problem if they are too big for you, they might just ride down as you walk in them! There is a tag in the middle of the butt which is a bit bothersome, but I haven't been bothered enough to take it off just yet. They have a nice stretch, are comfortable and feel good on until you get the walking wedgie. When sitting completely still in these, there is no problem, but as soon as I walk they ride right up my butt crack. It is very irritating and I found myself tugging at them frequently.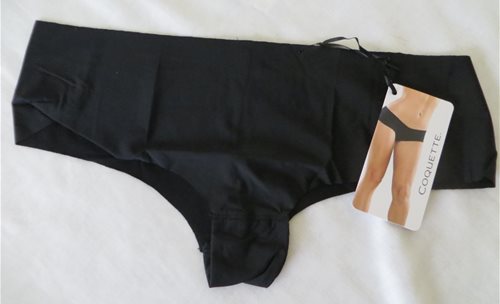 Material/Texture:
So smooth
The Panty is made from 90% Nylon and 10% Spandex. The panty liner is a cloth, probably cotton. The panty is very soft to the touch and when wearing. They are that silky "barely there" feel. They are very stretchy and clingy, yet they do not dig in anywhere or cause an indent in your skin. They feel average for craftsmanship, not perfect but not terrible either.
Personal Experience :
A big walking wedgie
I have a weird love/hate with these. First, unless you like wedgies, this is their biggest problem. NO matter what I did, I kept getting a wedgie. I am not sure if this is because there is no waist band, so they would ride up or because they were so soft and smooth. Either way, very annoying. Other than that, I love how they look on, just like the product images. I love how soft and silky the material is and how it felt like I was wearing nothing at all. I love these for the fact you can wear them to avoid panty lines and they are full coverage. They are not my sexiest pair of undies, but they are somewhat practical. I am going to keep wearing them to see if I can get used to the wedgies and I will let you know! ;)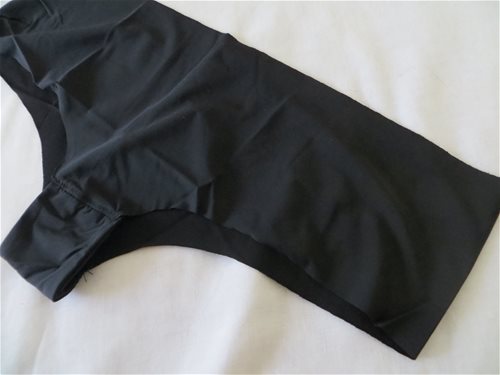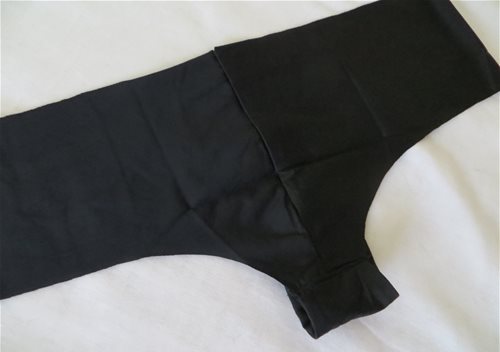 This content is the opinion of the submitting contributor and is not endorsed by EdenFantasys.com

Thank you for viewing
Seamless black panty
– sexy panties review page!