-Ravishing Vintage Chemise-
I have to admit that it's a pretty sexy piece. I like how it covers up a lot, yet still has some sexy going on with it. I love the style and cut of the chemise. There were no imperfections of any kind. I didn't find any loose threads or frayed edges. I'm giving this chemise 5 stars. If I was just a little taller, with smaller breasts, a XL would be the perfect chemise for me. It would be a great piece for both genders.
Published:
Pros:
-Comfortable
-Large breast cups
-Well made
Cons:
-Won't work great with garters for people under 5'2"
-Introduction-
The Raspberry Fields chemise by Coquette in size 1X/2X arrived in a cellophane style clear packaging that seals at one end. You can keep this bag for storage or you can recycle it. The Coquette logo is stamped all over the bag. There was no panty included with this chemise.
The chemise is a halter style chemise. The bra cups are triangle shaped. I am able to report that this chemise fit me better than the
Raspberry babydoll
. The cups on the chemise are much larger and they have a lining which gives more support than just a lace layer. I'm happy to say that these cups worked! Now, if I could only get these cups on a XL.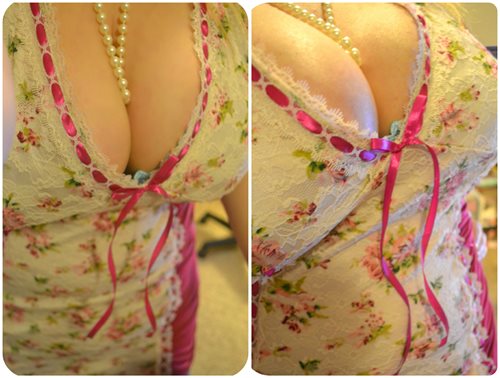 There are 4 types of materials on this chemise. There is an ivory lace with colored flowers, and solid colored raspberry spandex. There is also another ribbon style ivory lace, and satin ribbon.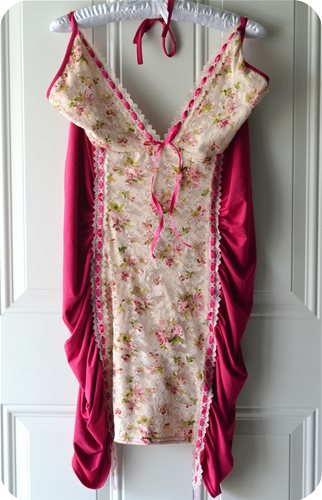 The cups are made of a ivory lace with patterns of dark and light pink flowers and green leaves. On the edges of the cups, there is an extra layer of ivory lace that has pink satin ribbon running though the 'eyes' of the lace. In between the cups, there is a dark pink satin bow with some long tails. The tails are 9" long. If you don't like them, they're easy to trim. Just cut at the angle that they are now, to your desired length. The bow may be a little long for me, so I may trim it. If you don't like bows, this one will be easy to remove. It's stitched on by a single thread.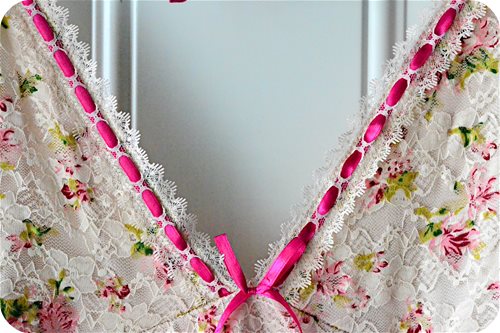 Running down the middle portion of the chemise is the same layer of lace that is on the cups. This isn't sheer. My hand isn't visible when I place it under the fabric. This lace runs all the way to the bottom of the chemise, and it runs 9" across the chemise. The back of the chemise is patterned the same way, with the lace panel in the middle. All the trims are the raspberry spandex. On top of each lace panel, sewn on top is the same lace ribbon that has the satin ribbon running through it. This follows all the way down the chemise and has the garters attached at the end. The garters aren't stretchy, and they aren't removable, or adjustable. The garters have clear plastic and rubber clips.
I do like that the breast panels, tummy panel, and back panel all have the liner. The liner feels like a soft nylon, and it keeps the lace from itching or irritating the skin. The liner is not on the raspberry portion, because it's already soft as can be. There is a ruched raspberry panel on both sides of the lace tummy panel. These raspberry panels really show off the curves. I almost didn't make it to take photos when it first arrived because of my partner squeezing on my hips and behind while I was wearing the chemise. It really makes the hips and behind look great! I will admit that it shows my tummy rolls. You can see in the photo. There is also not as much breast support as I would like. It is comfortable enough to wear around the house, and to sleep in.
The seams on the inside were meticulously sewn by a commercial sewing machine.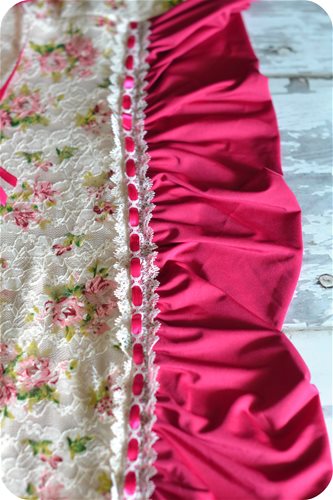 With me being short, the chemise was too long for me to be able to wear my nude thigh highs with. The garter clips fell right below my knees. This was disappointing. Anyone over 5'3" shouldn't have this issue. Also, it was loose on me, so that caused it to hang down longer. Filling it out more would have shortened it. There are 4 garters on the chemise. Smaller sizes will be shorter.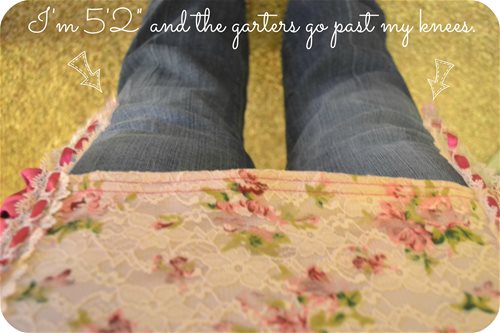 The raspberry panels seemed to be a bit longer on each side. Check out the photos closely. I guess it was made this way to accentuate the curves, and to give a more proportioned look. The chemise does show some glorious cleavage. It doesn't have any underwires or padding for full support, but the lining and halter straps help a little. The halter straps come off each side of the breast triangle. Each strap is 19" long, and they are the raspberry spandex fabric. The straps are soft and non itchy. They will dig into the back of the neck if a lot of weight from larger breasts, is placed on them.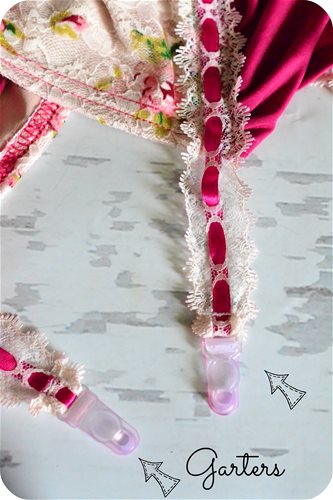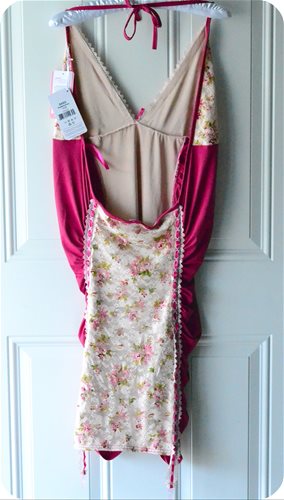 I've included the main measurements below, and if you need more, please send me a message.
- My Sizes-
Breast/Bra Size- 38 DDD or F
Waist- 36"
Hips- 41"
Height- 5'2"
Usual panty size- 7
Size L in Victoria's Secret panties
Experience
(Continued)
-Chemise Measurements-
Total width across front of chemise at waist: 18"
Full circumference at waist of chemise: 36"
Total length of chemise from between breast cups: 21"
Length of chemise in back: 22"
Front of waist measured across stretched: 21"
Breast cups area measured across: 14" in middle of cups.
Cup diameter at widest part: 11 1/4"
Length of neck straps: 19"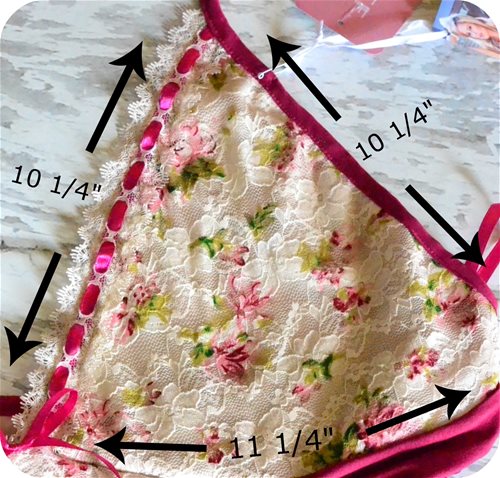 -Material-
The Raspberry chemise is made from 90% nylon, and 10% spandex, exclusive of trim. The lace is sheer with a nude colored lining under it. There is also a mixture of light pink and dark pink flowers, with green leaves, in the lace as well. The spandex used is a raspberry color. It contrasts nicely with the ivory color. The satin ribbon used for the bow is shiny, and it's about 3/8" wide.
-Fit-
The fit of the chemise was a little loose on my body. I've purchased most of the raspberry Fields line, and this one runs the largest out of them all. It's also the most comfortable. Nothing about any of the fabric bothers me. I feel comfortable enough that I could lounge around or sleep in it. You could even wear it out of the house if you felt like it. There is no sheer parts to it. The full chemise is opaque.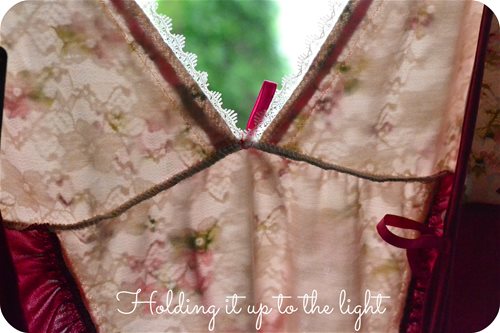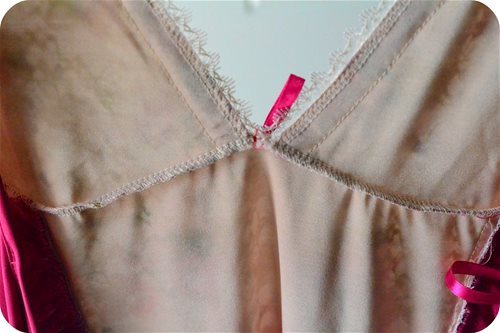 The only issue I had was how the halter ties pulled on my neck a little. If I loosened them up, it revealed most things that lingerie models don't show. These cups will fit most sizes of breasts. If you have over an F cup, it may be stretching it, literally. The cups do stretch well. That's why this one fits better than the babydoll. Everything on the chemise does, except the garters. I like it, but I do know that the XL would have fit my torso better.
I also wore my
Raspberry Fields Panty
with the chemise.
This truly does fit like a 1X/2X. I say that because the cups are a lot bigger than the OS/XL, and it's a lot more loose on my body.
I've included the size chart below.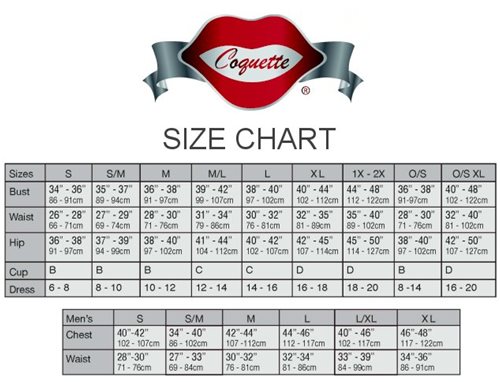 -Partners View/Rating-
Oh, do I have a story to tell about this chemise. I walked in my house today and I had a surprise waiting on me. It was a set of balloons, a cute stuffed bunny, a note, and the chemise! My partner liked it so much that he asked me to wear it for 'them'. I died laughing at how funny and cute it was. I had to drag the ensemble over to my studio area and take a photo. He is such a cute comedian, I just love him.
I knew that I could incorporate it into my review, somehow. I accepted his proposal to wear it for him, on Easter.
He definitely liked it.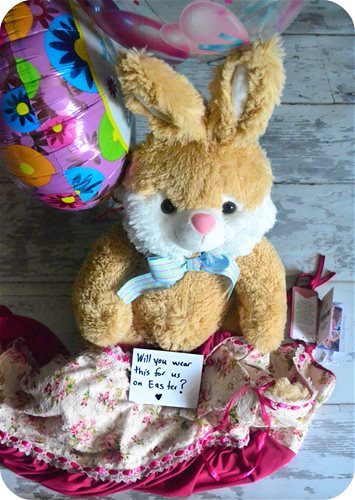 -Care/Washing-
The care tag inside the chemise says to hand wash, and hang to dry. I would suggest washing it by by hand because of the lace material. The lace can get torn or damaged, if it's placed in a washer. I store the chemise in my lingerie closet on one of my padded hangers from Coquette.
Follow-up commentary
4 months after original review
I adore the raspberry fields chemise. It's sexy, sweet, and sophisticated. It is for someone who appreciates the girly style of this piece. It screams summer!
This content is the opinion of the submitting contributor and is not endorsed by EdenFantasys.com

Thank you for viewing
Raspberry Fields chemise
review page!