Satin Bustier
The Satin Bustier isn't exactly solid as the photo shows; it's a little sheer. That was a bit of a con for me as I was expecting something solid. It is a pretty piece though and comfortable to wear.
Published:
Pros:
Pretty
Comfortable
Optional garter and shoulder straps
Cons:
A bit sheer
I'm going to start out this lingerie review yet again apologizing for my camera. I have a "smart" camera but it doesn't seem to know how to adjust itself correctly in some situations. The flash is just too bright and makes the tops seem see through when they really aren't and it isn't noticeable in person. Turning the flash off and going into the brightest room in the house doesn't give the colors justice either. I'm just frustrated with the whole picture deal. Also, please ignore the crazy pajama bottoms, I was too lazy to change.
This is my first bustier so I wasn't really sure what to expect and I'm really still not too sure since I have nothing to compare it to. It does make me want to "suck it in" and fits well on my body. I don't feel like it is too tight or uncomfortable though there isn't much room but that seems to be the point; to shape you and hold you in. The bustier is soft and feels comfortable. It appears solid in the photos but it a bit sheer in reality. I mean you can't see EVERYTHING but if you're really looking you may be able to make out some skin on the torso or a belly button. I wanted to wear this out but I'm not sure if I will. I may give it a try just when hanging out with some girl friends to get their opinion. It is a pretty piece though. The lace may be a bit itchy but it didn't bother me much. The pink bow between the breast cups doesn't seem to want to lay flat for me. I don't know if that is because of my size or how it was packaged.
Packaging
The bustier came in a clear plastic bag on a clear plastic hanger. This piece comes with optional garter straps and shoulder straps in black.
Material/ Care instructions
The tag says that the baby doll is made of 18% spandex and 82% nylon. All around this piece is soft and silky to the touch except for the lace part of course. The plastic boning doesn't provide much support. There is a little padding in the cups but not enough to enhance your cup size. There is no breast support. There are 3 rows of eye hooks.
The tag says it's best to hand wash this top and hang it out to dry. Others have said they have used cool water and a gentle cycle; I haven't tried this yet.
Size/Fit
According to their sizing chart, for the XL, my measurements should be:
14 - 16 dress size, D cup, 42 - 44" bust and 34 - 36" in waist.
This is NOT the case with me. I am currently a size 15 (which is too big but a 13 is slightly too small). I wear a B cup and my bust is 40" and my waist is 42".
The bustier is 15" long and 17" wide
The top fits but there is no "wiggle room". I can sit and bend comfortably. This feeling is new to me because I'm used to wearing clothes that have a bit of room and feels relaxed. I don't feel like it is too tight though one spot in the back puckers a little in some positions.
From the top of the breast to the bottom of the second ruffle it measures 24" long
Across is 17" wide (measured at bust)
Below are my photos, sorry for the quality.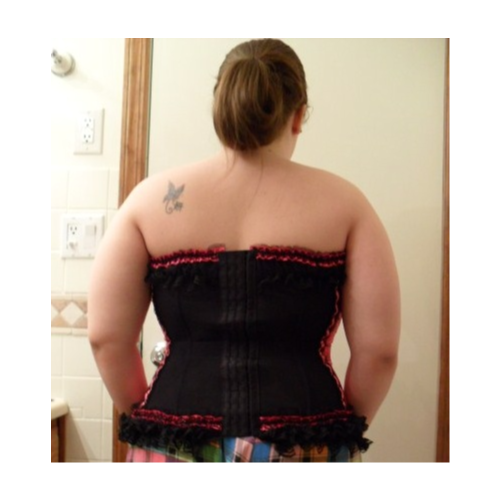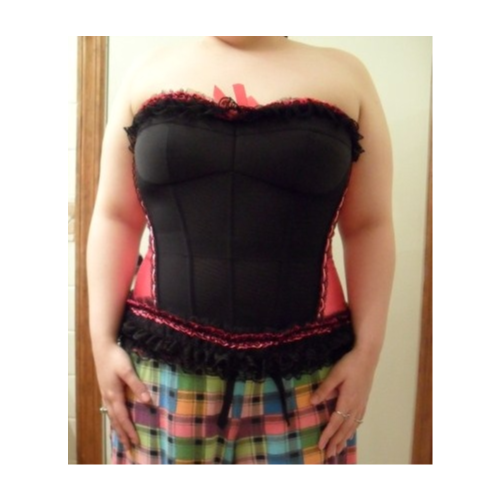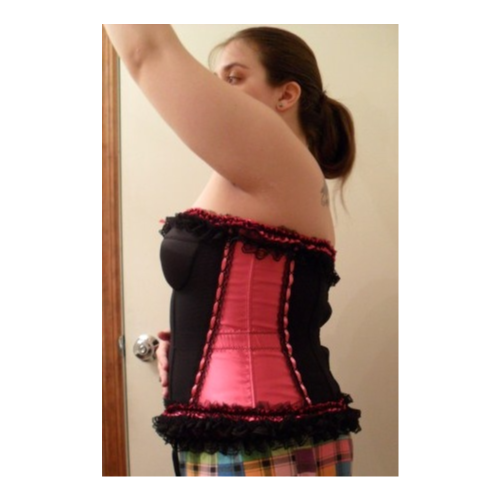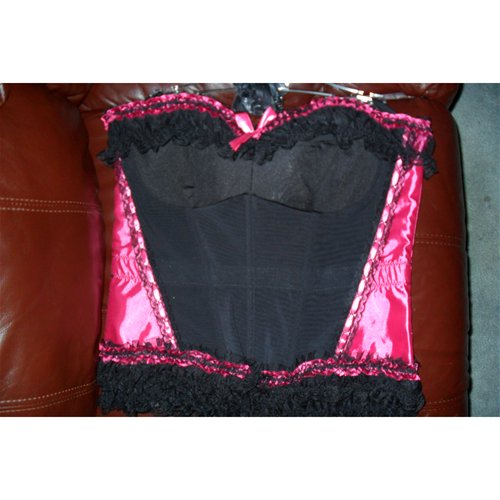 Follow-up commentary
2 months after original review
I was a little disappointed in how sheer the black was in this piece. It just sits in the closet...
This product was provided free of charge to the reviewer. This review is in compliance with the FTC guidelines.

Thank you for viewing
Satin bustier
review page!