Total Sex Appeal! (1X/2X)
The Satin bustier is both sexy and classy. It's very frilly and feminine. Just add some black gloves and some thigh highs and heels and you'll have one stunning ensemble. This is an excellent choice for busty women. It works great for those of us who are smaller in the rib cage and waist area but have larger breasts. I really love how Coquette sizes the bustiers and corsets to fit us who don't quite fit into the other brands because of our breast size.
Published:
Pros:
* Gorgeous
* Well made
* Fits Busty women
Cons:
* May be a bit shorter on the torso for those over 5'4" tall
I purchased the Satin bustier by Coquette in size 1X/2X. The bustier is made from 82% nylon and 18% spandex for the main materials.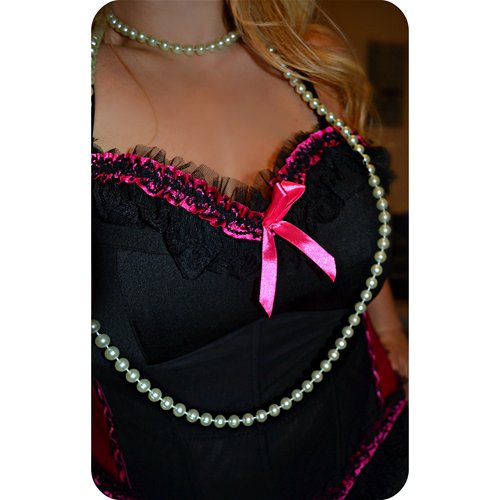 At the top and bottom of the bustier, there are 3 layers of satin and lace trim that are sewn on top of each other. Starting at the bottom of the layers, there is a black lace layer and it's 3" wide. This layer of lace is stretchy and soft. On top of that layer is a pink satin lace. The pink lace is about the 7/8" width lace. On top of the pink trim, there is a very thin black lace sewn on top of all 3. The top lace trim looks to be 5/8" width. The bottom of the bustier has the same layers except for an extra bottom layer of the 3" stretch lace. This seems to add a bit more ruffle and length to the bustier. The layers on the top and bottom follow around the full area of the bustier. There is a satin hot pink bow directly in between the two cups. This bow is made from satin 5/8" ribbon.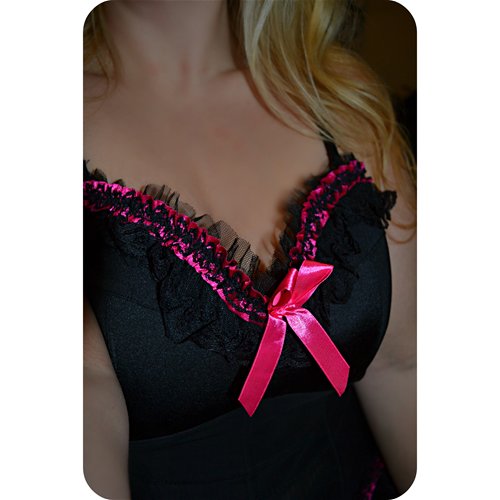 There are 11 plastic boning pieces total. They are all flexible and bend easily. None of these arrived exposed or poking out. These also did not dig into my body. The boning pieces all vary in length.
There are 5 on the front panel of the bustier, 4 on the back portion and 1 under each arm area.
The main materials used on the bustier are satin and mesh material. The front panel is black, heavy mesh. The black panel has 3 boning pieces and they start below the the breast cups. The breast cups have a T-shaped seam sewn into them, there are no underwires on these cups. A seam like this gives more of a lift to the breast. On each side of the black mesh panel, there are 2 satin pink panels. These panels have lacy detailed, boning coverings on the two outer boning pieces. These consist of a black lace layer with 3/8" satin ribbon running through the lace. These loops of lace are very pretty and they bring a lot of attention to detail on this piece. On the side of each pink panel, there are the black mesh panels that hold the hook and eye closure system. There is one boning piece on the black mesh and then the ends do not have any boning to them.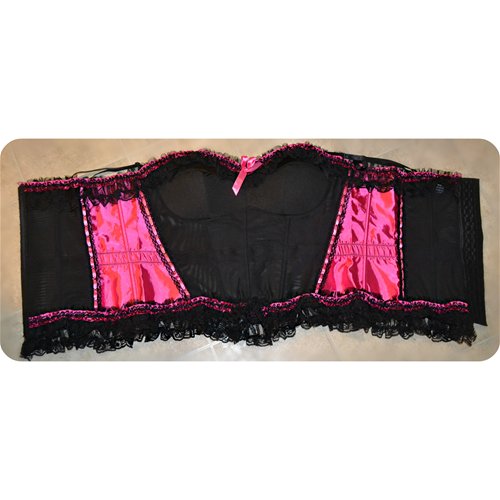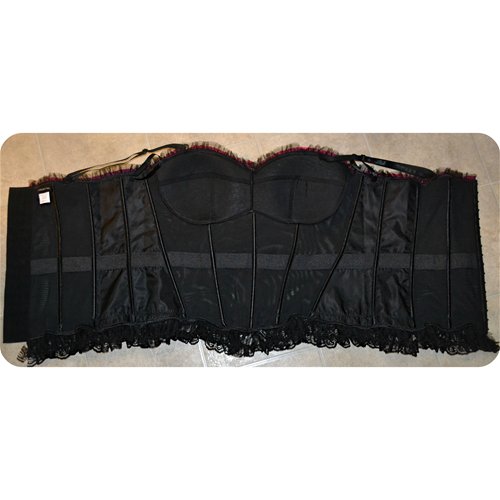 The hook and eye system is used on this bustier in the back. There are 3 rows of eyes that are great for adjusting to your exact size. Each row has a set of 17 eyes and there are 17 hooks. This length is measured at 12 3/4" without including the lace. With the lace included, it measures at 15 1/2".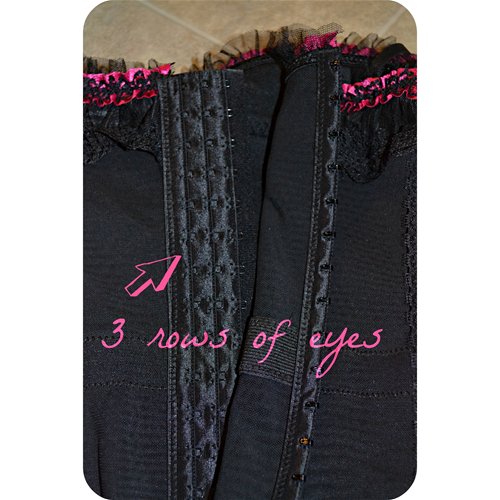 There is an elastic panel that runs across the middle of the bustier. This elastic is 1 1/4" wide. I'm assuming that this holds in the waist and the boning pieces tighter than without using anything. It's sewn in well with a black,zip zag stitching. The elastic is 37" long unstretched and about 43" long, stretched.
Inside the bustier, on each side, there are 2 satin pieces of black ribbon that are used to hang up the bustier. These are 7" in total length from end to end.
There are 4 removable garters and 2 removable shoulder straps included with the bustier.
My measurements:
Bra Size-38F
Waist- 37"
Hips- About 42"
Pants size- 14 Petite or 13-15 in Juniors
Height- 5'2"
Bustier Measurements:
Bra cups (Top to bottom)-7"
Bra cups (Horizontally)- 8 1/4"
Length from top front to bottom front-14" without lace, 16 1/4" with lace
Length from underarm area to bottom of lace- 15"
Length from top back to bottom back- 14"
Garters shortest- 6"
Garters longest- 9.5"
Shoulder straps shortest- 9 1/4"
Shoulder straps longest- 16 3/4"
Garter and shoulder strap widths are 3/8" wide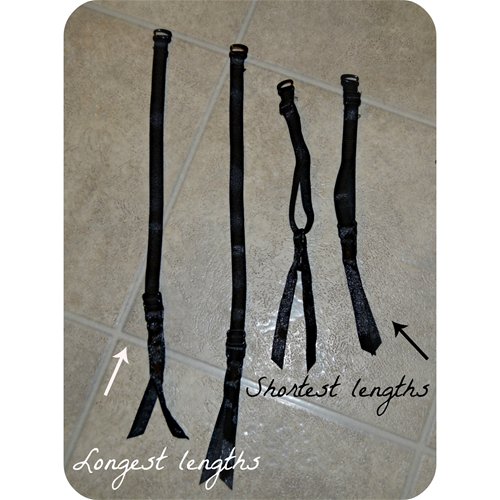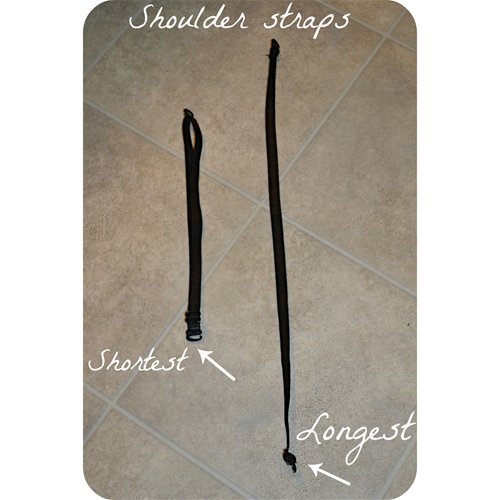 The satin lining on the front panels is backed by a sturdy black panel to help keep it from ripping. I like that this was used. Satin is very fragile so if this hadn't been used, I would imagine that this piece would be more likely to rip. This piece is incredibly well made. There were no loose seams or threads. The construction of the piece is meticulous. This piece runs true to size and the breast cups run large. I'm a 38F and there was room left in there for another size or two.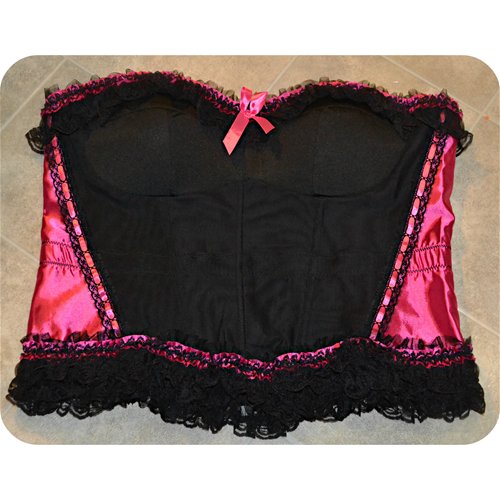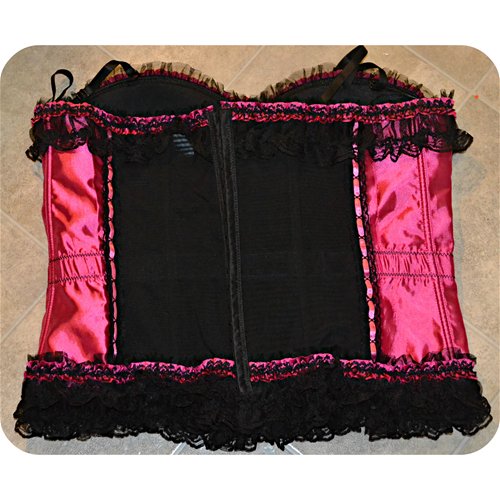 The bustier only comes in this color.
For care, hand wash in cool water and hang to dry. It has satin, so don't twist or pull on the fabric. Satin is fragile.
Experience
This would be great to wear out to a nightclub. It could be worn with a shrug or bolero. It looks great with or without the straps. The straps do give it a tighter fit and lift. The elastic loops are hidden on the inside of the top and bottom of the bustier. They didn't dig in like I was worried about because of the straps being a thinner elastic. The bustier is a little short on the waist but for us petite females, this works out in our favor. If you are 5'4" or above, this may sit up a little high on the waist. Being a bit shorter helped me position the garters more perfectly on my legs. The garters will adjust to fit a wide variety of individuals.
Black ruffle panties would look spectacular with the Satin bustier. As a matter of fact, I'm looking for some to wear with these. I do wish Eden carried the black ruffled panties. I also have some black satin gloves that I wore with this. The gloves dramatically change the look of the bustier into something more classy and bold. In my opinion, any size person would look great in this bustier.
This piece is very stretchy, but it is also a bit itchy near the lace when you first receive it. My mom gave me a new type of fabric softener which I sprayed on the lace and it helped to soften it up for me.
It comes in sizes S, M, L, XL, 1X.
An issue that I had with the bustier is that the bow on the front wanted to give an odd appearance, almost as if it were concave. This was due to it being sewn in tightly in the middle. I did starch this area only, and it definitely changed the appearance for the better. The bow stays put now.
I didn't find any major issues with this piece. In fact, I'm loving it. It's not often that I get to enjoy a piece where my breasts aren't fully exposed. I really think that the Satin bustier can flatter anyone. The ruffles and the bright hot pink coloring really put this bustier above others. As pink and black being my favorites, this piece is perfect for me. The small imperfections that I listed above are not enough for me to dislike it. I understand that through the pictures on here, the bra cups look smaller than they are. Go by the measurements that I've listed for that part.
For those of you who dislike bows, this one can be removed by small scissors. There looks like 2 threads that the bows is attached with. You could remove it easily with no damage to the bustier itself. I personally like the bow.
The sheerness of the mesh panels didn't bother me because my main use for the bustier is going to be in the bedroom. If I decide to wear it to a nightclub, it should be alright to do so because it's usually dark in the ones that we have in our area. When I wore this in a darker or dimly lit room, there was no way of seeing through it. It's perfect for hiding any flaws or imperfections.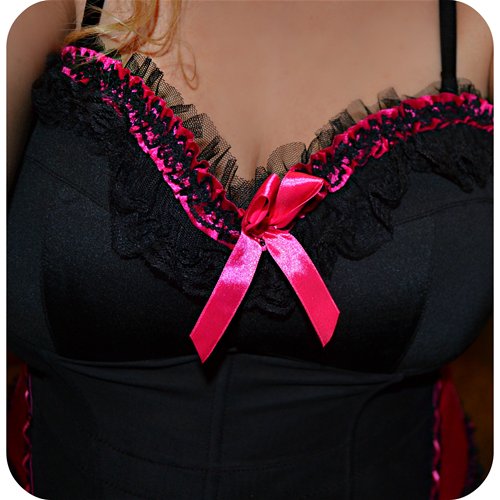 Follow-up commentary
1 month after original review
This is one hot lingerie! It looks best with black gloves like in the product photo! This will work for any shape and size.
This product was provided at a discounted price in exchange for an unbiased review. This review is in compliance with the FTC guidelines.

Thank you for viewing
Satin bustier
review page!