Satin, Lace & Bunny Ears...Sounds Like Easter! (Size L)
The Satin Lace Corset is a very high quality and absolutely beautiful "must have" corset for your collection. The unique 'ears' over your breasts add a lot to the style and the lace is exquisite. This will fit many different body types and will flatter almost anyone. Pair it with a sweater shrug or other wrap for public wearing and you will feel sexy and pretty all night.
Published:
Pros:
High quality, well made.
Breathtakingly beautiful.
Comfortable.
Cons:
Plastic boning (changing out).
Difficult to hook up.
The Satin Lace Corset arrives on a beautiful padded hanger inside a plastic see through bag. The first thing I notices was the beautiful, dark silver, luxurious satin. When I lifted the corset out of the packing box, I noticed the black lace on the front and the beautiful metallic silver detailing on the floral pattern in the lace. This is a very beautiful piece with an amazing amount of attention in the detailing. The seams are all finished and match up, the material is high quality and the lacings are made to last. This is a very high quality corset.

The boning is plastic, which I replace soon after reviewing the corset. See my 'favorite websites' on my personal page for my boning supplier. Plastic boning is pretty flexible and can keep you form feeling your best in a corset. The shape can become distorted easily and they are a real pain to bend back straight.

There are 11 metal grommets around the lacing eyes and the ribbon is a looped 1/2" satin ribbon. This meets in the middle for adjustments. You can cut this and re-lace the corset to your preference. Some people prefer to have two or three lacings on the back of the corset. There is no privacy panel in the back.

The front is fastened by 15 small hook and eyes, but has two adjustment rows for your comfort. There is a felt privacy panel behind the closures. This was a bit harder to close due to the tall front area. The design of two 'ears', one over each breast, and the deep cleavage between them adds a bit of difficulty to fastening the hooks.

There are removable garters and shoulder straps. I could not wear this corset without the shoulder straps and have the breast panels stay in place. This can be a bit awkward to get in place, see pic 1, but after you get the corset arranged, it is amazingly beautiful.

I do have to agree with Laur3n, "you show a lot of boobage ....this might not be comfortable for public wear." (Please reference her review!!) You can try what she did and use a sweater, bodystocking or vest for a bit of cover. (Check her pictures, she was kind enough to model the corset with these additions!) (https://www.edenfantasys.com/sex-toy-reviews/sexy-lingerie/dramatic-cleavage)

I love the fit and shape of the corset. I have a 12" torso and you can see the fit on the front and back. The materials and detailing is very high quality. You do need to hand wash this on cold water with a mild detergent. Let this hang dry and do not iron. I have to admit, I have used a warm iron with a towel between it and my corset to get the bonings flat again, but you have to be super careful if you choose to try this. You can burn the material if the iron gets it too hot.

I love this for bedroom use, I am not too sure about wearing it in public without some added covering, but this has become one of my favorite corsets. I am changing out the boning later this week. The inside is a comfortable polyester material, and this corset could be worn inside out if you could handle the scratchy exterior lace against your skin. I recommend this one to anyone wanting a very sexy, well made corset for their collection!!!

Sizing:
My Measurements: 43D Breast - 30" Waist - 42" Hips - 28" Inseam - 22" Thighs - 5"2" Tall & 150 Lbs.
Corset Size: L
Coquette (Copied from Sizing Chart.)
Cup Bust (in) Waist (in) Hip (in)
Small 4 - 6 B 34 - 36 26 - 28 36 - 38
Sm/Med 6 - 10 B 34 - 38 26 - 30 36 - 40
Medium 8 - 10 B 36 - 38 26 - 30 38 - 40
Med/Lg 10 - 12 C 36 - 40 28 - 32 38 - 42
Large 14 - 12 C 38 - 40 30 - 32 40 - 42
X Large 14 - 16 D 42 - 44 34 - 36 44 - 46
One Size4 - 14 B 34 - 40 26 - 32 36 - 42
1X/2X 18 - 22 D 46 - 50 38 - 42 46 - 52
3X/4X 24 - 28 D 52 - 56 44 - 48 54 - 58
Oueen/
One Size18 - 26 D 46 - 54 38 - 46 48 - 56
Experience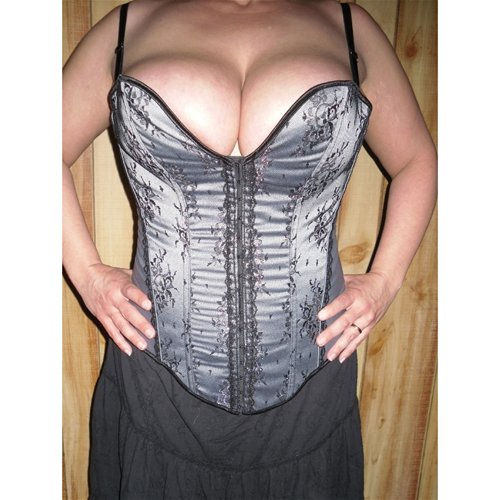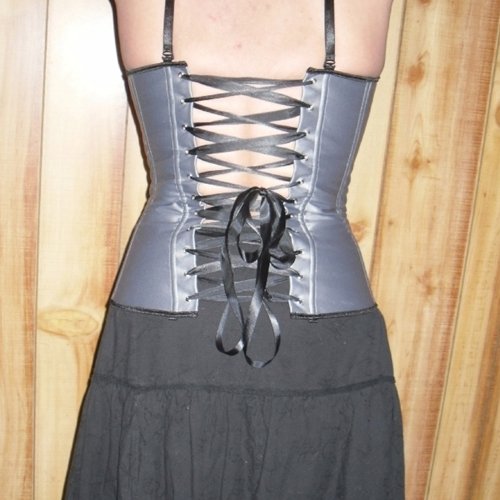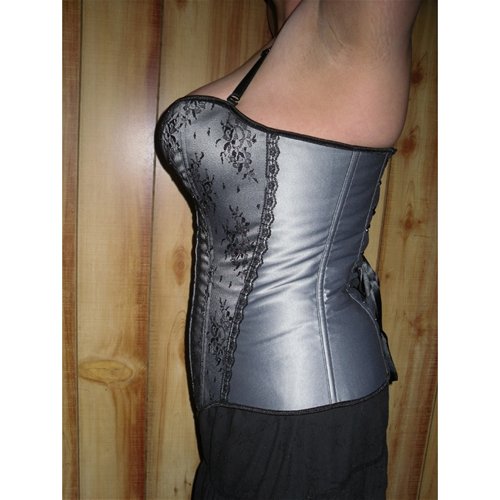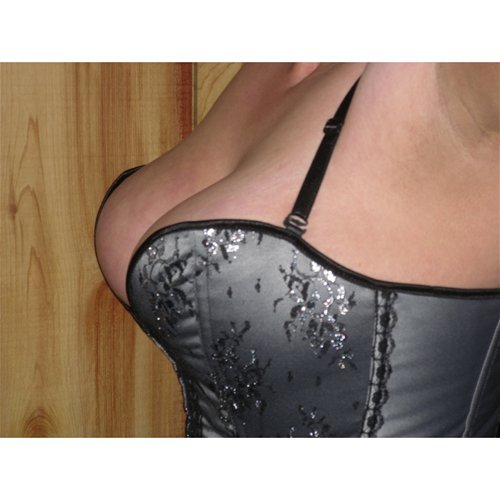 Follow-up commentary
19 days after original review
I love the quality and fit of this corset. Some of you might find the cleavage area to be a bit revealing, however I like wearing it with a short sweater and a body stocking under it to cover up all the cleavage. This works very well for me, but again, it is up to the individual wearing the corset.
This product was provided at a discounted price in exchange for an unbiased review. This review is in compliance with the FTC guidelines.

Thank you for viewing
Satin lace corset
review page!