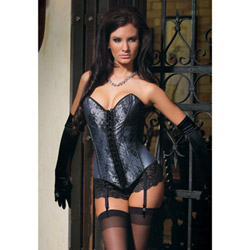 Satin lace corset
Corset by Coquette
Satin Lace Corset (Large): Small Busted Women Need Not Apply
This corset is eye catching and beautiful, but it won't fit everyone properly. The "cups" of this corset really require large breasts in order to fit right -- and even then, there's a good chance that the cups won't lay properly. If you can figure out a solution to the super-sized cups, you'll look great in this. Otherwise...smaller busted women, I'd suggest that you look elsewhere for a great corset.
Published:
Pros:
Beautiful design, Lacing allows you to make adjustments, Decent quality
Cons:
Can be difficult to put on, Won't fit smaller (or even average-sized) breasts, No modesty panel
This was the item that I was most excited about in my most recent order. Oh, I had dreams of wearing this... I thought it would perfect. It was going to be my first ever corset, and I thought I'd feel amazing in this. The actual result was laughable. My breasts just aren't big enough for this -- and I'm a 34d.
Basics:
The Satin Lace Corset is made by Coquette. It's a beautiful silver and gray corset, with a hook and eye front closure. It's incredibly beautiful, and it's very well made. It does not come with any undergarments, but it does come with removable shoulder straps, and four removable garter straps.
Wear it in, or wear it out?:
You could, technically, wear it both in and out of the bedroom. Personally, I think it's a little complicated to remove for just bedroom wear -- my boyfriend would get frustrated with all of the hooks. It's also not really something I'd ever wear out, due to the fact that there is no modesty panel in the back. It just shows too much skin for me to wear it in public. If you're daring, though, there's no real reason why you can't wear this in public.
Material & Care:
The corset is made of 100% polyester, exclusive of trim. I assume that the trim refers to the black ribbon that laces of up the back, the metal eyelet holes, the metal hook and eye closures, and the plastic boning. It may also include the lace overlay, though.
The silver material is smooth, and almost satiny in feel. The entire front of the corset features a lace overlay. The lace overlay displays flowers -- with some of the detailing on the flowers being glittery. There is also a scalloped edge on the lace. The lace is very pretty, and it feels durable. That said, the lace on my corset was damaged right out of the package.
The inside of the corset is simply smooth black fabric. It's very comfortable against my skin.
All of the material has some flexibility to it, but it's not the plastic boning is surprisingly strong, so it's not the most flexible corset you could purchase. It's obviously more flexible than metal, of course, but it's not so flexible that the boning ends up being useless.
To clean this corset, you should hand wash it and allow it to hang dry. I would recommend that you store it on a hanger, or that you lay it flat in a drawer. If you choose to store it in a drawer, be careful not to bend the plastic boning.
Sizing:
This corset is available in three sizes: small, medium, and large. I purchased the large.
According to the size chart, a large should fit someone with the following measurements:
Cups: C
Bust: 38-40"
Waist: 30-32"
Hips: 40-42"
I wear a 34d bra, and have a 32" waist. My hips measure 40". My cup size is larger than the size chart, so I figured I would be able to fill this piece out nicely. In reality... I couldn't, at all.
Here, take a look: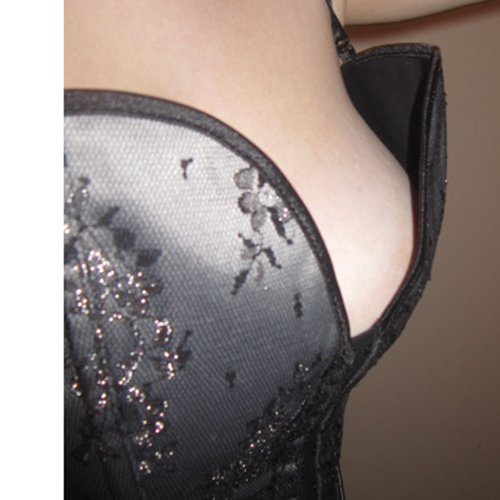 The above picture was taken with the straps ON. Some may say that I'm simply wearing the corset too high up, but if I pull it down any lower, it doesn't fit my waist and hips comfortably -- and it ends up being too long for comfort. The way that I had it there, it was already coming down below my hips, sitting much lower than it looked on the model.
Now, let me show you how much room I had left in the cups!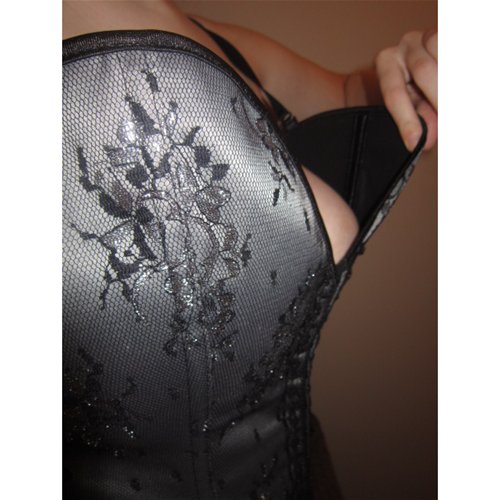 As you can see, the bust is huge on me! It looks, and feels, ridiculous.
The rest of the corset fits like a glove, though, so I am almost 100% certain that a medium would've been too small for my hips or waist. So... for the large, I'm going to say that you should pass on this, unless you have super-sized breasts.
Experience
Design:
This corset has a hook and eye closure system in the front. There are two rows of eyelets, and there are 15 hooks. Getting this corset on can be a real pain, as I find that sometimes the hooks just don't want to latch.
The back of corset features lacing in the form of a beautiful black ribbon. The black ribbon allows you to adjust this corset for a proper fit. It's difficult to adjust the ribbon properly on your own, but it can be done. Just be prepared to spend a lot of time on it if you don't have a second pair of hands to help you out. I was really disappointed to find that there was no modesty panel on the back.
The bust of the corset is what I was most excited about. It has a plunging neckline, which is going to give you fantastic cleavage if you fill out the cups. I didn't fill out the cups, and I ended up feeling (and looking) like I was drowning in them. For this reason, the bust is really best extremely large breasts -- at least for the large. Now, I know I mentioned above that the lacing allows you to adjust the garment, so I bet you're wondering if you can also adjust the bust with that lacing? Sadly, you can't.
The corset has eight pieces of plastic boning. The boning is surprisingly strong, and it really did offer me some support. The corset also comes down further in the center front than it does anywhere else. I really enjoyed the fact that it came down further, but others may get annoyed by it.
The garment also comes with removable shoulder straps, and garter straps.
Quality:
The quality was great overall, but I did notice a flaw in the lace overlay. There's a small tear in the lace, as you can see below: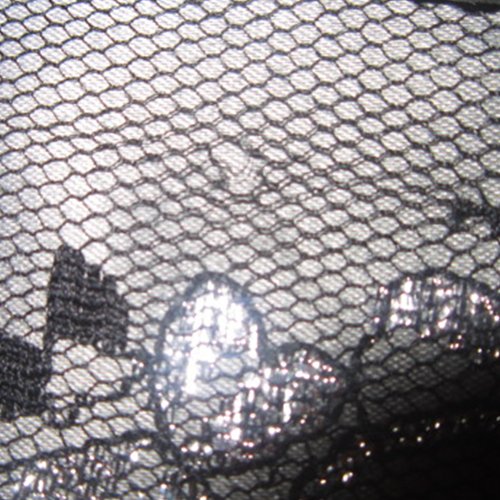 Other than that flaw, the quality is highly impressive.
Follow-up commentary
7 months after original review
This ended up being returned, which is such a shame. It is an absolutely beautiful item, but it just did not work for my body type.
This product was provided at a discounted price in exchange for an unbiased review. This review is in compliance with the FTC guidelines.

Thank you for viewing
Satin lace corset
review page!