Sexy Hearts
These stockings are very sexy. Just like the picture, as soon as I got these I fell in love. They are also very soft and non-itchy. They can be paired with different outfits or if you just like to mix and match, then I also feel they could be worn in public. The only thing is, if your legs are somewhat big, they could roll down so you might require garter belts. I give these five stars.
Published:
Pros:
Sexy, Non-itchy material, Soft, Can be paired with different outfits
Cons:
Can roll down depending on size, May need garter belts
Use
These stocking from Coquette, are a sheer laced stocking that goes up to the middle of the thigh. Stockings are a close-fitting, elastic garment that covers the foot and lower part of the leg. They can be used with different types of clothing like different types of skirts and dresses. These stockings would primarily be used, while wearing lingerie or some type of costume. One other great thing about these stockings is, it's so easy for my wife to wear while she is pregnant.
I didn't have anything for these to be paired with when I had bought them. I kinda bought them on a whim and I am glad I did. I think these look very sexy in the picture and on my wife. The only one problem we had was around the ruffle, unfortunately they rolled down a little while wearing.
Material, Quality, and Care
The stockings are made from 100% nylon. They are very stretchy, when you are pulling them up they will stretch to about mid-thigh. The lace is very soft. I could compare them to a Kleenex tissue, only because those are the softest. It strangely also looks like a tissue below the lace. The craftsmanship is pretty decent, but there were a few places on each of the stockings that seemed like excess fabric. It wasn't a bother and it didn't seem to cause a problem just to cut it away. According to Eden, Nylon is also hypo-allergenic and can be resistant to oils, greases, and solvents.
As for care of these stockings, they do not come with instructions. According to Eden, Nylon can be washed in sudsy water. There are some symbols on the cardboard the first symbol is a hand reaching into a container with liquid, this means hand wash. The next symbol is a square with a circle on the inside of the square and an X thru both, this means do not tumble dry. The next symbol is a triangle with an X thru it, this means do not use bleach. Then the last symbol is a circle with an X thru it, this means do not dry clean. I know this still doesn't give an exact solution. So I looked up what should be done. If you haven't worn them too much you can just fill the sink with water, swish the nylon stocking around, get them good and wet, then take them out of the water, and once out stretch them back to the correct size. If they are dirty you are going to have to start by filling the sink with some warm soapy water, then swish them around in the water, drain the sink and fill with cool clean water, swish the nylons in the water, and then take them out and rinse them one more time if the rinse water was soapy. After washing hang them somewhere to dry.
Design
These stockings are white, with hearts sewn into the fabric. There is also lace at the top and a red bow attached to the lace, that once you are wearing will be on the back of your leg. The are very soft and stretchy. I have no problem running my hands up and down with no drag.
Measurements of Garment:
- Approx 22 inches not stretched
- Approx 57 inches stretched out
- Ribbon is 3 1/4 inches wide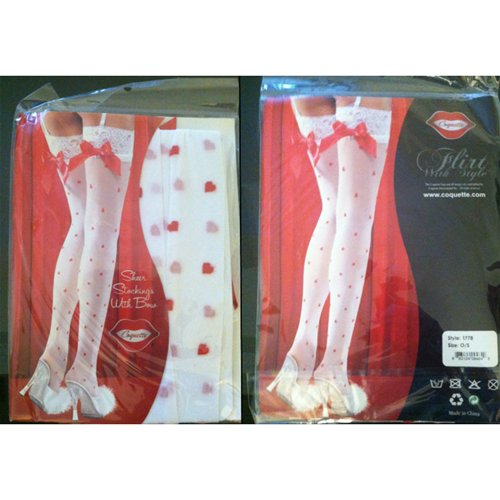 Wife's Measurement Wearing:
- 27 inches from heel to top of lace
- 23 inches diameter around lace portion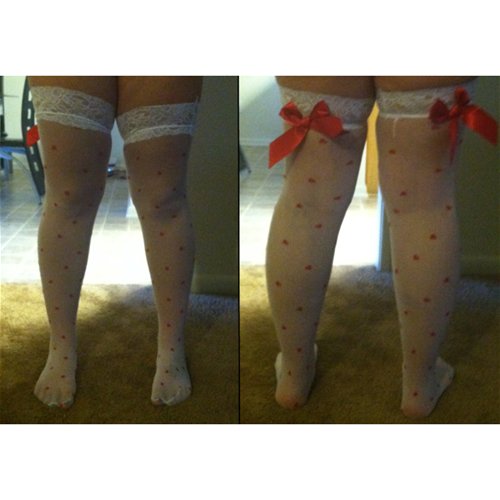 Also a sizing chart, even though you cannot choose a size. The stretchy fabric though really makes this for all. If it does roll down you might have to use garter belts. I know I haven't talked about them much and it shows some in the picture. This does not come with any.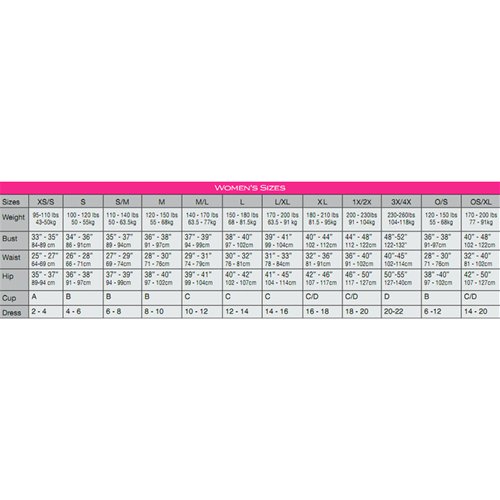 Experience
I think the stockings are wonderful and could be paired with different types of lingerie or different costumes to make them look extremely sexy. They are inexpensive and made very well. Even with the few pieces of extra string that you are able to remove. They did roll down a bit though, so we will have to invest in garter belts. Even still I really love these.
Follow-up commentary
9 months after original review
Very sexy stockings, goes well with costumes or even a skirt no one would know you had bows unless trying to show them off.
This product was provided at a discounted price in exchange for an unbiased review. This review is in compliance with the FTC guidelines.

Thank you for viewing
Heart stockings with bow
review page!