Simply Adorable
The Heart Stockings with Bow are simply adorable. These affordable stockings are great quality stockings that will fit a wide range of sizes. The only issue I can think of is you might have a hard time finding something to pair with them. Sadly, they are only available in one size fits all, so plus sizes might not be able to wear these.
Published:
Pros:
Adorable, affordable, good quality, and fit a wide range of sizes.
Cons:
Might have a hard time pairing. And not available in plus size.
Function
The Heart Stocking with bow are thigh high stockings. These are meant to be paired with matching garments. Some stockings require a
garterbelt
in order to stay in place. Whether or not you need a garterbelt with these stockings will depend on whether or not they stay up on their on. This is vary person to person because we all are different.
Material and Care
The material isn't noted on the packaging and there is no tag to note the material either. I am assuming these stockings are like the majority of stockings. So, that means they are made of Nylon. Now they could be a Nylon blend or 100% Nylon, but since it's not marked; I can't say for sure. This nylon material is very soft and delicate feeling. It feels thin and silky. I can run my fingers down this nylon without catching every hang nail, so they don't snag easy. There is a great deal of stretch to this nylon, so it can fit a wide range of users. On the top of these nylon stockings is a lace broader with an adjacent bow. The lace isn't soft, but it isn't rough either. It feels thick and durable. There is also a great deal of stretch to the lace. The bows are made of a silk ribbon. This feels just as it should feel. The bow isn't stitched well onto the lace, so it might fall off eventually.
The packaging has symbols noting that these should be hand wash. They should not be tumbled dry. Do no bleach these stockings. And they shouldn't be dry cleaned. (A
guide
to washing symbols.) Therefore these should be hand washed and laid flat to dry. I wash these separate in the kitchen sink. I rinse the stockings to make sure the red color isn't going to bleed into the white. If the read begins to bleed; you should rinse until you can't see the color anymore. I didn't notice any bleeding, but that doesn't mean you won't. After which I fill the sink with enough water to completely cover the stockings. Add a small droplet of my dish soap and allow the to soak for 5 minutes. Rinse thoroughly and lay them flat to dry.
Design
As soon as I saw these on the product page; I had to have them! They start off with a 3" tall lace band. The lace has lotus flower with leaves design; that is really unique. The lace meets the nylon with an elastic band that gives the outside a runched appearance. The bow is stitched at this elastic band and it's meant to be placed in the back of the leg. The stockings continue down from this elastic band. They are white with tiny red hearts as the decor. There is a seam and the bottom of the stocking to mark toe placement.
Measurements of the Stockings laid flat
Thigh Top 8"-12"
Leg Length 27"- 45"
Quality
The quality of these stockings are pretty good as far as stockings go. The only issue I foresee is the silk ribbon becoming undone from the lace. They appear to only be holding on by two threads. So, if you have the skills, you can reenforce them. Otherwise they might fall off.
Experience
Size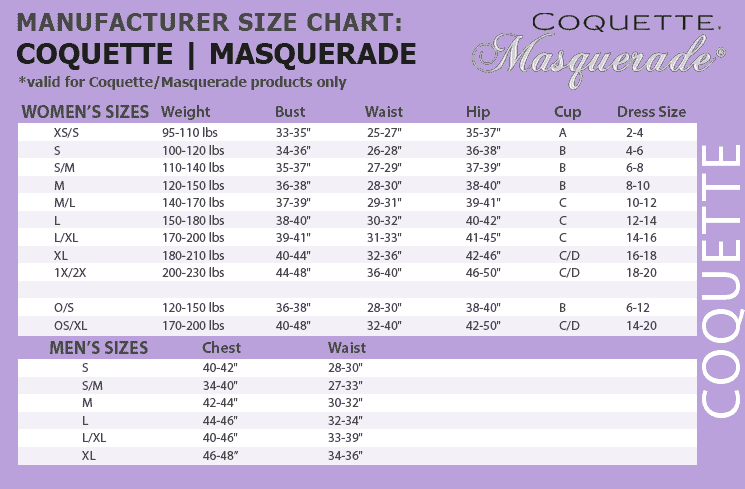 These stockings are only available in one size fits all. According to the size chat Coquette's one size fits all is suppose to fit 120lbs-150lbs and dress size 6-12. However, neither of which are good indications you can wear these. Because I'm out of the range for both and they fit me beautifully without a garterbelt!
My Sizes
Dress 13/14
Weight 160-170lbs
Height 5ft 3in
Hip to toe length 38"
Mid Thigh Circumference 23"
Photos
Fitting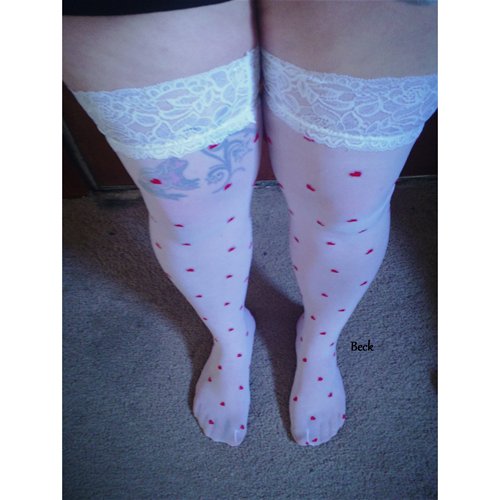 Bow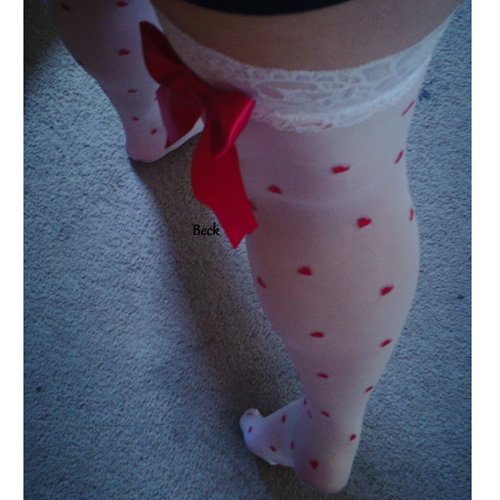 Lace Pattern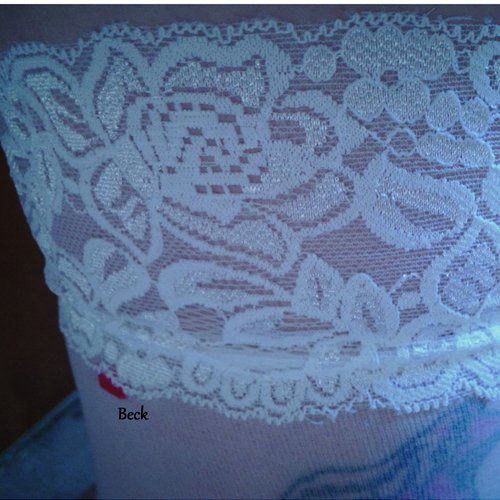 Heart Pattern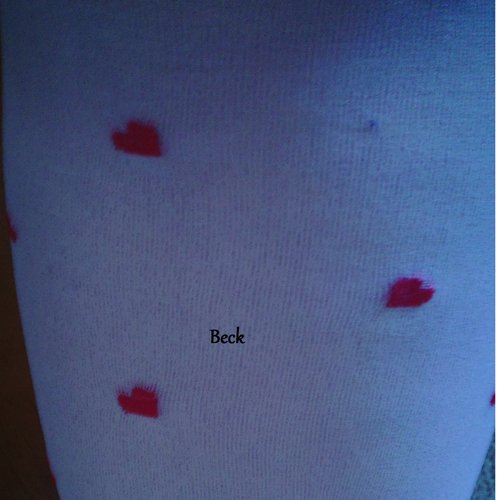 Toe Placement
As you can see these fit me perfectly! I do think there is room for larger thighs to fit, but you'll run the risk of needing the garterbelt.
Best Fit
Thigh Circumference 16-24"
Mid Thigh to toe length 27-45"
Pairing Suggestions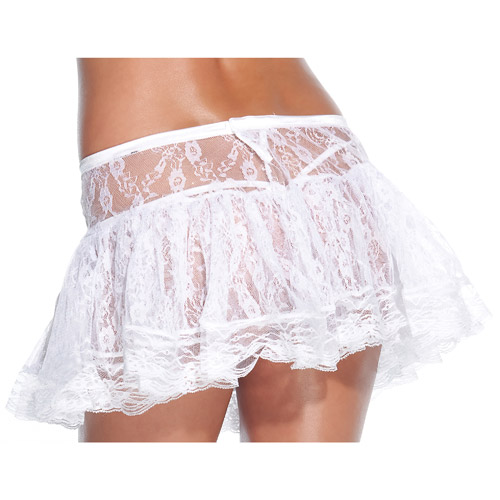 White Lace Petticoat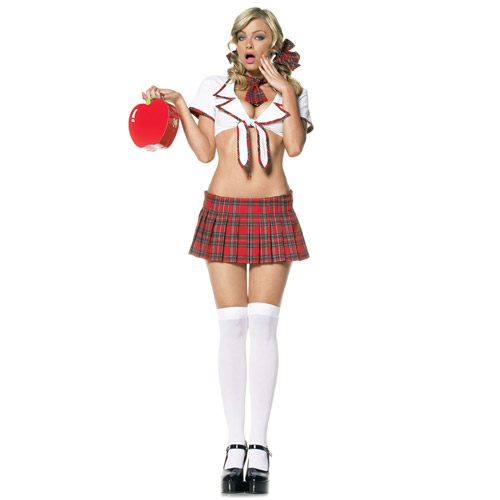 Miss Prep School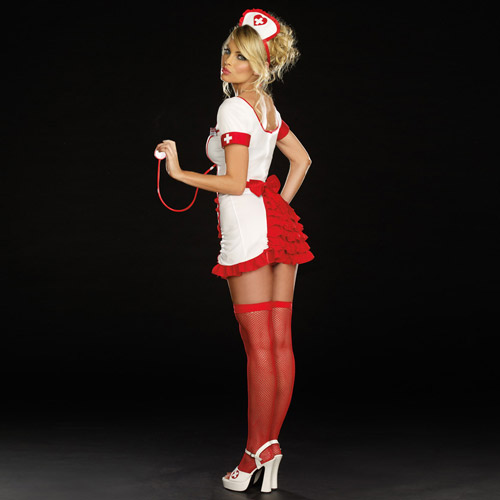 Nurse Juana B. Sedated
Overall
I'm giving these stockings 5 stars! I see no reason to give them anything less. They are affordable, adorable, and great quality. There is no flaw with these stockings. I'm very pleased with them.
This content is the opinion of the submitting contributor and is not endorsed by EdenFantasys.com

Thank you for viewing
Heart stockings with bow
– hosiery review page!