Super Cutesy
I wish these didn't feel quite so delicate, but I think they are a fun pair of stockings to add to my collection. These would be great for a costume of some kind, or a Valentine's day outfit.
Published:
Pros:
Cute, reasonable price, great for costumes/cute outfits
Cons:
Would be snug on plus sized, no reinforced toe, delicate fabric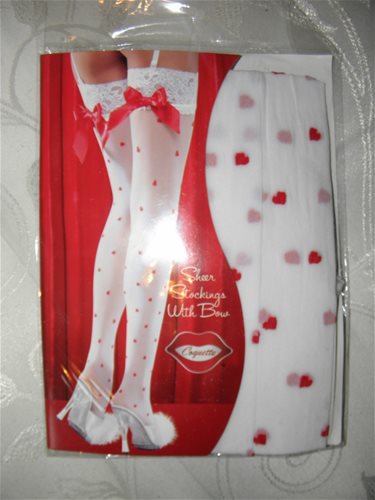 These stockings are 29" long, unstretched. The bows are a good size, at 5" wide and about 4" long. The hearts are tiny, about 1/2" in size.

The lace bands on the thighs are ruffled around the bottom, below where the bands are stitched onto the body of the stockings. When worn, this ruffle sort of just smooths out and clings against the leg.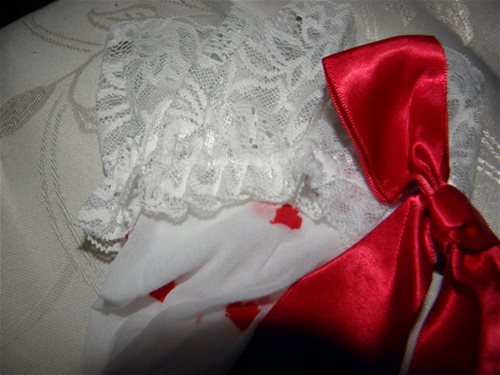 The lace is a white, floraly sort of lace. It does not feel thin or flimsy, it feels durable and is a thicker lace than some. The fabric of the stockings is thin and sheer, and feels like it could snag; it feels delicate. Although, the fabric is very soft to the touch, and not itchy or bothersome. The fabric is very smooth, but feels like it could snag easily. Because of how fragile and thin the white fabric feels, I would have liked it if these had a reinforced toe. When it comes toe netted hosiery or sheer thin fabric, I think a reinforced toe is best; it helps to make the stockings feel more sturdy and less likely to tear. Toenails, or just regular wear, can tear hosiery at the toes if it is a delicate fabric; so I worry with these. The tiny red hearts feel as though they are made of a thicker fabric than the white nylon fabric. When running fingers across the fabric, the little hearts feel slightly raised up; I think this gives them a fun and interesting texture. It can be felt when worn or not, but I like the feeling of running my hands down my legs and feeling the little raised up hearts.
The thigh bands feels a bit snug, but not like they are digging into my legs. My thighs are 20" around, and if they were any bigger I don't think I would feel comfortable with the thighs on these stockings. If you are plus sized, you may want to pass on these, they could be too snug.
These stockings would be great for a costume, but could be worn with a regular outfit to make it more cutesy too. I am tall and I like the fit of these, they stretch and fit pretty comfortably overall. They fit well, in terms of length, and reach the mid-point of my thigh without feeling like they're being stretched to their limit.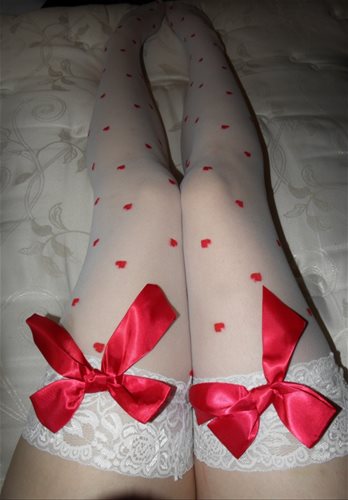 This content is the opinion of the submitting contributor and is not endorsed by EdenFantasys.com

Thank you for viewing
Heart stockings with bow
review page!