Sexy, with room for improvement
I would give this a higher rating, but it does leave some things to be desired. It is a very cool dress to have in your closet, and it could be worn for many different events or nights out. It is a hot dress, but not perfect.
Published:
Pros:
Push-up cups, underwire, no need to wear a bra, sexy, unique look, nice material
Cons:
Straps could have been better stitched on, cups may not fit everyone, may accentuate belly...
This comes packaged in a plastic sleeve, on a clear plastic Coquette hanger.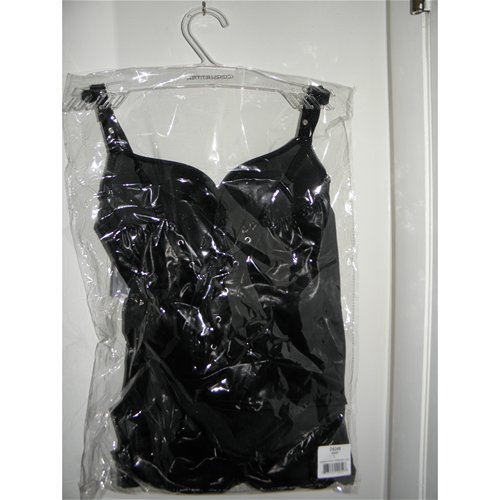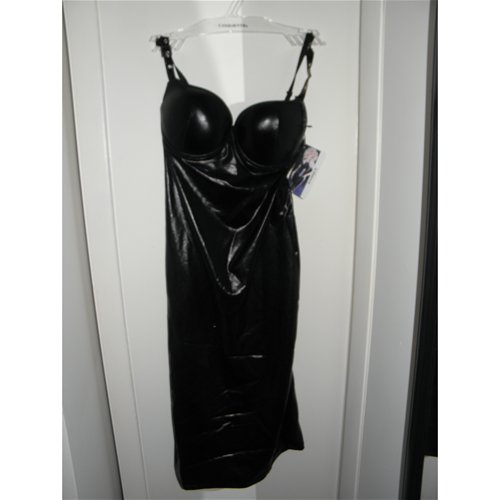 I got this in a large, which fits pretty true to size. My measurements are 38-30-38, and this dress was pretty much made for those measurements in a large. Go according to the size chart, or whatever size you generally wear, and you will probably like the fit.
I was most worried about how the cups would fit, which it seems was a fair concern. If you have a full B cup, this would likely fit you well enough. Anything less than that, you might find the cups loose and awkward. I wear a 38C or D depending on the bra, and this fit the bust preeeetty well, for the most part. Although, I would change the cups. When I was considering wearing it recently, I decided I would want to wear pasties underneath, so I wouldn't end up flashing anyone or spilling out of the cups, which it felt like I was. The cups are padded, push-up cups, with an underwire. The have a soft, but firm, rounded-shape to them.
The lacing in the back makes it so that you can make it look a little bit more cinched in the middle. That could, however, accentuate your belly. Though, this fabric could do that anyway on it's own, so you may want to consider that or wear some shapewear under it if you're going for a certain look.
I don't have a tummy really, but this is a bit snug, and the fabric is pretty clingy, though not uncomfortable. Here is what I mean - it accentuates everything, and hugs every shape. That can be flattering and not-so-flattering. The lacing is just plain black ribbon, there is no boning or corset-effect to this dress otherwise. If there was, I would probably like it a lot more, actually.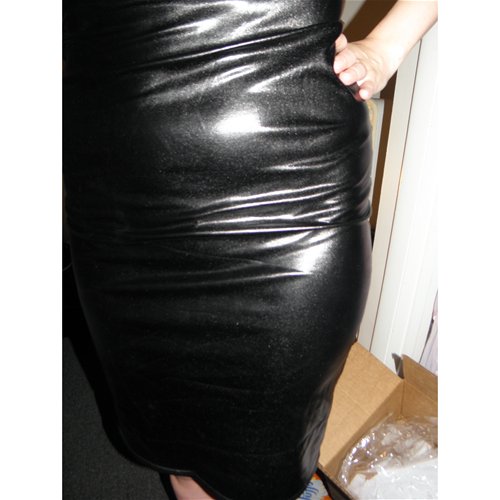 There are buckles on the straps, but they don't serve any real purpose. The buckles don't adjust the length of the straps, they are just for decoration. The straps are adjusted the same way as typical bra straps.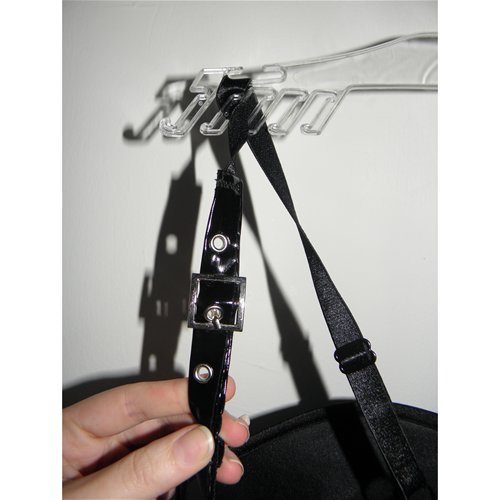 One big problem I developed was actually with the straps. I ordered this dress months ago and didn't have a real opportunity to wear it until New Years. However, once New Years rolled around, and I was getting dressed for a party, I found myself debating whether I should wear it or not. The deal-breaker for me was the straps. I noticed after sitting around in it while getting ready for the party - again, I'd never actually worn this dress, other than to quickly try it on - I noticed that the straps were having an issue. Well, one strap in particular.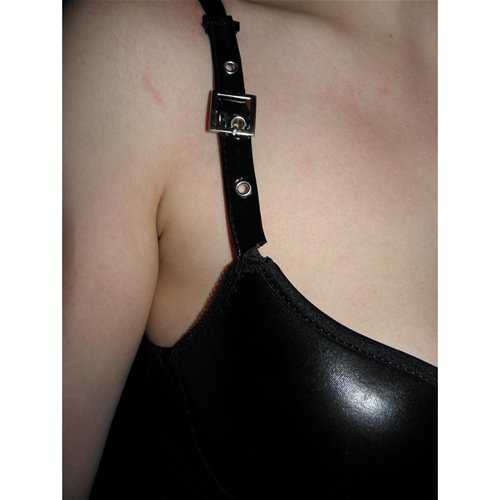 There is a fairly high slit up the back of the dress, in the middle. I am about 5'9" or so, and I don't find this dress to be too short, which tends to be a concern for me when it comes to dresses and skirts. This is a pretty reasonable length, and I can wear it without the slit showing too much or riding up too high.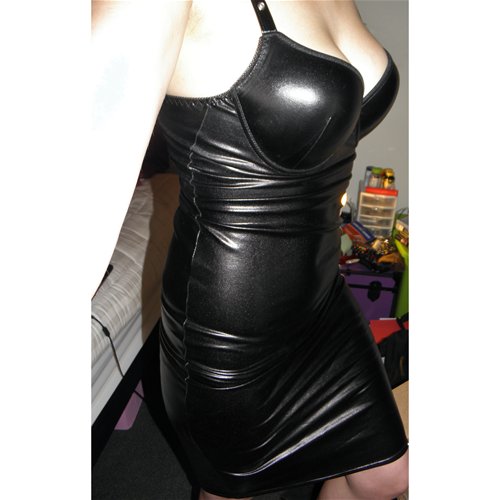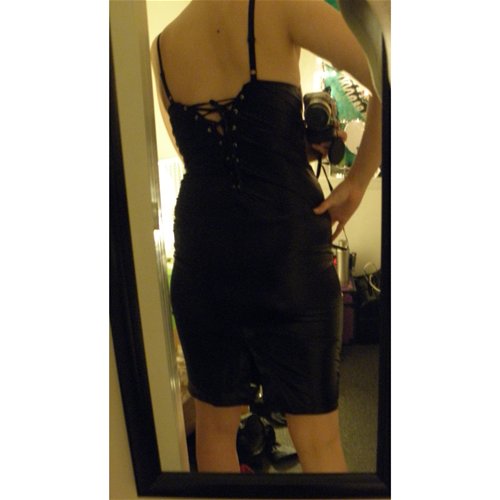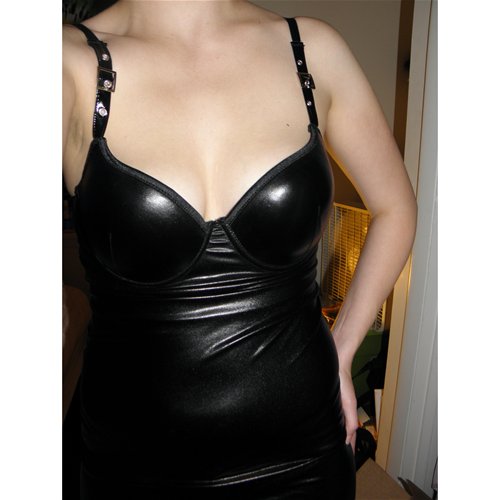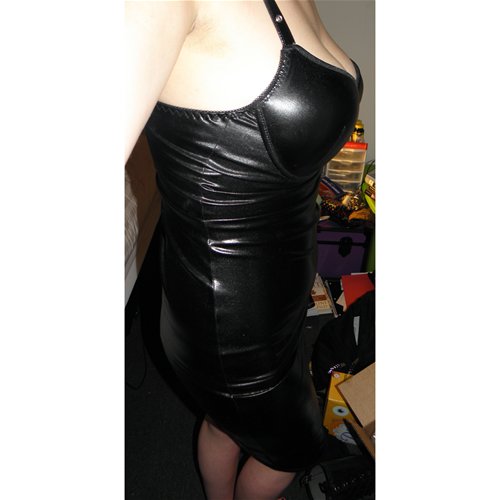 As with all of the wet look products, I find the material to be very nice, and plenty breathable. I would handwash this, to be on the safe side. Though, if you put it in the wash in a delicates bag, it would probably be fine. Though I would NOT recommend putting this in the dryer!
Overall, I think this is a pretty nice dress, but I didn't like having to stitch the strap back on after about an hour of wearing it around the house. That made me decide against wearing it to a party. Between the strap coming undone, and feeling like I'm spilling out of the cups to begin with, I figured that could be a recipe for disaster, so I ended up wearing a different dress. I'm sure I'll wear this in the future, it's a very attractive dress and I've already been complemented on it when friends just noticed it hanging in my bedroom. They hadn't even seen me in it yet! This dress certainly has a unique look to it, definitely eye-catching. If you wear this out, I don't think you'd run into anyone in the same thing as you!
Experience
I would feel more secure in wearing this if the cups were just a centimeter or two higher. They aren't small or short, but they are just enough that I feel like I could pretty easily end up with a nipslip on my hands. Obviously, that takes away from this dress for me quite a bit. What's the point of wearing it if you feel like you're exposed? I mean...unless, that's what you want! I would definitely suggest pasties underneath this dress, just to be on the safe side. Not necessarily any of the sequined, flashy ones that are sold on EF, but something just to make sure you're covered and secure. I'm having a hard time rating this. It looks really cool, but the poorly stitched strap and cups make this dress lose a fair share of points. I almost want to give it 3 stars, but just since it's such a nice thing to look at, I'd feel bad taking away 2 stars! I'm going to have to give this dress 4 stars. Definitely some improvements that could be made here, but this dress will blow people away.
Follow-up commentary
2 months after original review
It's difficult for me to rate this now. I don't dislike it, but I don't love it. The cups could have been a little bit better, and the issue with the strap was annoying, especially when I hadn't worn it at all then put it on for a party. It was no fun having to stitch up the strap at the last minute, so I just decided to wear something else. There are certain times and places that this dress could just be perfect though, aside from the straps and cups.
This content is the opinion of the submitting contributor and is not endorsed by EdenFantasys.com

Thank you for viewing
Wetlook dress with molded cups
– mini dress review page!