Tailor Made and Sparkle-Tastic
It's hard for a curvy girl like me to find lingerie that fits and looks good. The ones I can find that fit aren't always my particular style. Then I found this. Not only does it fit to the T, but it is perfectly my style with the amount of sparkle and shine that it offers. There's nothing I love more than glitter and sparkle! The only bad thing I can say is that the crystals that go down the middle don't lay flat which bugs me just a little bit.
Published:
Pros:
Fits perfectly
Just the right amount of sparkle and shimmer
Removable garters
Comfortable
Cons:
Crystals don't lay flat
Potential for fraying
Things that glitter and shine make me happy. When I saw the Glitter Accented Chemise by Coquette from their new holiday line, my eyes just lit up. This had to be the most beautiful piece of lingerie I had ever seen. Into my cart it went.
PACKAGING
The chemise arrives in a plastic baggie. It comes with a black hanger that says Coquette on it. You can use this for storage.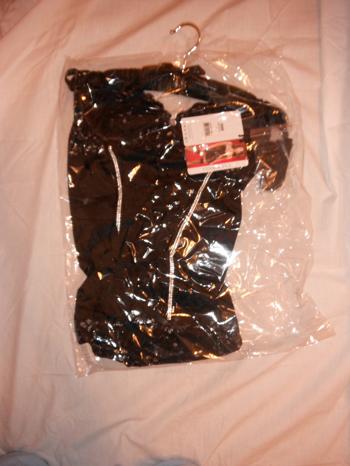 SIZING
You can choose from sizes S-XL. For a medium in Coquette, I should be a size 8-10, have a B cup, a 36-38 inch bust, 26-30 inch waist, and 38-40 inch hip. Well, I fit into some of that. I'm a 34DD/36D in the bust. My waist is 28 inches and my hip is 39 inches. I actually tend to wear a size 6 but have some pants and skirts that are size 4 and some that are size 8, depending on who is making the clothes. I decided to take my chances with the bust line and go with the medium.
For the medium, the total length of the chemise is 22.5 inches. Under the bust the width is 12.5 inches. Each cup is 5 inches in width and 4.75 inches in height at the maximum height. At the waist, the width is 12.25 inches. Near the hip is 15 inches. The straps are adjustable and the back has a hook for further adjustability. The cup is underwire, so watch that the bust measurements will work for you on this one.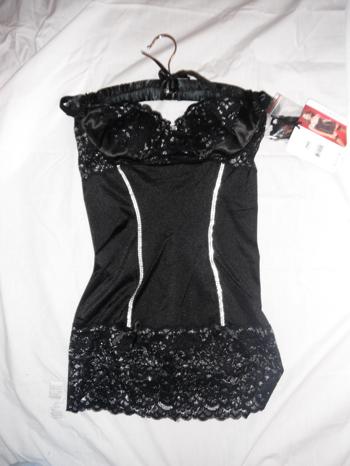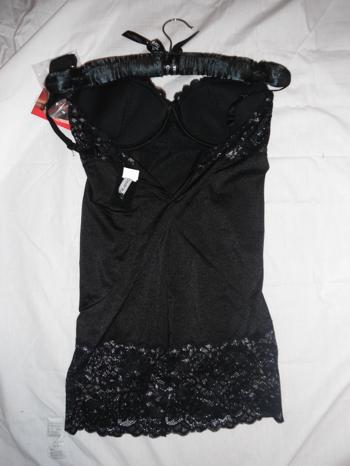 So how does this fit? As if someone literally sewed it onto my body. I could not ask for a better fitting piece. When I put this on, I almost squealed in delight. I have curves and finding lingerie that not only fits them but flatters them is no small task. This chemise fits like a glove on me and looks stunning. It has a little cling, but just the exact right amount of cling where it hugs my body but doesn't accentuate things I don't want it to. It fits my breasts just right and nothing is overspilling.
I would say that this would fit someone with maybe an inch more in measurement than mine, but anything over that should order a size up. Also, this may not work for smaller busted girls. My DD/D breasts fit perfectly into this. The cups are large and anything below a C may not fill them out entirely.
MATERIAL
This chemise is 80% nylon and 20% spandex. The middle section where there is no lace feels much like bathing suit material only a little softer. There is a good amount of stretch to it, but not as much as you will find in many one size fits all pieces. It feels cool and comfortable on the skin.
The bottom and top are accented by lace. The lace also has some stretch to it. It is not itchy lace in the slightest. It is a soft and delicate feeling lace. You can still feel that it's a lace, but it's one of the softest laces I've ever felt.
I could wear this piece for hours and still be comfortable. The lace at the bottom hardly even feels like a lace it's so soft. I would be content to lounge around the house in this or perhaps even sleep in it.
DESIGN
What drew my attention to this chemise was the design of it. The cups and slightly below them are done in a lace that has a glittery fabric woven into it. The bottom part of the chemise has the same lace detail. The woven in part is not a cheap glitter like you'd find in a $.99 bottle at an arts and crafts store. It's not even a glitter at all so much as it is a silver shiny threading. It gives it just the right amount of sparkle without being tacky or cheap.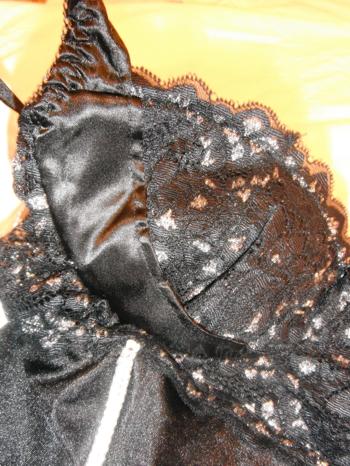 Along the middle of the chemise are two vertical strips of crystals. Each of these is 11.5 inches long. These add the extra flare to the design since the lace detailing is more understated. My only issue with these is that they are not entirely attached to the chemise. When the chemise is on, the come up a little where you can see they aren't attached the whole way down. I assume this was done as a sizing concern so that if you didn't exactly fit the chemise then the crystals would still fit. I'm guessing. I don't really know for sure.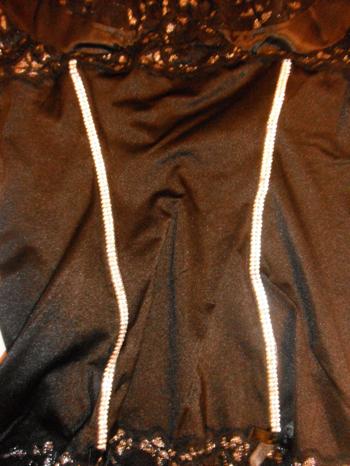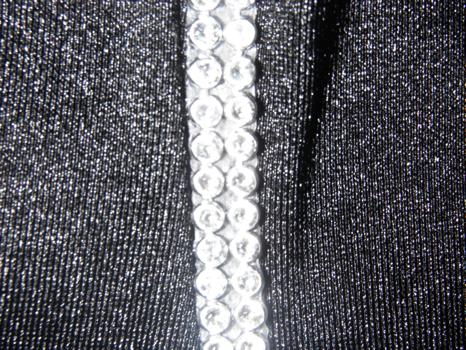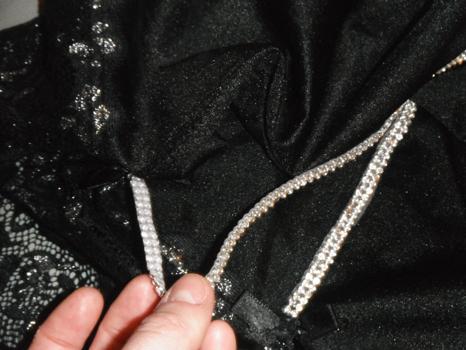 In between the cups of the chemise is a bow with a larger crystal on it. At the end of each of the crystal strands in the middle are two small black bows.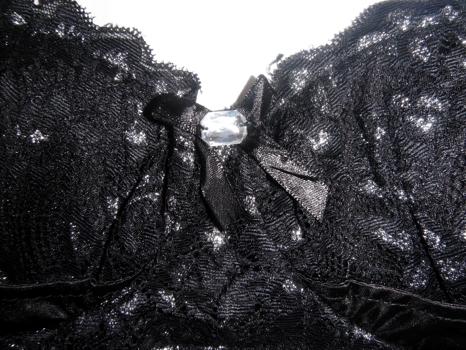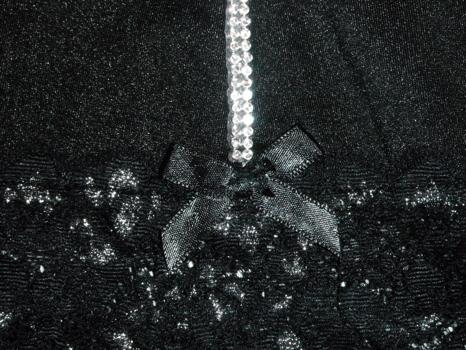 Experience
CONTINUED...
ADDITIONAL FEATURES
This piece also has removable garters. I'm always a fan of removable ones since sometimes I just don't feel like fooling with them.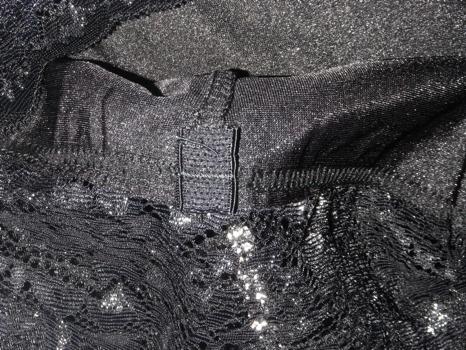 This is also an underwire piece. The larger busted girls like myself should appreciate this inclusion.
QUALITY
When I first got the chemise, there was not a single flaw to be found. I searched high and low and not a thread was out of place. After some use in the bedroom, I have found one fray. It's near the bottom of the chemise in the lace detailing. I'm just devastated over it and I'm so concerned that anything happen to this lovely chemise. I think it will be okay, but nevertheless I thought I should mention it. Other than that, the quality on both the material and the stitching is incredible.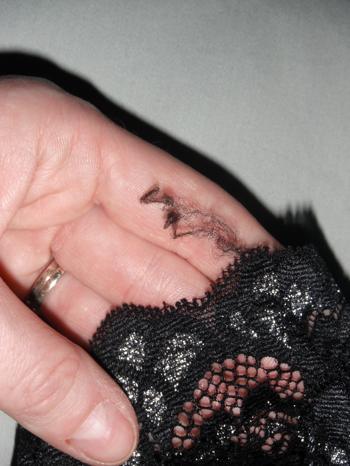 CARE
You should hand wash this. Do not put this in the dryer. Do not iron or bleach.
EXPERIENCE
This is now my all time favorite piece of lingerie. Not just from Eden, but in my entire life. It's beautiful. It's glimmery and shiny and sparkles. Best of all, it fits me perfectly and is super flattering. I feel so sexy when I wear this. In fact, I don't want to take it off once I put it on. I just want to wear it everywhere I go for everyone to see how amazing I look in this number. Seriously. This looks amazing!
Now, if you don't take my word for it, you can ask my husband. I always ask him to rate all my lingerie before I write my reviews. I think the highest score he's given was a four and I had to persuade him to give that rating. This one? Five full stars from my very picky husband.
Aside from the crystals not laying flat, I have not a complaint about this. It is the best piece of clothing I have ever purchased. I wish I could wear this somewhere other than the bedroom. I've even thought of buying another just in case anything ever happens to this one for some reason. I'm not sure if this is limited edition as it was listed under the holiday collection. I can never be without this chemise.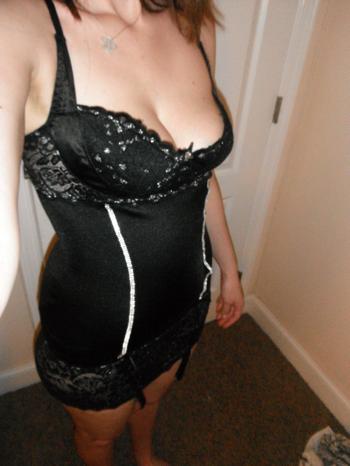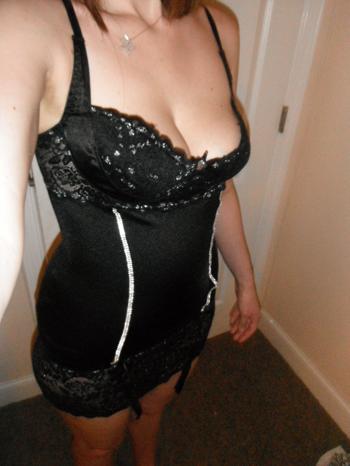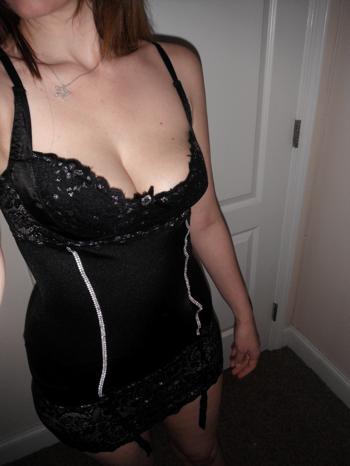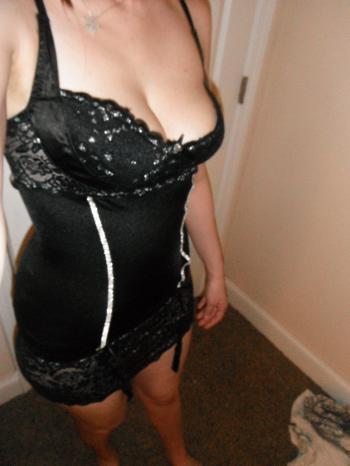 For some reason, looking at the pictures, the crystals not laying flat bugs me more than it does in real life. They seem to be more pronounced in the pictures than what I remember seeing when just looking in the mirror. Maybe it's the angle I took the picture from. Not sure. It didn't seem like that much of a gap when I wore this the first few times. Meh.
This content is the opinion of the submitting contributor and is not endorsed by EdenFantasys.com

Thank you for viewing
Glitter accented chemise
review page!