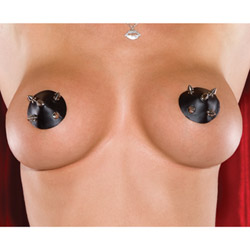 Stud pasties
Pasties
by Coquette
Trick out your tits
I'm very excited by how sexy these pasties are. They are sturdy, fun, and desirable for any faux-leather lover. There are definitely drawbacks to wearing them, though, and they should be considered.
Published:
Pros:
- Very Sexy
- Unique
- Reusable
Cons:
- Weird shape
- Not flexible
- Hard to keep clean
When I first saw these pasties, I knew we were meant to be together. As a newfound faux-leather loving sadist, the idea of turning my chest into a sexy studded work of art got me really excited. I bought them without hesitation. When they came, I excitedly ran to my room and got topless to try them out.
The Pasties themselves are a little over 2" in diameter, so they will cover most nipples, small and larger. They are elevated about 3/4", which I found a little problematic (I'll explain why later). They are made of soft faux-leather with 5 metal spikes (one in the center, four surrounding). On the bottom there is sticky adhesive and silicone. The silicone sticks fairly well, so long as your skin in clean and not oily. They do fall off occasionally, which can either be funny or annoying depending on who you are, but that's the price you pay for getting re-wearable pasties that won't rip your skin off when you take them off.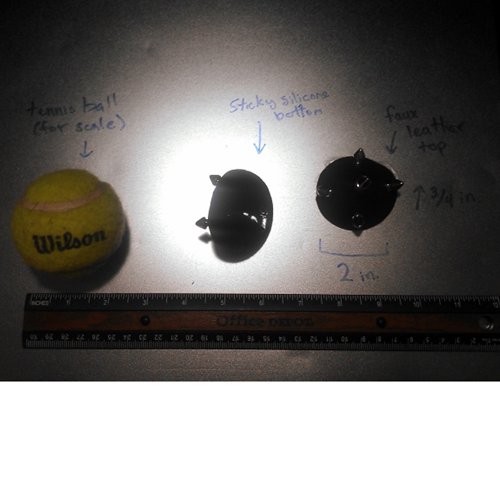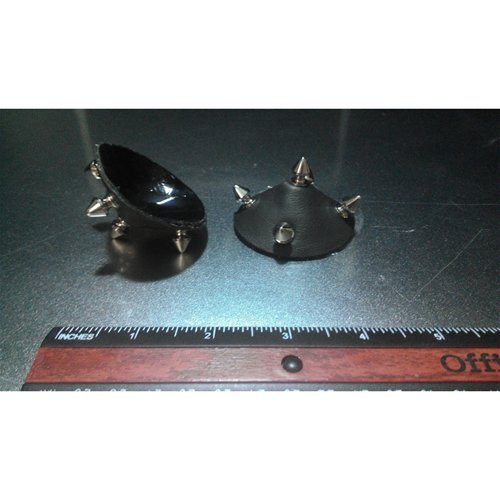 My biggest problem with the pasties is how pointy and long they are without being flexible. They don't fit on my nipples easily, I tend to have flatter nipples, so putting them on requires some pinching and squeezing, and not the kind I'm fond of. I feel like I would have preferred if they weren't so stiff, then they could adjust to your breast shape.
The pasties come in a simple, clear plastic box. There aren't really any instructions or anything, but they're pretty easily to figure out. They come with flimsy pieces of plastic that protect the silicone, and I'd really advise you keep those because there really isn't anything else to protect them from getting pet hair, dust, or lint on them, and they WILL collect grime. They're going to be pretty difficult to clean if you get them dirty because of the adhesive gel, so your best bet is to protect them as best you can to make them last longer. They don't have a carrying case or bag for storage, but I just use a simple black drawstring bag that I had left over from another toy.
Overall, I would say that I'm both pleased at how sexy these pasties, and disappointed at how much maintenance they require. Would I recommend them? Only if you're willing to put up with all the problematic parts of them. When they work, they are wonderful. When they don't, they are frustrating.
This product was provided free of charge to the reviewer. This review is in compliance with the FTC guidelines.

Thank you for viewing
Stud pasties
review page!