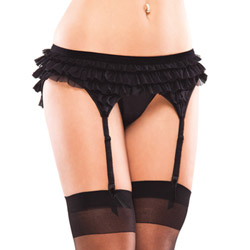 Black ruffled garter belt
Garter by Coquette
Wrap Me Up Like a Present
I just love this. Aside from the garters being just a hair long, I have not a single complaint. The look, the feel, the quality are all amazing, and it's really not a bad price. Don't wait for a holiday to buy or wear this garter belt!
Published:
Pros:
Adjustable, cute, quality!, feminine, comfortable, price!!
Cons:
Only two straps for each leg, garters might be too long for some stockings/legs
I bought this garter belt to wear for Halloween. In hindsight, I could have worn another that I own because I never took off my costume, but it bothered me that the pattern didn't match. Now I have two garter belts that I like quite a bit.

This one by Coquette comes with a tag that's safety pinned to the garter. This lets you remove the tag without harming the garment, but it's one of those tiny pins that isn't very useful.

Otherwise, you can wear this garter belt right away, and I tried it on immediately. It was quite loose, so I adjusted it to its narrowest setting. As I usually fall between a large and XL, I opted for the XL to be safe. It's more a queen sizes, though, as the two sizes are meant to fit a range. At its narrowest, it fit very loosely on my 41" hips. Any wider and I shouldn't gone for the one size fits most. I worried that this would pull down my hips, but it didn't. It you actually like to wear your garter belts at your waist and you're comfortably plus sized, the XL will give you a lot of wiggle room.

At its shortest, it measures 18" wide. When you extend it to its longest, the garter belt is about 21" wide . These measurements are when the piece is folded in half, so it's twice as wide. They don't count for stretch, which is hard to measure. Even if your hips or waist was a little wider than the measurements, you should be okay.

The adjust is like that of a bra strap rather than a hook-and-eye enclosure like you're find on the band. This works okay, but I don't like the idea of it. A thicker band is a little better at holding you all in and staying in place, but the thinner strap with the slide adjuster does mean the style will fit a wider variety of body sizes.

I found the extra length to be a little problematic in the height department, though. Even when I shorted the garters to the shortest possible length, they couldn't been more snug on my thighs, which is how I like to wear them. I was actually wearing a pear of stockings that were a bit finicky to adjust, but this would be a pro if you like wearing yours just above the knee. If mine were tall, I wouldn't be able to use this garter belt at all.

From the point where the garter attaches to the belt to the button tab, it's just under 5.5". It easily extends to 10" without any stretching. As I'm only 5'2", I don't need the length. The straps aren't a smooth elastic. They're ruched, which I imagine it done for looks. You might find this helps the adjuster stay in place, but it still moved a bit on me. It was less than an inch, but it didn't stay perfectly in place.

The ends of the garters are fitted with plastic keyhole tabs. These are frustrating to apply to your stockings sometimes, and I did find that one kept coming undone. However, they're less likely to damage your delicate lingerie. I say less likely but it's not impossible. I still wound up putting a tiny hole in the band of my thigh-high while trying to attach.

There's ribbon on the front and back of the tab to disguise it. The ribbon on the back makes zero sense because it goes inside the stocking. The one on the front, while cute, is always more than a hassle. It gets in the way when trying to attach the clasp to the stocking. I am seriously considering cutting them off of all my garter belts. They're just stupid.

The exterior of the belt is decorated with four rows of mesh ruffles. They're more transparent than the photo shows. You can easily see through a single ruffle, but the overlap of ruffles and the lining makes it more opaque. The material is simply listed as elastic, and the lining that sits against your skin is silky, cool and stretchy. When you hold it up to the light, it's not entirely opaque either. The top edge of the garter belt is actually covered in a velvet strip that adds to the cute and feminine appeal of this piece. I didn't notice until I sat down to write this reviews.

Despite the ruffles, it doesn't feel bulky. It's not as sleek as skin-tight garter belts, but it's not as poofy as I thought. I like this.

**Continued Below**
Experience
The bit of elastic as the waistband is quite thin and it's inside the lining, so it's not directly against your skin, which can be uncomfortable. One thing I have to say for this is the quality is tops! There ruffles are sewn in straight lines. There's no loose threads. Everything is super secure and I can find no visible errors. How often can you say that about lingerie?

To be safe you could hand wash this, but I'm positive it'll be fine in a lingerie bag in the washing machine. Since this isn't the type of item to get dirty, you can wear it a few times between washing.
This product was provided free of charge to the reviewer. This review is in compliance with the FTC guidelines.

Thank you for viewing
Black ruffled garter belt
review page!