A toy "Mister T" would be envious of!
The Eroscillator is like a toothbrush on a power cord where it oscillates rather than vibrates. It does provide unique stimulation, but my body seems to prefer vibrations. With the deluxe model you kind of get eight different toys with five different attachments depending on which attachment/side you use. Now that is kind of neat! But... it just wasn't my cup of tea.
Published:
Pros:
One of my favourite nipple toys!
Cons:
Everything else! Butt ugly. The price is just ridiculous.
The Eroscillator is a unique toy where it oscillates rather than vibrates. For the most part, this is a clit toy but I have discovered that it's the most expensive nipple toy I own. My clit and vagina just don't seem to like the Eroscillator. But my nipples on the other hand? Think this is the bee's knees.
The toy comes to you in a pinky purple cardboard box that you do have to hide as it does have phrases like, 'The Science of Pleasure' on it. In the box you get the various attachment heads, the power cord which when you buy from EF, is only North America 110v. You also get a very detailed instruction manual that explains some various uses and how to clean the toy. There is also an informational DVD and a cheap plastic bag to store the Eroscillator in. The plastic carrying case does not latch close, so be weary of tipping it over least everything spill out.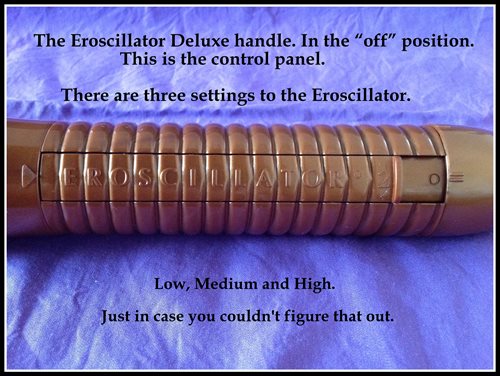 To use the Eroscillator, the control panel is the label along the length of the toy.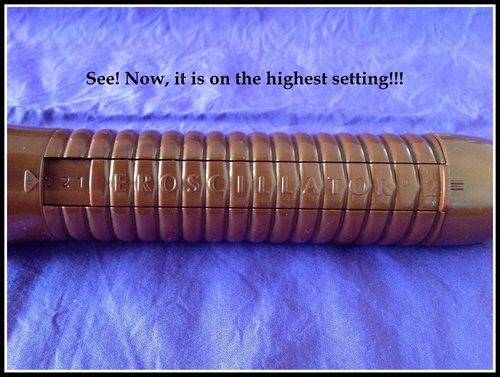 There are three settings, low, medium and high. Low is pretty decent, but when on high, my hand gets a little tingly after more than about ten minutes of use.
To plug in the Eroscillator, you snap and twist the cord into place, then plug it in. The power cord is about twelve feet long, which is surprisingly really really long! Really nice to put it along the back of your headboard and still be able to use it on the other side of your bed if that is what you'd like. Just to make certain this is said a few times, if you live outside of North America, you'll need a power transformer as it is 110v as EF only sells the North American power cord.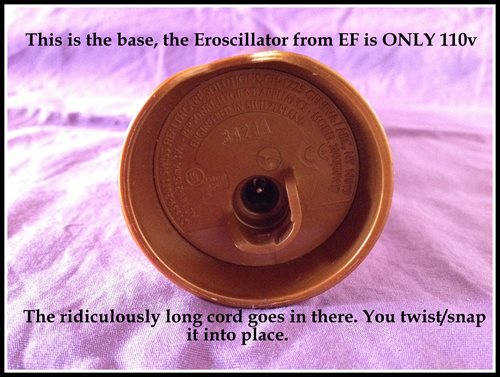 Let's go through some of the attachments;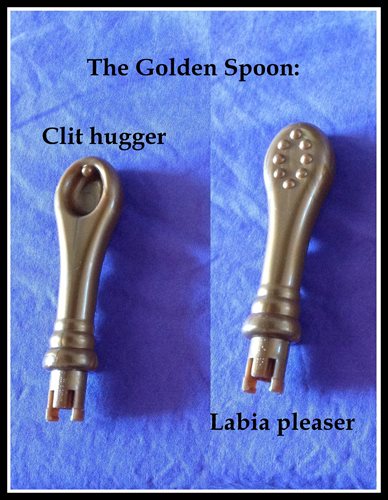 This is probably my favourite head. I like cup part on my nipples most of all.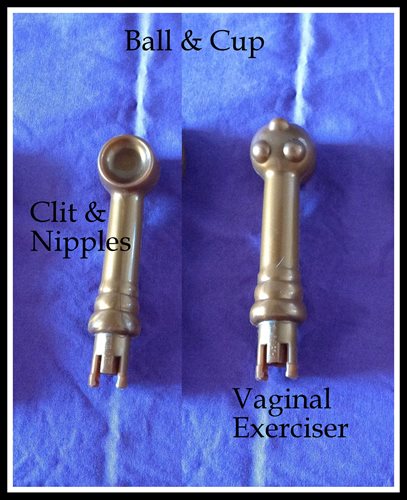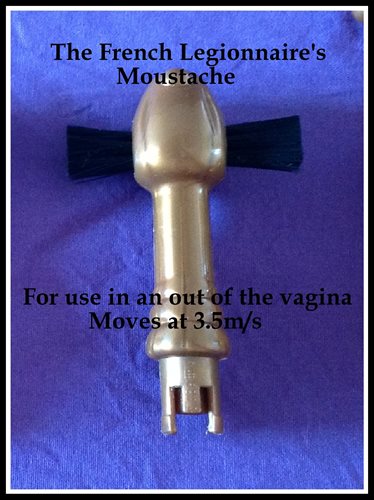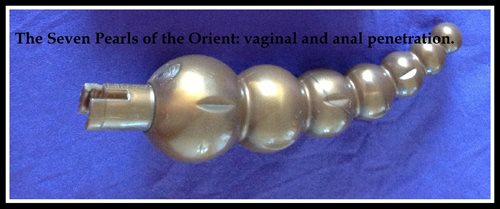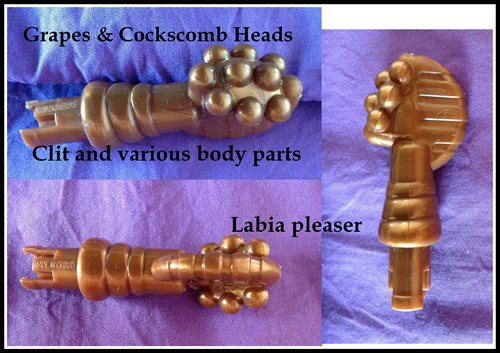 To attach a head, think of an electric toothbrush. Snap it into the handle, and bob's your uncle! To remove, just pull it off.
When you are finished, pull the head off and toss it into some hot soapy water and wash. Even the mustache attachment. If you use that one and get any bodily fluids on it make sure you clan it well and allow it to air dry. Remember to wipe down the handle too with a toy cleaner or a damp wash cloth.
The handle itself is made from plastic, and the attachments I think are made from some sort of silicone mixture, I couldn't find an answer anywhere as to what they are actually made of. They head attachments collect lint and hair like crazy! So might be a good idea to wash before and after each use. If you find you need to use a lube, I'd suggest a water based lube.
When storing this toy, I just keep it in the box it came in on a shelf. I've tried to use it, and I've tried to like it... But it just collects dust on a shelf.
Experience
Using the Eroscialltor as a sex toy on my clit, vagina and anally, just did nothing for me. And I love bubbley anal toys! On my nipples on the other hand... Now that's something to explore. But is it worth the 200USD price tag? Nope. A bullet on my nipples does the same job for a couple dollars.
It is in my opinion more ugly than the Hitachi, and what is with that colour? I do think they made it for Mr. T in mind.
I didn't find the toy to get a hot handle when used for a prolong period of time, nor did I detect any kind of scent. That being said, I refused to taste it. I did like the power options, I jut wish it vibrated! I didn't notice any intensity variations when I applied pressure. When it comes to how it sounds when on, the lowest setting is about the same as the low setting on an electronic toothbrush, and just gets a little louder from there. So use it under blankets or behind a closed door. And when you plan to store it? Keep it away from prying eyes.
So I guess I should ask- then answer a question. Would I recommend it to a friend? My honest to goodness answer is an emphatic no. It is just not worth it. Especially of you enjoy vibrations. Even though this thing has been endorsed by Doctor Ruth, it just isn't for every woman out there. Besides... what is up with the names of the attachment heads???? This all being said, if you find it difficult to orgasm from vibrations or you clit doesn't like vibrations and you prefer the side to side of your finger, this might be the toy you are after. For me personally, I just love vibrations!
So ratings. I am going to give this a two star rating. It is ugly. The price is just way too much for the toy and the attachments. And just not worth it in my opinion.
Edit:
I realised I did not include a size comparison photo for you all, so I have decided to include one as an edit. My apologies about all the toys in this photo, I am shipping the Eroscillator off to an EF member and it is sitting at the bottom of the parcel so am unable to do my regular comparison.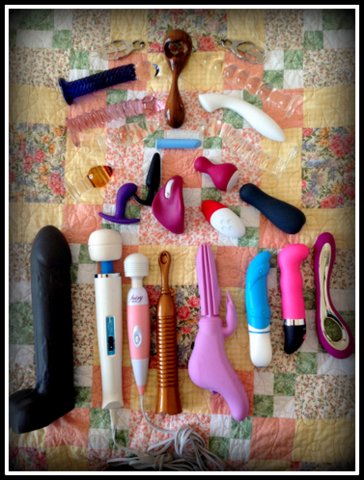 This content is the opinion of the submitting contributor and is not endorsed by EdenFantasys.com

Thank you for viewing
Eroscillator 2 top deluxe
– oscillating massager review page!