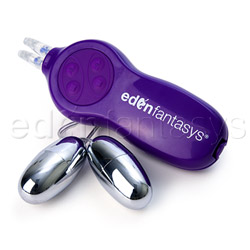 Passion bullets dual
Bullet
by EdenFantasys
Blue Bullets of Bliss
The Passion Bullets Dual is a great toy for solo or partner play. One or both bullets may be used and controlled independently of each other, offering some great versatility during play. Great quality and power make this an excellent bullet for any toy box.
Published:
Pros:
Strong vibrations, dual controls, good quality, rubber-cote bullets.
Cons:
Seam makes cleaning a bit of a hassle.
Everyone should own a good bullet. One of my very first sex toys was a
vibrating bullet
, and I've loved them ever since. Of course that tiny little wireless bullet wasn't very fancy, in fact it was as basic as it gets. I've since then owned a lot of different bullets; some of them bad, some of them good. Sadly though, at some point I wear the motors out. When it came time that I could request another toy for review, I knew I wanted a new bullet. I wasn't sure what I wanted exactly, until I saw it.
When the
Passion Bullets
arrived in the mail and into my greedy little hands, I knew I had selected a good product to review. Some
California Exotics products
are very cheaply made, however this was not the case with these bullets. The control pack is made of thicker plastic, the buttons are covered in a soft rubber, and the
dual bullets are rubber-cote
. Everything looks and feels very nice.
Nothing is more important to me in a good bullet than power, and this has enough to satisfy me. They aren't as strong as the
Hitachi Magic Wand
of course, but honestly what is? The 4 AA batteries really pack a punch, and my rechargeables seem to be lasting very well (think 4 hours of use so far). There are 3 different levels of constant vibrations and 4 patterns including slow and fast pulses, escalating, and roller coaster types. They are all stimulating and enjoyable, but like always, I prefer the highest steady vibes. Both bullets are able to run at full speed without a loss in power, and you may either have just one or both plugged it.
When it comes to sound, I'd say these bullets are very comparable to other bullets powered via battery pack. Audible under blankets, but not through a door.
The controls are pretty simple really. There is "A>" and "B>" (I love dual controls for dual bullets, much nicer than being stuck with the same speed on both). Pushing the buttons cycle through all the settings endlessly, but one push of the off button turns the respective bullet off (go figure ;). I really appreciate "kill switches" in vibes, so this was very welcome.
The control pack fits in my hand comfortably. There are no sharp edges or rough spots in the plastic, and the door to the battery compartment has never fell open. Speaking of the batter door, it is a little tricky to get open. There is a little tab that you press down while you slide the door out a little bit so it can flip up and expose the batteries. The problem is that the door fits tightly and the tab must be pushed down quite firmly. This may really annoy some people, but I am comforted by the fact that the door will never flip open willy nilly and spill its guts. While on the subject of batteries, I'd like to remind you to remove the batteries after each use to prevent leaks that would ruin your toy.
The cords are a generous 34.5 inches long, allowing for some good flexibility during play. Do keep in mind though that using both of these at the same time may give you problems with tangles in the cords if you do a lot of flipping around and changing positions during sex.
These bullets aren't listed as waterproof, so I did not test them for this out of fear of ruining them. If using these internally (vagina only, never put bullets in your tush as they can get sucked in and lost if the cord comes loose) I would highly suggest putting a condom over the bullet. The condom will protect the bullet from excessive moisture and it will provide something to pull them out with so you don't strain the cord. Do keep in mind that you may need to use a small nail brush or a toothbrush for cleaning the seam. I did not notice the seam during use, however it tends to really collect gunk and needs scrubbed out after use.
Water and silicone based lubes are fine with these, but oil should be avoided because of the
rubber-cote on the bullets
.
Experience
These bullets are the average larger sized bullets. I found the rubber-cote to make these easier to hang on to during use than bullets with a slick painted surface, plus it feels very velvety and luxurious.

I love the dual bullets during some nice anal sex. I slip a condom over one bullet that I insert vaginally and I hold the other bullet over my clit while in doggy style. The vibrations are easily felt through the vaginal and rectal walls to stimulate the penis of a male lover during sex. Doggy style position puts the bullet on the underside of the penis and it also helps it to stimulate the g-spot at the same time. This may also be done with vaginal sex, although caution must be taken because the bullet may get pushed into the cervix by the penis (or toy) during sex and could become uncomfortable.

The two bullets that may be controlled independently of each other is great for partner play, as each person gets their own bullet while still only using one toy. Just watch out for those cords and make sure you don't get tangled together... well, that might not be such a bad thing really.
This product was provided free of charge to the reviewer. This review is in compliance with the FTC guidelines.
Thank you for viewing
Passion bullets dual
– bullet vibrator review page!