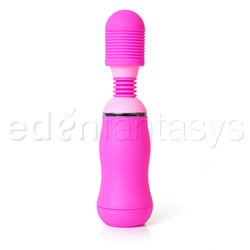 Couture transcend flexing massager
Wand massager by California Exotic
CAUTION: Intense vibrations. May cause teeth to chatter.
Couture Collection: the exceptional toy with a stupid name. It is not only intense, it is a DIFFERENT sensation, great for those with mountains of toys that want a toy that brings something unique to the table. Or bed. Or shower. Many settings mean variety. Once the toy is in you, it is pretty much impossible to tweak the settings (four buttons on the bottom for on/off, vibration pattern, one to increase intensity and one to decrease) unless you have a mirror below your pussy.
Published:
Pros:
It has many settings...ah, delicious variety. Set on high, your pussy'll shake rattle and roll!
Cons:
It is exceptionally difficult to clean due to tiny ridges, likely requiring a scrub brush
Dear Diary,

Remember how I told you I ordered a "couture collection" online and was very excited to see Juan's happy face at my new stylishness? Well I'm not sure if there was a mixup at the factory or what but they didn't send me pretty dresses but a MASSAGER!

I was prepared for Juan to be very disappointed—he's a very good boyfriend and I like to dress pretty for him—but instead he seemed VERY HAPPY! He told me that it was a massager for DOWN THERE and I'm not sure he was right, because the package didn't say anything about that but he insisted and OH DIARY! It was absolutely the keenest. It has five different intensity settings—of course I use full crank every time, although it's very loud until Juan puts it in me, then it's somewhat muffled—ha ha, "muff"led!—and it has ten different "functions" which are like patterns to the vibrations. I thought I'd probably just like it to vibrate consistently but Diary, it has such an intense pulsation to all of those settings, has like an intense fluttering or shuddering that shakes me in there deep and it feels AMAZING. Juan says he's never seen me orgasm like this before.

It's a really amazing toy but very difficult to clean because it has a lot of little ridges. I have to scrub it with a scrub brush because otherwise it won't get clean, and if I let it dry first (WELL! Sometimes I need a nap afterward because I'm so relaxed) then I really have to scrub a lot. It's also pretty big—it's 4 1/4" around at the top but if I shove it in farther, it's about 5 1/2" around at the next ridge. The package seems to pretend like it wags side to side but it doesn't do that at all, I sure wish it did.

I'm so glad they messed up at the factory! I like clothes but I wouldn't have had nearly as much fun as I've had with this toy. The other day I found out it's waterproof and was so excited I couldn't wait for Juan. Then I started using it a lot without Juan and now I think he's a little upset and wants to take the toy away because sometimes when he comes over I don't want to have more orgasms, but it's not my fault his penis doesn't have pulsation! He didn't like it when I said that...but if he breaks up with me I still at least have the Couture Collection.

I'm probably not going to be writing you very much any more, Diary. There just aren't enough hours in the day and as long as the 4 AA batteries are charged, I'm kind of busy.

--Cindy Lou
Follow-up commentary
21 days after original review
This toy is NOT waterproof! I used it once in the shower and a few days later it came on by itself and pressing the 'off' button would not turn it off. I opened it up to take out the batteries and a few tablespoons of water splooshed out! The batteries had corroded and now I don't trust it with the batteries left in place. So BEWARE if using in water...double-check the battery compartment after use to be sure it's dry!
This product was provided free of charge to the reviewer. This review is in compliance with the FTC guidelines.

Thank you for viewing
Couture transcend flexing massager
– wand massager review page!