My Wonder Massager!
Sore and tense muscles will run and hide in fear as you pull out this miracle worker! Waterproof and with strong vibrations, this little guy will chase away all your problems both in the bedroom and in the bathtub! While this massager can be a bit noisy, it makes up for it with the VROOOOOM!
Published:
Pros:
Strong, buzzy vibrations
Easy to change functions
Waterproof!
Cons:
A bit loud on high settings
Takes 4 batteries
The
Coture Transcend Flexing Massager
was something I decided to order as my Eden sponsored item for the month. I chose purple, though the manufacturer,
Cal Exotics
, offers it in both purple and pink.
This is a personal massager and made for
external use only
, as indicated on the packaging. The packaging itself is a clear plastic box with a white "texture" look to it, almost as if someone had taken spray paint and lightly coated the box, but the texture was only in appearance. The product shows through the box, though, because over just the area where the product is displayed, the plastic is clear. The front gives general information about the product and company, but the back gives the most information. It explains the controls and functions. The bottom lists the company contact info as well as a notation to only use water based lubricants with this product!
The massager itself on the head and neck of the item is made of silicone. There is a silver ring separating the head from the neck, which is made of ABS and silver plating. The box also indicates that the "massager" is made of ABS with PU coat. They are referring to the "bendy" part of the massager. The personal massager takes 4-AA batteries. I can tell you that this is not a battery guzzler, as I had my boyfriend give me a nice, long and rather well-deserved back massage and then gave him one as well with it, and no sign of dying batteries just yet!
Speaking of batteries, the compartment is the coolest thing I've ever seen! It looks like one of those capsules from Jurassic Park where they keep the Dino DNA! (pictures further down for you non-geeks who have no clue what I'm referring to)
The control pad, on the base of the massager where the battery compartment unscrews from is very simple to understand. You have "on/off" which is a circle with a line in it, a + and - to control the 5 intensities, and a F button to control the 10 functions. The functions range from constant pulses to quick VVV's to varied pulses that do a combination! There is even a slower pulse that goes more like V-V-V. I like the constant pulses, myself.
The massager portion (the part that flexes) is made of 5 rings, which do allow the head to flex from side to side. During massage it is not difficult at all to flex the head to get just the right spot! It is excellent for massaging those sore muscles and loosening you up before bed or other pleasurable activities! The head is smooth and feels rubbery. While the tip of the head is smooth, further down about half an inch there are some "ribs" on the head.
All-in-all the massager is fairly small and quite cute looking in my opinion! It had no taste to it, and a mild plastic smell which went away after a first washing.
The battery compartment unscrews and pulls out, but I did discover one tiny problem with this massager. The coils that allow the connection of batteries to the motor are easily twisted while unscrewing the battery compartment. The first time I removed the compartment I was fine - second time, they twisted and I had a heck of a time using pliers to untwist them!
Another issue I found with the massager, is that the ribs on the massager occasionally catch my hair and can pull it, if you aren't careful. This was simply fixed by pinning my hair up or moving it out of the way, but I figured a nice warning would be nice for everyone.
Aside from those two flaws, this massager is fantastic! It is waterproof, which means that you can easily take it in the bath or shower with you and I tested this function out and it works very well! Cleaning it is simple - just wash with warm water and soap! While silicone
can
be boiled, the flexible part of the massager is made of a material which should not be boiled, so I would stick to water and soap for cleaning! I use toy wipes to clean mine.
The materials are food-grade and latex free. The toy is hypo-allergenic and free of Phthalates. Need more to sell you on it? How about the fact that it feels soooo good on those sore muscles? Relieves tension? Strong pulses? Control pad lights up when it is on? How cool is that?! Though this is not the most quiet massager on its high settings, the vibrations are quite strong.
Here, you see the massager!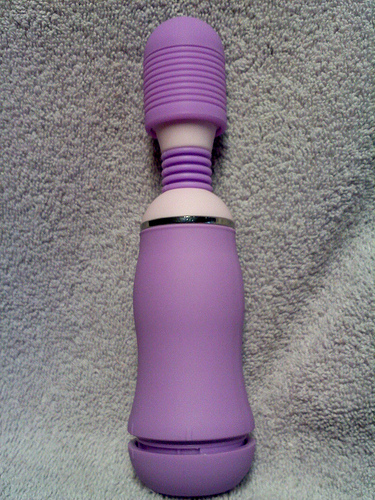 That neato battery compartment I mentioned!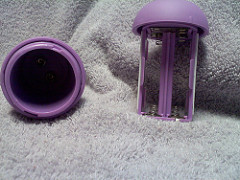 A size comparison!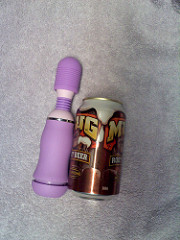 Front of the box:
Back of the box: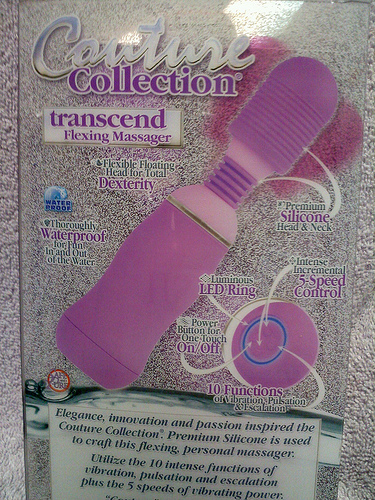 Experience
I first tested this toy out by just tinkering with the settings. My boyfriend decided to give me a back massage with it and it felt quite good! My biggest "test" was when I took a bath! I did decide to test this waterproof toy out in the water! Bath full of hot water and bubbles, bath pillow ready and massager! I gave myself a full body massage, but let me tell you, for sore muscles, this thing works as a great masseuse! If you are looking for a toy to massage those more intimate areas, this is great because although it is pretty loud it is strong so if you are a power-queen like me, you need not worry!

4 out of 5 stars for this one because although it felt quite good it was very loud for a toy of this type. I also didn't like the issue with the coils in the battery compartment, or needing to take care not to have my hair pulled!

Vrooms and Bees were rated based on the product at its highest settings, but at the lowest I'd give Vrooms a 2 and Bees a 1!
Follow-up commentary
3 months after original review
It's not that I dislike this toy, it's that I don't really use it anymore. I've gotten better things, and use them a lot more. This, I don't really touch often. It hasn't been fully retired just yet, but it may end up heading that route at some point! It still is in full working order, though, and has no defects or damage to the material on the outside.
This product was provided free of charge to the reviewer. This review is in compliance with the FTC guidelines.

Thank you for viewing
Couture transcend flexing massager
– sex toy review page!