Cooling Down
For those hot summer days when you want to introduce a little brrr to the bedroom this is a great way to go. This freezable ice mold with bullet will cool you down a few degrees, in a good way.
Published:
Pros:
Perfect for temperature play, easy to use
Cons:
Bullet is not strong and uses micro cell batteries
The Touche Ice is a vibrating base with ice mold, to hold an egg shaped ice cube. I live in Texas so during the summertime ice comes into the equation quite frequently. I wasn't really sure about this, but as we have now broken all records of consecutive 100+ degree days, I figured why not give it a shot.
This comes packaged in a box that has a magnetic cover that you open to see your egg, mold/stand, and bullet. When you open it there is a key included to remove the bullet from the hand held grip, as well as an instruction pamphlet explaining the basic operations of this egg. The packaging is discreet as you can't tell what it is and it simply reads "Vibrating Ice Massager".
The bullet that is included is small measuring 1 1/4" long with a diameter of 1/2". It is operated with two micro cell batteries and doesn't offer a lot of vibration, especially once it is inserted into the half egg base. I found that the bullet from my
Vibro Ring
fits a little smoother inside of the base and it is more powerful.
It is made of food-grade, hypo-allergenic, latex-free, phthalates-free, non-porous silicone. When you open the package there is a small plastic egg half shaped cup that fits inside of the ice mold. I assume this is because with a silicone grip and silicone mold, they need to have something between them to avoid damage. This is easy to clean, just use warm water and soap and allow to air dry. Always remove the bullet and batteries before cleaning to avoid damaging them. If you choose to use lube, I would use a water-based lube because it is compatible with the silicone that is used on this vibrator.
It is pretty simple to use. To begin you have to remove the bullet that already has the batteries installed inside of it. This can be a little difficult. There is a key provided that you slide in on the side of the bullet, twist, then pull it out. I found that simply by pushing from the other side will get it out enough to pull it the rest of the way.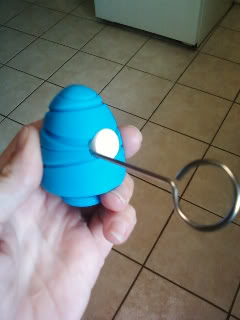 Remove the plastic half-egg liner from the ice mold cup. Fill it with water. Boiled water will make it come out clearer, you can also add flavoring to the water, or even use chocolate in the mold. Use your imagination.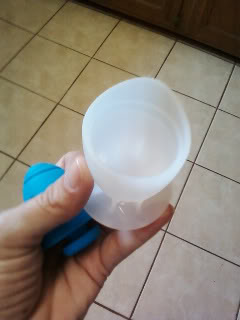 Now take the grip half of the egg and set it on top of the ice mold. Stick it in the freezer and allow 3-4 hours for the ice to set completely. You have to be patient and allow it to freeze fully to achieve the desired effect.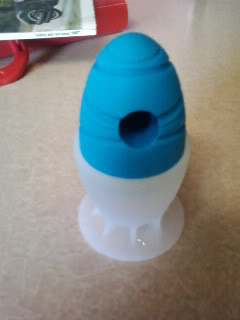 Remove the egg from the freezer and pull off the base of the mold. Now you have your ice cube with your silicone grip attached. Insert the bullet into the hole and go to town. The bullet is turned on with a simple push button controller.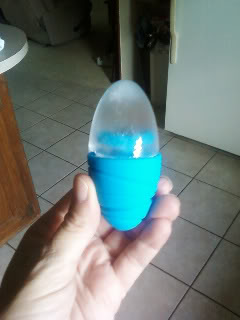 The completed egg is 3 1/2" tall and 2" wide. It takes about 15 minutes for the egg to melt while using it to travel over the body. A little bit shorter time than that if you insert the ice part, which is how I enjoyed it best. Once you turn on the bullet, there are vibrations but they aren't very strong. Still, it feels really nice for oral play as well as just teasing your partner. For stronger vibes you can use a different bullet but it has to be a smaller one.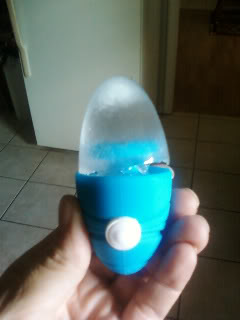 Once your ice melts away, you are ready to clean and store it. It can be stored in the original box. Be sure to put the plastic half-egg covering back into the ice mold if you store the pieces put together.
Now have fun, cool off and wind down!
This content is the opinion of the submitting contributor and is not endorsed by EdenFantasys.com

Thank you for viewing
Touche Ice small
– sex toy review page!