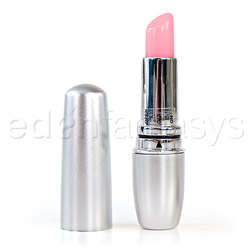 Incognito lipstick vibe
Traditional vibrator
by Topco
Incognito lipstick vibe sex toy review
What you see isn't always what you get, and this little super-secret toy certainly proves that point. It's a fun, easily hidden toy for those times you just need to hide in plain sight.
Published:
Pros:
It is great for gags, and easily hides in plain sight.
Cons:
It is very loud, slightly larger than regular lipstick and only has one setting.
What you see isn't always what you get, and this little super-secret toy certainly proves that point.
When I first opened up the packaging, I was surprised at how close in size it really is to many commercial lipsticks. It is still a little larger, so it might look big lying next to a real lipstick, but without that visual comparison, I don't think that many people would actually notice.
The
Incognito Lipstick Vibe
appealed more to my sense of humor than my actual desire for a new vibe. Just think of all the gag possibilities! You can also just amuse yourself – when I set mine down to type, it started twirling around my desk.
I decided to test this vibe's discreetness by taking it with me to the grocery store. With the Mission Impossible theme looping through my mind and an innocent expression pasted on my face, I walked up to the counter to check out. Of course, I just had to remove a couple things before I could find my wallet. Out came the cell phone, a pen and, you guessed it, the Incognito Lipstick Vibe! The clerk didn't even bat an eyelash. No red flags were raised whatsoever. The clerk looked over briefly but then just went back to ringing up my purchases. The same thing happened at the coffee shop; success! It's fantastic to be able to hide your toys in plain sight!
Most of my
clitoral simulators
run on expensive watch batteries, so I was delighted to find out that this vibe runs on a single (and much less expensive) AAA battery. This amazing twirling lipstick vibe has a surprising amount of power for such a small package. The trade-off is that the noise level is the biggest giveaway. It's an ugly high-pitched whine.
When actually using this vibe as a
clit stimulator
, rather than a gag, there seem to be two ways to approach it. Most of the vibration is in the tip of the pink lipstick part, so you can definitely just go for that. It's a nice, strong vibration. Despite what the packaging says, there is no second setting. You can make the vibration really gentle by putting the cap back on and using that surface instead.
I'm definitely going to keep this on hand for gags and any travel I might be doing that includes a bit of alone-time.
This product was provided free of charge to the reviewer. This review is in compliance with the FTC guidelines.

Thank you for viewing
Incognito lipstick vibe
– sex toy review page!