Every Rose Has Its...Bruise?
The Velvet Touch vibrator is an excellent choice for both beginners and advanced users. It has a nice, velvety feel to it. The toy takes two AA batteries, which it will burn through very slowly. This is waterproof, too, so it's great for shower/bath play. The only downside I noticed is that mine developed some weird bruise-like spots after about a year of use.
Published:
Pros:
velvety feel, price, battery consumption, levels of vibration
Cons:
weird bruising
I have had my Velvet Touch vibrator for about a year or so. It is still working just as well as it did the day I got it. I honestly did not expect it to last all too long, considering I only paid about $10 for it.
I purchased the Rose colored vibrator, which is exactly the same as it is displayed on the product page on EdenFantasys. It came packaged in a long plastic box, which would have been great to store it in, if it hadn't gotten broken during shipping.
The Velvet Touch vibrator is approximately 7 inches from the tip to the end of the dial, with about 6 inches of that insertable. It measures from 3 inches to 3 1/2 inches around, with the wider circumference at the base. The tip is rounded. The body of the vibrator feels very smooth and has no seams in the plastic. The material does feel velvety soft, though since it is just a coated plastic it is still a hard material. This is phthalates free. This still feels soft and smooth, even after being used and washed quite a bit.
The vibrator takes two AA batteries, which are inserted by screwing off the base. I feel it does not drain batteries very fast at all, so I usually end up putting the batteries my camera rejects as "not having enough power" in. I have had the reject batteries last for quite a few uses ranging from 15-30 minutes each use. I would recommend storing batteries out of the toy. I have had one toy's batteries corrode inside it, which ended with me throwing the whole mess out.
Velvet Touch can be used with any silicone or water based lubricant. It isn't super slippery after lube has been applied. It feels like the material offers a bit of friction or resistance. Since this is waterproof, it can be used in the tub or shower, as long as the base is screwed on fully. Clean up can be done with just soap and warm water or with a toy cleaner. I recommend taking the batteries out before putting it in the sink, just in case.
The vibrations of the Velvet Touch are pretty good. There are three levels of vibrations, which can be changed with the dial on the base. All three levels have a constant vibration. I feel the low and medium settings are both comfortable, though the high setting is a bit too much for me. Just holding it on the high setting for about 10 seconds made my hands go numb.
I feel all three settings are loud. Low and medium are not as loud as high, though. Those two should be easy to muffle with a closed door and some blankets. Someone standing at the door would be able to hear the high setting. I have found that when I am using this, I prefer to keep my hand closed tightly about half way down the vibrator. This seems to muffle the sounds of the vibrating pieces smacking against the plastic inside the toy.
There is, however, one con I have noticed with this toy. It developed some bruise-like spots on it, which actually seem to be increasing in number. I first noticed it a couple of weeks ago. There were only two spots then, now there are three, and I have not even used it in a month or two. Since I store this in a makeup box that has feet, it does not get knocked around at all. It just sits on top of my bottles of lubricants and other stuff. It kind of looks like something is going wrong on the inside of the toy.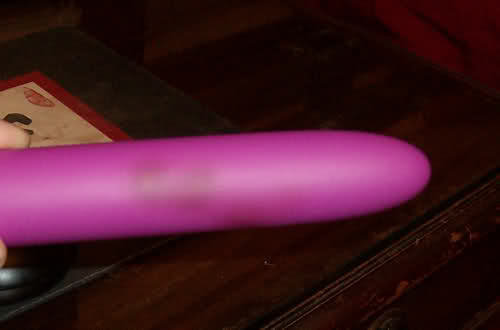 Overall, I think this toy is worth it. It's very affordable and has held up fine for me, with an exception to the bruises. It would make a good toy for both a beginner and an advanced user. The feel of the material and the fact that it is waterproof are pluses as well.
Experience
I think this toy is more appropriately used on the outside of the body on erogenous zones. My boyfriend attempted to use this vaginally on me, which just tickled a lot, even on the low setting. It was also a bit difficult to actually get in there, due to the hard material. We have used it on various other parts of our bodies, though. He especially likes the feeling on the shaft of his penis and around his perineum. I think it feels good for clitoral stimulation as well.
Follow-up commentary
2 months after original review
After the velvet touch vibrator formed its first three bruise-like marks, it hasn't actually formed any more. It still runs fine, though I don't use it since I don't know what caused the marks. I just have to hold on to it for now, since I have no way of actually throwing it out, because my house does not have trash picked up.
This content is the opinion of the submitting contributor and is not endorsed by EdenFantasys.com

Thank you for viewing
Velvet touch vibrator
– traditional vibrator review page!