Hand over the controls and just enjoy the ride!
Personally, I don't know if I could get off with this toy alone. Of course, I've never been all that into (or satisfied by) g-spot orgasms anyway. But this toy is fantastic and powerful, and I already know it'll be staying at the top of our toy box.
Published:
Pros:
powerful
nice feel
10 settings
easy to clean
compatible with water, oil and silicone based lubes
Cons:
seam may catch during insertion
a bit loud
Features:
This vibrating Egg, produced by Shots Media, is composed of smooth plastic (an 8 on the materials safety scale). In other words, it features food-grade material, is hypo-allergenic, latex free and phthalates free. Special features include multi-speed, multi-function, and water proof. It is also controlled with a small remote, similar to the little keychain for electronically locking and unlocking your car. The packaging boasts that the remote works up to 20 meters (approximately 65 feet) away, which we have no reason to dispute.
This toy requires 2 AAA batteries, which are inserted into the egg. I really wish they'd included what sort of batteries the remote requires, but they don't, and I don't have the itty bitty screwdriver necessary to open it and find out. My best guess would be watch batteries, though. Either way, the first set of batteries you'll need for initial use are included. The remote is pre-loaded, and there's a little diagram in the egg's battery compartment, telling you how to insert the two AAA batteries.
Functions
This product has 10 functions/patterns, which I will list in order:
1) low steady vibration,
2) medium steady vibration,
3) high steady vibration,
4) quick pulsing vibration,
5) one long burst followed by four short bursts,
6) increasing and decreasing waves of power,
7) escalating pulses,
8) long slow pulses that increase in speed,
9) medium steady vibration followed by pulses,
10) high steady vibration followed by pulses
Appearance:
The egg portion of this product is 3 inches from tip to base (not including the loop for removal), and has a circumference of about 4 inches (diameter of 1.25"). This toy is oblong and very smooth. There is a seam about an inch from the base where it comes apart (screw cap) for the batteries. The removal loop is about 6 inches around, attached at the base of the egg, and appears to be plastic/rubber coated copper colored string. The remote is 2 inches long and 1 inch wide, composed of smooth, satiny plastic and brushed steel. It has a lobster clip keychain attachment and a cover that slides down over the buttons when not in use to prevent accidental button-pushing.
Scent:
I really didn't notice much (if any) scent when I first opened this product, but I washed it anyway, just to be safe. As far as I can tell, it doesn't retain smells at all, unless your cleaning solution or soap is scented.
Sound:
Yeah, this little bugger is loud if you're just holding it in your hand. When inserted, it's definitely muffled, but will still be heard by anyone in the room with you, unless music's playing or there's some sort of sound cover.
Feel:
Being coated plastic, this product is relatively smooth. It doesn't have the dragging grip that other materials may have. I did notice that, during insertion, the seam of the battery cap caught a little, causing some discomfort. With proper lubrication, that isn't an issue.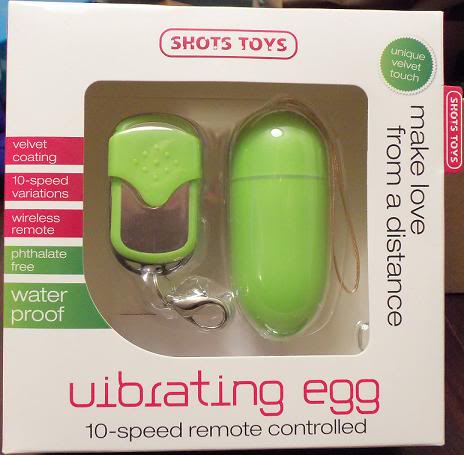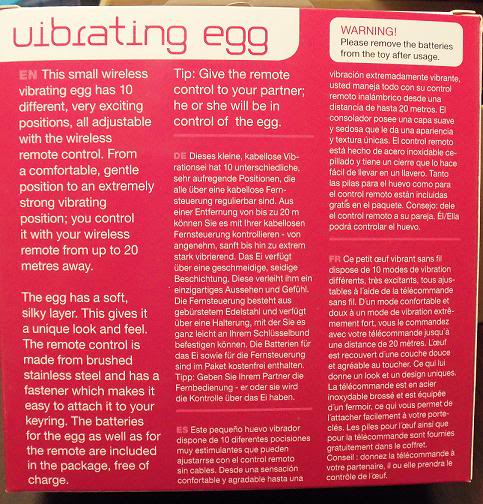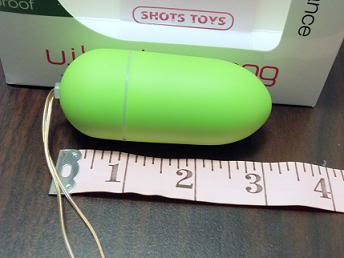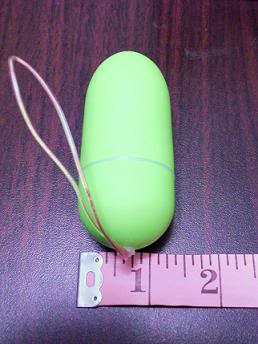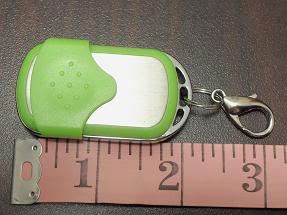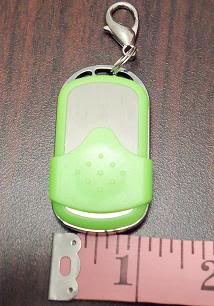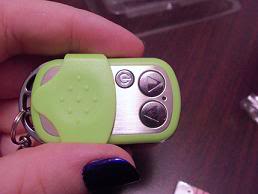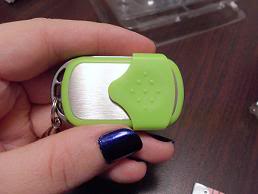 Key Points:
-10 settings
-food-grade material, hypo-allergenic, latex free, phthalates free
-multi-speed, multi-function, water proof and remote controlled
-works up to 65 feet away
-Compatible with water based, oil based, and silicone based lubricants
-Comes with first set of batteries
-Remote control is a keychain
-Easy clean up, can just wash it in the sink with soap and water
Experience
I initially used this vibrating egg by myself since I was really eager to try it out and my partner was asleep. I lubed it up with a silicone/water based lube (a hybrid lube, if you will), and inserted it. I noticed that it was a bit of a tight fit, and I wasn't exactly sure how far to push it in. I figured I'd have a better idea of where it needed to be once I got it going, so I pushed the "Vibrations Up" button (which doubles as the "on" button).

I wasn't immediately impressed by the sensation (note to self: I really dislike Wet Synergy Cool Tingle lube) so I started flipping through the settings. I still wasn't impressed, but figured I'd keep trying. Maybe I'm just a dual stimulation kind of chick. So, I started digitally stimulating my clit while continuing to flip around through the settings.

Well, I came... It wasn't anything incredible, but that may have been because of that damn lube. (Seriously people, it's so strong that it distracts you from any sensation other than the almost painful cold, like an ice cube's been shoved into your lady bits!)Feeling a little disappointed, I removed it and cleaned up.

A couple hours later, I decided to hop in the shower. Afterwards, while I was wandering around our apartment in a towel, my partner decided he wanted to play. He gently took my towel, pushed me down onto my back on the bed, and went about trying to insert the egg... Dry. With a bit of saliva as lubrication, he managed to get it in... But like I mentioned earlier, the seam from the battery cap caught. Ouch. Anyway, he inserted the egg and began experimenting with the controls of the remote.
MUCH more fun with a partner!

So, there we are. I'm squirming, wanting more, and he's enjoying the show. He starts licking my clit, then rubbing it with his fingers, and then decides to get the Gigi to use on me. With the egg vibrating against my g spot and the Gigi vibrating against my clit, I got VERY vocal. As in, our neighbors probably hate us now.

Within a few minutes, I had a sheet-grabbing, back-arching, toe-curling orgasm that left me gasping for air. Once my ears stopped ringing, I could hear the poor egg still trying valiantly to vibrate. I'd clenched down on the thing so hard when I climaxed that it couldn't vibrate at all. I only knew it was still on because I heard it buzzing slightly. All evening, people were commenting on how I had "a glow" about me. After all this, I've come to the conclusion that I probably can't have a fully satisfying orgasm with JUST the egg providing internal stimulation. But paired up with a clitoral vibe, it'll get me every time!
Follow-up commentary
6 months after original review
Honestly, we don't get the opportunity to use this as much as we'd like... But when we do use it, it's still a lot of fun! The batteries last a good while, the remote is subtle and easy to use, and the egg packs quite a punch!
This content is the opinion of the submitting contributor and is not endorsed by EdenFantasys.com

Thank you for viewing
Vibrating egg 10-speed remote controlled
– remote control egg review page!