Is This Toy Worth The Price?
My wallet said no, but my pussy said yes- so yes, it's worth it. Despite my complete dislike of the function buttons, Form 6 has won me over to where it's the only insertable vibrating toy I look forward to using anymore. It is now on standby right next to the bed. It may be expensive, but with a pussy this happy, who cares? You can't put a price tag on joy like that; only Jimmyjane can and does.
Published:
Pros:
Quality materials
Powerful vibrations
Unique pulsations
Waterproof
Cons:
Function buttons are hard to push
Function buttons are in an inconvenient place
Terribly expensive
The purchase of Form 6 by Jimmyjane marks a few firsts for me. It is the first rechargeable vibrator I own, it is the most expensive as well. It is the first true "luxury" vibrator I have ever had. Its "form" has intrigued me since I first came to Eden, but I was loath to pay the price. Finally one day it went on sale and before I knew what hit me, my fingers were typing in the purchase. I have been reading questions around the forum asking if the toy was really worth the price and also reading reviews saying it was great, now I will finally know for sure from my own experience.
Form 6 is a double ended vibrator created primarily for vaginal and clitoral use, but could liven up any erogenous zone on the body with massage. It has no flared base so I do not recommend it for anal use. There is a small curved end and a larger much thicker end. Both ends feel exceptionally good inserted depending on how much girth you would like. Both can reasonably hit G-Spots depending on where yours is. Both feel wonderful on the clitoris as well. I usually use the larger end for insertion and the smaller for clitoral stimulation. Based on the wide range of size, this toy would be great for anyone from beginners to highly experienced users.
While the smaller end is perfectly rounded, the larger end is more ovular and club like in shape. The club is a 1/2" more deep than wide.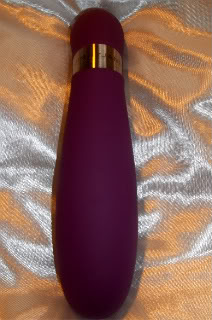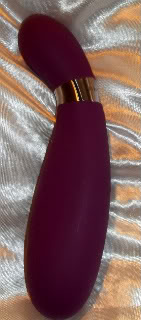 Before you can use Form 6, you must charge it up. Plug the charging case into an outlet, then place the Form 6 onto the base. The metal collar should rest on the support and the 2 ends will nestle into the dips in the base. When positioned correctly, the lights will illuminate to indicate charging has commenced, then 2 lights will remain on. Form 6 will be fully charged after 4 hours, but to maximize battery life, charge for 8 hours before your first use. It is not possible to overcharge and may be stored on the base until your next use.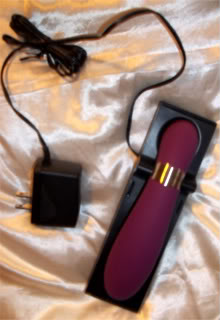 Form 6 has 2 independently controlled motors, one for each end. Vibration is felt throughout the whole toy. The function buttons are located on the top of the toy and are in a very inconvenient place; no matter which end is used for insertion they wound up inserted. I have to put it on the settings I want before insertion, which is different but not intolerable. The buttons are barely visible but can be easily felt. The button nearest the smaller end is a tiny dot and controls the motor for the smaller end. The middle button looks like a wave and controls the vibration modes. The button nearest the larger end is a circle and controls the motor on the larger end. The buttons are quite hard to push; you must push down extremely hard on any button and for (what seems to me) an enormous amount of time to turn the toy on. Flashing lights will appear while you are doing all this pressing to let you know the toy is charged and you're on the right track. Otherwise, you might give up and think the toy is not working. It is explained in the manual that this is intentional on Jimmyjanes part to make it convenient for travel so it won't turn on by accident. Now, this is my first luxury toy, but I think there must be a better way than this! I do not like the function buttons at all.
The Form 6 has a memory chip that will keep your last setting even after you turn it off, this is convenient for those who have a favorite mode; you can keep it on there and prevent much irritation and frustration.
The entire length is a modest 6 1/2" with 4 1/2" to 5" insertable to give your fingers room to hold on and thrust.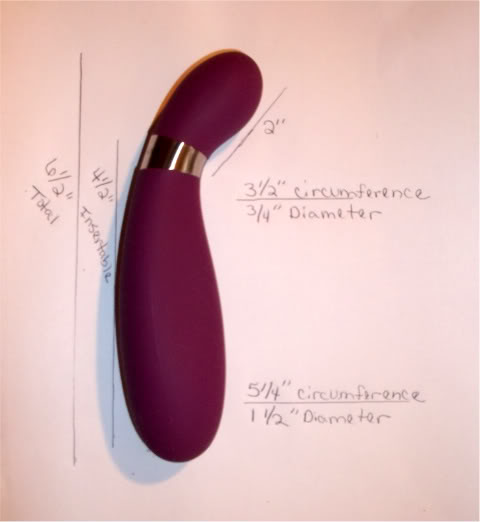 Form 6 is made with a hard phthalate free medical grade silicone coating with a metal ring which attaches to the charger around the smallest diameter of the vibrator. The texture is very hard and smooth with a velvety feel and quite a bit of drag to it. Plenty of lube will remedy that.
Experience
There are 6 modes of vibration which is controlled by the middle button---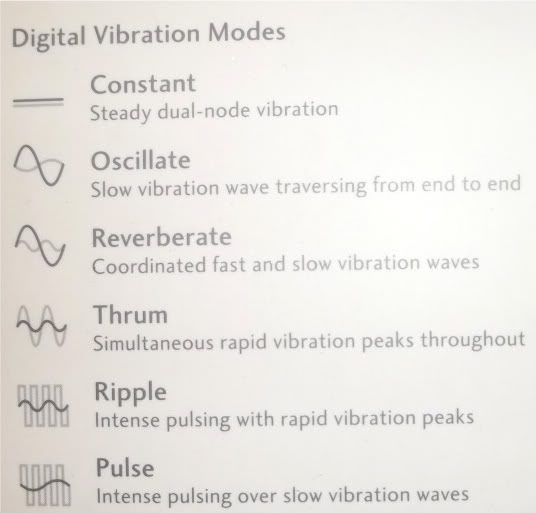 The vibrations are strong and powerful with a vroom of 4 that felt quite satisfying. Quite satisfying indeed. Turns out that my favorite setting is the Oscillate mode which is unlike anything I have ever felt; it sent waves up and down the vibrator from end to end, in 2 different directions with both motors on, that shook me to my very core and had me screaming in pure ecstasy. That in itself, was well worth the price tag! The sensation was truly explosive. The Pulse is my second favorite as it is the most rumbly of the modes. I keep the function modes on one or the other and barely ever use the other 4 modes at all as they are buzzy and annoying. Of course, everyone will have their own preferences of use with this toy.
The silicone material is a lint, hair, and dust magnet so wash before and after use. Jimmyjane specifically states in the included manual to clean the toy with a damp cloth using a mild soap and warm water. It also states: DO NOT use any other cleaning product on its surface. Dry with a soft cotton cloth. Form 6 must be clean and dry before placing into the charging case. Now, being new to the world of rechargeable "luxury" vibrators I took that information as meaning the surface, even though silicone, was somehow fragile and affected by strong cleansers. The manual made it sound more fragile than it really is. Sounded kinda scary after paying so very much for the toy, so I wanted to make sure...I emailed Jimmyjane about it, but have not received a reply, which I find to be somewhat disconcerting. Meanwhile, I asked members of Eden, which was much more helpful. Coralbell was very helpful in letting me know she owned several toys like this, and they could indeed be disinfected with a 10% bleach solution as long as the metal piece that hooks up to the charger is not touched by it. Since the toy is water proof it may be washed with soap and warm water without worry.
To clean charging case, simply wipe down with a damp cloth making sure it is completely dry before plugging up.
As with all silicone toys, use a water based lube.
Form 6 is packaged in a huge box with the vibrator encased in a plastic container inside. Included are the charging port, plug and instruction manual. I've put Form 6 in a satin bag, as the box is very large and cumbersome. This makes it easy to travel with, and there's the worrisome buttons to make sure it doesn't turn on inside your bag.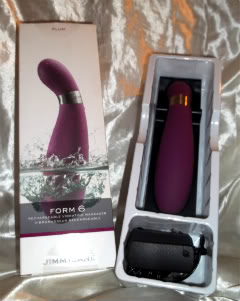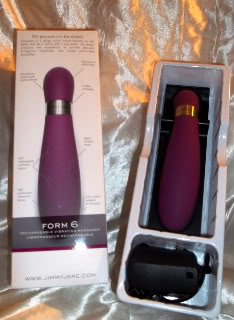 I wouldn't say this is the quietest toy around; it rates 3 bees, but you'll be screaming much louder.

UPDATE: Jimmyjane contacted me today about sterilizing Form 6. This is what they said.
Thank you for contacting us. You can use any cleaner, as long as it's a water based solution. If you need anything else, please let me know.
Sincerely
Anthony
Follow-up commentary
10 months after original review
I'm still loving this toy, but the same cons are still there with the function buttons. I've learned to live with that. Form 6 is a quality toy in my opinion and I am pleased to own this toy. The vibrations are still wonderful and the price is of no consequence since it has brought me much joy.
This content is the opinion of the submitting contributor and is not endorsed by EdenFantasys.com

Thank you for viewing
Form 6
– g-spot vibrator review page!