Jewel of Denial
If you're new to vibrators and not sure what you like, this might be a reasonably priced toy for you to try. It will help you see what a plastic vibrator can be like and see how much of a vibration you like.

If you're like me and like rumbly vibes - then "deny" yourself the experience of owning this vibrator and move on to others.
Published:
Pros:
Waterproof
Velvety softness
Easy to clean
Cons:
Too buzzy
In 1985, Kathleen Turner and Michael Douglas made a romantic adventure movie called "Jewel of the Nile". Danny Devito provided great comic relief and in my opinion, kept the movie from being a bust.
I share about this movie because Douglas and DeVito take off on a trek across Africa in search of the country's greatest possession, the "Jewel of the Nile" which is being held by Omar, a despicable ruler. I'm sure you can imagine their shock (and disappointment) to realize that the jewel was not something that you could hold in your hand or place in a necklace. Instead, the "jewel" was a holy man who was being held captive by Omar.
Why do I share this movie with you? Well, for one thing, it was incredibly enjoyable and even though it was made 25 years ago, among many in my generation, it is considered a classic.
However, when I think of the "Jewel" that I am reviewing - I am reminded of how some things are not always as it seems when you hear a term. Some jewels are true gems while others are just..."paste".
So it is with this jewel. She promises much - but delivers little.
So what is this jewel I talk about? She is a traditional vibrator created by Shaki Toys. She is created from a velvety plastic that is food-grade material. This means she is hypo-allergenic, latex free and phthalates free. You can use her with any lube of your choice and she can be washed with warm water and soap or a toy cleaner. Do not boil her or put her in the dishwasher since she has a motor inside.
She can play in the water as she is waterproof.
She is controlled by a dial at the bottom of her "jewel-encrusted" base. You remove the base to insert the 2 AA batteries and then put the base back on and dial your way to the settings that you want.
So far, everything sounds great - right? Waterproof, multispeed, velvety touch and can be used with any lubes.
But let me tell you about her vibrations. She starts off a little bit rumbly at the very lowest setting. I believe this is because the motor is working in the tip and making the majority of the noise while the rest of the shaft is moving slightly. At this speed/setting she is probably about 1 or 2 bees. However, as you increase the dial to the faster (or stronger?) settings, she gets a lot more noisy and much more buzzy. One way that I tell this is that when I hold her in my hand and just barely turn her dial, I can feel the vibrations slightly in my arms going down to my elbow. However, the more I turn the dial, the less I feel the vibrations in my arm and the more my hand starts to tingle and feel like it is going to fall asleep. I believe this is because the majority of vibrations are felt in her top 3".
Speaking of measurements, let me share hers with you here:
Length: 6 1/2"
Insertable length: 5 1/4"
Circumference: 4"
Diameter: 1 1/4"
I would like to note two things here. First of all, the box that she comes in states in several places that she is black. However, the box is incorrect. It appears as if they used the box for the black version for all the various colors of this toy.
Secondly, I am including a photo of her next to two other vibrators that are approximately the same size and might be considered a nice alternative.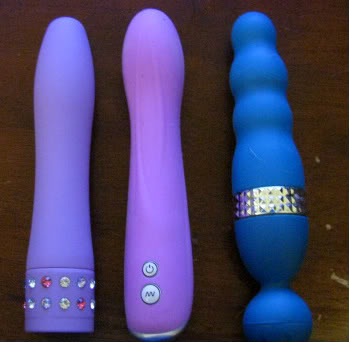 The far left vibrator is Jewel. The middle vibrator is L'Amour premium silicone massager Tryst 1 – traditional vibrator which does have some veins on it for a different feel. The final vibrator is Rock Star Tina.
Experience
One of the hardest lesssons I've had to learn here on Eden is that what I like may not be what others like. I'm always amazed when I talk about a toy that isn't rumbly and I'm hesitant about it - only to hear someone say "oh - that might work for me".
I think part of my problem with her is that she is not girthy. I can take a smaller toy like her (thinking of Rock Star Tina here) and enjoy her if I get some good vibrations going. However, if the vibes aren't strong enough I'm constantly wondering, "Do I have it on high?" Sometimes I will even wonder if I have the toy on or if the batteries have died.
I think she could be good for someone who wanted a smaller toy that was a bit buzzy. I wouldn't say she is one of the buzziest toys I own and I think I'd put her a bit more than mid-range as far as buzzy. For example, if buzzy was 10 and rumbly was 1, I'd give her a 6 or maybe a 7.
I do want to point out that sometimes good things happen when things aren't as you initially want them to be. Returning to the movie I referenced earlier, had the jewel been an actual gem, the storyline would have been far less interesting and I'm sure the movie would not have been as popular. In honor of the movie, I'm including a link to Billy Ocean's music video
When the Going Gets Tough
which was inspired by this movie and the search for the "jewel of the Nile".
This content is the opinion of the submitting contributor and is not endorsed by EdenFantasys.com

Thank you for viewing
Jewel
– sex toy review page!