Keep the faith- Lift up your head, and show the world you've got pride.
I would not recommend the faith to just anyone. I mostly recommend it to newbies, because the size, and the lack of settings. I LOVE that it supports, and a part of the proceeds go to finding a cure. That would be the only REAL reason why I would tell EVERYONE to buy one.
Published:
Pros:
Travel friendly, Waterproof, Supports breast cancer awareness, Reuseable case
Cons:
Size, Lack of settings,
What attracted me to the faith by evolved was the breast cancer ribbon. I'm up, and willing to support anything as along as it is for a good cause. Another thing that attracted me to the faith was the name of it. As a dedicated Michael Jackson fan, when I seen the name, one of his songs came into my head called
Keep the faith
, so that was just the icing on the cake.
When you receive the faith, it is in this adorable little Christmas tree ornament style plastic container. It also has a small metal holder of some kind on the top. It looks as if you could attach the toy to your key chain. That part of the container cannot be removed without breaking the container itself. The bottom is removable you could remove it by pulling it off, or twisting and pulling. The case is fully reusable, and can be easily crushed so when not using it place it somewhere you can not accidentally step on, or sit on it. (I've done that one a few times)
There is some writing on the case. About the faith itself, it is not much information.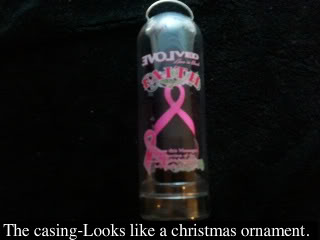 Just a few key points. Such as:
-Waterproof
-Multi-speeds
-Phthalate free
-Latex free
-Body safe A.B.S.plastic
-Satin smooth
It is not an article but just a few points the manufacture feels you should know.
Measurements:
Length:4 1/2"
Insertable length:3"
Circumference:2 3/4"
Diameter:1"
Weight:2.5 oz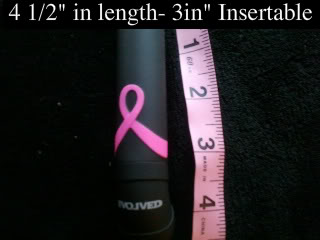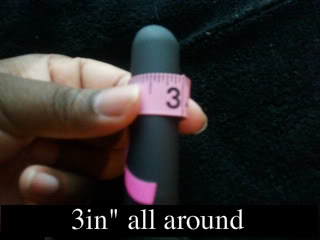 Now for the faith itself, I must admit that I was disappointed. I do not know what I had as far as hopes for this toy. I was not expecting what I had gotten. The faith is a stylish, and smooth clitoral vibrator, Although it does have an insertable length I did not dare try because it is so small, and I was worried about losing it.
The faith runs off one double A battery, and the battery compartment can be reach by untwisting the bottom of the toy where the controls are placed. Once you have that removed there is a piece of paper there that you can remove, or keep in place. It just tells you which way to place the battery. I personally kept mine in each time i used it.
"Once the battery is in the place" you can now turn on the faith. The faith is operated by one single pink push button. Which is not to of a terrible thing I have a lot of toys that have only ONE button, and are unbelievable.. This would not be counted as one. The faith is not a strong vibrator what-so-ever and only has TWO! YES TWO! setting the setting are a MIDEUM and HIGH.. I mean honestly? Once I got over the lack of setting on the faith. I did enjoy the quality and texture of it. It is a sleek, and smooth texture. Although there is a picture of a ribbon on it, you do not feel it when you are touching it, and when you are using it.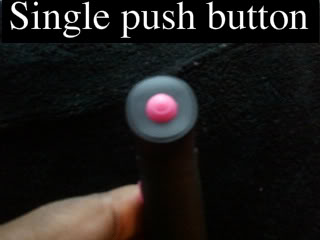 The vibrations are felt throughout the faith. The faith is made out of ABS plastic and can only be used with Water based, and silicone based lubricants. Be careful not to use anything else. There is a slight resistance to it, but exceedingly minute you would not even realize it.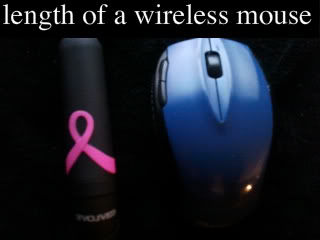 You can go just about anywhere with the faith. It is waterproof, so you in bring it into the shower, or bathtub. Whichever you enjoy the most. All you have to do is put it into your pocket, or your purse. Traveling with this is a breeze. Cleaning is also extremely easy! Because, it is fully waterproof you can fully submerge it when cleaning. You can wash it down with some mild soap, or your favorite toy cleaner. You can allow it to air dry, or you can just wipe it down with a dry cloth.
The size of the faith makes ideal for beginners, and virgins who aren't ready to insert anything. I would not recommend this for the advanced. They may not get as much from this, as someone who is new to the toy game. This toy can be placed with other toys, so I would not worry about housing it in a shared dorm. (Toy chest)
This content is the opinion of the submitting contributor and is not endorsed by EdenFantasys.com

Thank you for viewing
Faith
– discreet massager review page!