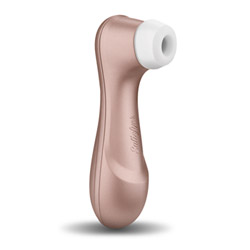 Satisfyer Pro 2
Luxury clitoral vibrator
by Satisfyer
The Satisfyer Pro 2: A Pro At Satisfying
The Satisfyer Pro 2's mission is to bring satisfaction, and boy does it satisfy! Its simple, straightforward design makes it easy to operate and use, its power levels offer something for both sensitive women and vroom lovers, and the unique sensations its touch-free pulsations offer are unlike anything a regular vibrator can provide. While it can be a little loud on higher settings, the pleasure derived from those settings definitely make it worth it!
Published:
Pros:
Body-safe silicone nozzle
Rechargeable battery with magnetic charger
Simple controls
Cons:
A little loud on higher settings
First Impressions:

Inside of EdenFantasys' discreet packaging I found the Satisfyer Pro 2 inside its own safety sealed box.

A very subtle design feature on the box is a series of expanding rings originating from the nozzle of the product's image on the box, representing the pulsing vibrations it emits. It adds a nice visual touch to the white of the box without looking too cluttered, which I find really appealing! The sides of the box also contain useful product information in various languages.

The Satisfyer Pro 2 is made of body-friendly Silicone and ABS. Its packaging advertises it as being easy to clean and waterproof "for even more fun underwater," as well as having 11 settings of touch-free pressure wave clitoral stimulation with its quiet "whisper mode" technology and a rechargeable Li-ion battery. I personally love whenever toys are rechargeable since it's really convenient to simply plug the charger into my laptop's USB port to recharge instead of always having to deal with replacing dead batteries.

The Satsifyer Pro 2 looks exactly as it appears on the box; just a little larger in size. The majority of the Pro 2, its body, is made of ABS in a very pretty rose gold color, while its control buttons and "head," which I feel resembles a nozzle, is made of body-safe silicone. Right away I was impressed with just how comfortably the Pro 2 fit in my hand, with the buttons appearing to be very easily accessible, and I was excited to try it out.

My Experience With The Satisfyer Pro 2:

My only experience with a similar toy to the Satisfyer Pro 2 was with EdenFantasys's own Air Flirt. While I felt that suffered some from trying to be both a clitoral "sucker" and vibrating penetrator at once, the Satisfyer Pro 2 only had one job to do. And boy did its job well!

There are two segments on the control panel: a round power button near the middle of the body and a larger oval button right above it. When turned on, the Pro 2 starts at the lowest setting and the oval can be used to adjust this. Pressing the top of the oval hits a button to increase the power level, while the bottom button in the oval can be used to lower it to a less intense setting.

Once you manage to position the nozzle in the correct spot, creating a seal around the clitoris, pure magic happens. The "touch-free" clitoral stimulation that makes the Satisfyer toys so unique is created by pulsations generated at the back of the toy's head. While the source of these pulsations does not come into direct contact with the clitoris, making it touch-free, they are most certainly felt. The sensations this creates is unlike anything I've experienced from other regular vibrating toys, so I have nothing to truly compare it to - which I consider to be a major plus and draw for this toy! When a toy can create such new and unique intense sensations of pleasure, it's doing something right, and the designers behind the Satisfyer Pro 2 should definitely give themselves a pat on the back for this one.

I will admit, however, that for a toy that advertises its "Whisper Mode," I found the Pro 2's higher settings to be a bit on the loud side. Out of the eleven settings, anything above the fourth one began to get noticeably louder. This sound is easily muzzled when the toy is in use, but whenever it loses contact with your body, the noise is easily heard.

Final Thoughts:

When using the Pro 2, I often find myself quickly advancing up towards the highest settings - and quickly needing to lower them again due to the overwhelming intensity of the stronger pulsations. If you're looking for a toy to achieve fast orgasms, I'd say the Satisfyer Pro 2 would be an excellent choice due to the powerful clit stimulation it provides.

So, when it comes down to it, the Pro 2 lives up to its name as a "Satisfyer." You can easily use it solo or include a penetration toy during your playtime to expand upon the sensations being felt. The variety of power levels helps it cater to those who are both sensitive or need a more powerful touch - or lack of touch in this case - to achieve pleasure, and once finished the silicone nozzle is easily removed for cleaning purposes, and the toy hooked up to recharge for more hours of pleasure later on.
This product was provided at a discounted price in exchange for an unbiased review. This review is in compliance with the FTC guidelines.
Thank you for viewing
Satisfyer Pro 2
– sex toy review page!