The University of North Florida's student newspaper is finding itself in hot water over a photo illustration they ran for a story about the
link between HPV and throat cancer
. And while it is a little racy, we're still unsure what all the fuss is about.
The front page of
Spinnaker
depicts a woman in a red bra with the face of a fully clothed man between her legs. Across the man's back, the page says "HPV Grabs You by the Throat." No "parts" are visible. There's barely even a hint of cleavage.
"HPV is a problem everywhere. It's happening and that's why we put it on cover. This is not obscene. This is not obscene at all. It complimented the story, it got people to read the story and this was not pornography,"
said Spinnaker Editor-in-Chief Josh Gore
.
We agree! The photograph is an excellent attention-grabber. Unfortunately, the paper has been fined by the student council, which provides funding for operations.
"I believe that the story would have been better off without the cover. It was provocative and controversial, but it didn't add to the story," said Ryan Winter, a member of the college's media advisory board. He thinks the cover's so offensive that it should be taken off of newsstands.
Way to spoil the party, Ryan. And Facebook. Wha?
Yeah, it seems
Facebook
agrees. They removed the image from
Spinnaker's
page and issued them a warning.
You want to see what's so bad? Here: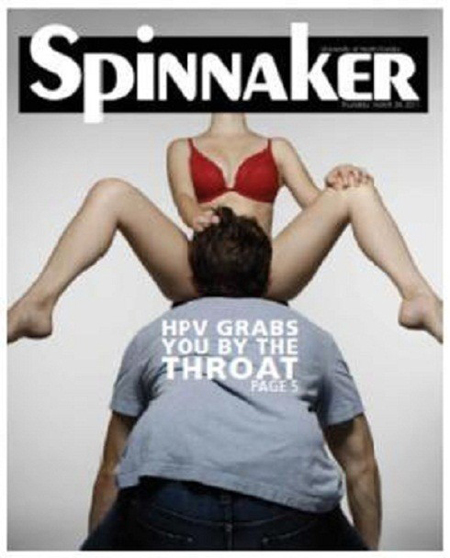 Facebook was started by college students, for college students. Now, however, it is apparently being censored by adults for kindergartners.