Vibe Therapy Discreet - Clitoral vibrator from Vibe Therapy

Product Details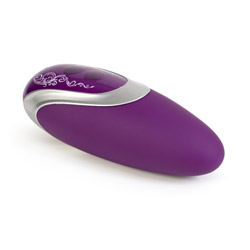 Summary:
The Discreet by Vibe Therapy would be a good choice for those who enjoy fairly strong vibrations that are a mix between buzzy and rumbly. It has three steady vibrations and four patterns so there should be a setting for most to enjoy. Discreet can be used either solo or with a partner for foreplay, masturbation, intercourse, or massage.
Cons:
Louder than some
Not waterproof
Best use:
Vibe Therapy's Discreet is a versatile clitoral vibe intended to stimulate areas such as the clitoris, testicles, nipples, or other erogenous zones of the body that enjoy stimulation. In addition to stimulating erogenous zones, you can also use this for whole body massage.

While using it during intercourse, the hard body becomes uncomfortable in the missionary position, but works nicely in positions where the toy is not being ground into you, such as doggy style or cowgirl.

It is not designed for anal insertion.

It can be used by beginners and advanced users and either solo or with a partner for foreplay, masturbation, or intercourse.

Although Vibe Therapy's website mentions this is waterproof, I submerged it in a bucket or water and some water did seep into the battery compartment, so I would consider this more splash proof than waterproof.
Material / Texture:

It is made from 100% ABS plastic that is very hard and does not offer any flexibility to it at all. There is no texture to the toy and is completely smooth besides the silver ring that separates the toy from the control panel. Plastic is rated an 8 on the Eden safety scale and is considered to be a food grade material that is non-porous, hypoallergenic, latex free, and phthalates free.

It does not have much drag to it when you run it across the skin and it doesn't pick up lint and debris.

Material:

Plastic

Material safety

Texture:

Smooth

Safety features:

Food-grade material / Hypo-allergenic / Latex free / Phthalates free

Design / Shape / Size:

Discreet is dark matte purple with silver around the base and a decorative white pattern on each side of the controls. The control panel is a shinier purple than the rest of the vibe.



Discreet measures 4 1/2" long from tip to base and measures 3 3/4" around at the top, 5" around in the middle, and 5 1/2" at the base where the silver starts.

It is small enough that I can hold it comfortably without any issues and the control placement is perfect.

It is good for traveling if you take out the batteries. The small size allows you to carry it easily in a pocket, purse, or bag.



Color:

Purple

Length:

4 1/4"

Circumference:

5"

Diameter:

1 3/4"

Weight:

1 oz

Functions / Performance / Controls:

It requires 2 AAA batteries that were not included. The battery compartment is located on the back of the toy and has a fingernail size opening with a lever to open the compartment. The battery insertion directions are clearly marked in the compartment so you know exactly how to place the batteries.



The control panel lights up red when in use. It has two easy to use push button controls an independent on/off button and the function button. To turn on, press the bottom button; it will not operate unless you press the power on first and then press the function button. To go through the seven functions continue pressing the top function button through all of the vibration, escalation, and pulsation settings. Once you reach the last pattern, it will start from the beginning. To turn off, just press the bottom power button. It does not remember where you last left off so you will have to cycle through the patterns the next time you use the toy.

The vibrations are a mix between rumbly and buzzy; it is not too buzzy and not that deep but a nice mix between the two. The vibrations can be felt throughout most of the toy. If used for extended periods of time, it can cause your hands a little bit of discomfort.

The functions are as follows:
1: Low steady vibration with a moderate amount of power at 2 Vrooms and fairly quite 2 Bees.
2: Medium steady vibration that is slightly more strong than the first level and a little bit more loud. Low 3 Vrooms and 2 Bees.
3: High steady vibration that is stronger than the first two levels and a lot louder and can be heard through a closed door. High 3 Vrooms and 3 Bees.
4: Increasing rollercoaster that starts at low setting and increases to the higher setting with the majority of the vibration around the mid-level.
5: Steady pulse at the second level.
6: Faster pulse at the third level.
7: Three pulses separated by one drawn out pulse

As mentioned earlier, this is considered to be waterproof, but I would consider it more splash proof than waterproof. During a test, I submerged this in a bucket of water and it still vibrated wonderfully, but once out of the water there was some water in the battery compartment. The battery compartment does have a seal to prevent water from seeping through, but again it didn't stop it completely.

Functions:

Escalating / Pulsating / Vibrating

Special Features:

Multifunction
Multispeed
Pulsating
Small size

Control type:

Built in control pad

Powered By:

Aaa-2

Care and Maintenance:

Cleaning is fairly easy with this just clean with soap and warm water, but be careful to not get any water in the battery compartment. You can also use your favorite toy cleanser or toy wipe.

Store in a cool dry place out of direct sunlight. For optimum life of the toy, always remove the batteries when finished before putting it away.

You can use water, silicone, or hybrid lubricants with this, but the company recommends not using oil based lubricant because it could corrode the material. When using lubricant, make sure you do not get any in the opening at the battery compartment.

Care and cleaning:

Soap and water

Packaging:

The packaging is quite simple. It arrives in a clear box with the vibe displayed through the front along with the name of the product and the company. It is held in place by a cardboard insert with a molded area for the top and bottom of the vibe. The back provides some information about the product and the company's website.

It came with two pamphlets displaying battery, use, care, and maintenance instructions.



Experience:

Overall, our experience with this has been nice. I am very picky when it comes to clitoral vibes because I require a lot of power to achieve climax. It requires a lot of time and effort for me to orgasm with this one, but I feel that would not be the case for most. I especially like the vibration intensity for massaging the tension away in my neck. My husband really enjoys this vibe for external stimulation and whole body massage. During sex it was better used in positions that didn't make the vibe press into my skin because the hard exterior of this toy hurt.