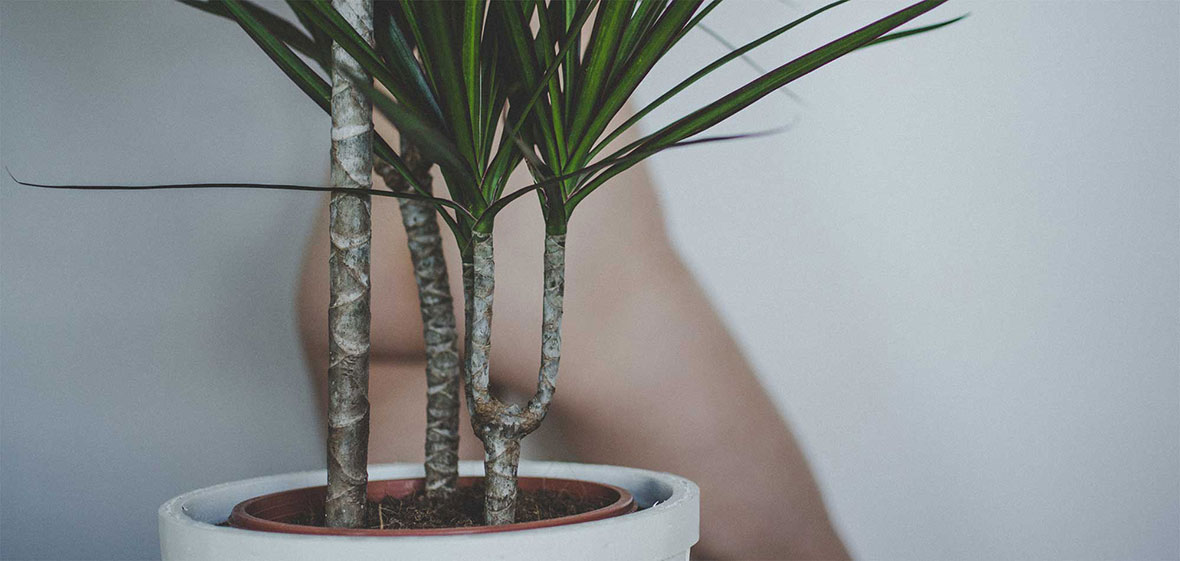 Advanced Anal Sex Techniques For Ahh-mazing Pleasure
Let's be honest - we all want more anal. You've watched videos on gaping and fisting. You're lusting for it, but you don't know where to start. Luckily, you don't have to. We're here to help. We'll walk you through everything you need to know to have an amazing anal sex experience (and even a little more than that) - preparing you to go in like a pro and come out with a heck of an afterglow.
Let's Begin With Anal Sex Prep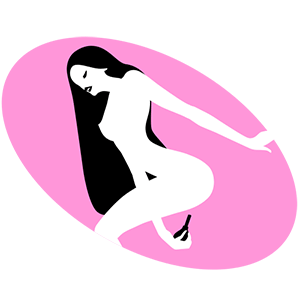 Preparation is key when diving into new sexual waters - even more so when it comes to anal. You'll want to become familiar with this basic prep process to go into the experience with confidence.
First, Clean Up
Sure, you don't have to clean yourself up if you feel clean enough - there is nothing wrong with sticking to a quick shower and some baby wipes. But just to be safe and feel 100% comfortable, I go all the way. I'll get right to it – a quick enema is my go-to method to prepare for anal sex practices. Around 12 ounces of water is all it takes. Just squirt it in and let it out. When the coming out water is clear, it means you're ready for play. If you want to learn more about cleaning up, explore this guide on how to prepare for anal sex.
Then, Lube Up
When it comes to lube, you're running a marathon, not a sprint. You want something that makes you slick inside and won't dissolve too quickly. Water-based lube is my preference since my favorite toys are silicone. Jelle is one of my all-time favorite brands.
Jelle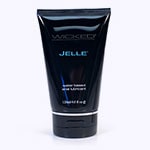 I don't want to count silicone out, though. If you're working with something other than silicone toys, a silicone lube may be just what you need.
JO premium lubricant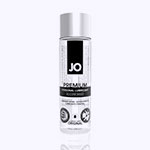 One caution about lubes - those that have a numbing effect are an absolute no-no. Anal sex play is one of the most amazing experiences you'll have. You want to feel, and take in everything. On the flip side, if you do experience any pain - it'll be important to feel that, too, so you can keep yourself safe and feeling good.
Anal Thrusting With Oversized Dildos
Taking in an oversized dildo is quite a quest - but we are looking at advanced anal sex moves. Having a sweet giant throbbing inside of you, stretching you out - it is a sensation beyond the border of conceivable pleasure. Unlike many other anal games, with thrusting you get where you need to go gradually, pushing deeper and deeper, wider and wider.
Finding The Right Oversized Dildo
If you are not a size queen or king, I would recommend you to warm up with a small or medium-sized soft dildo before you start "the big game". Lube up your dildo, stuff it in and work it in and out. Twist it around inside. Smear the lube all around inside you. Hopefully, you're getting hot just thinking about it!
Mr. Sexy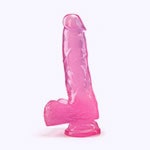 Feel like you are ready for more? It's time for a thicker dildo! I remember my first 2" thick toy - the Munition Huge Butt Plug. Honestly, I could barely get it in. But as they say, when you know better, you do better, right? These days, I lube myself up well, stuff that baby in, and pound it like you wouldn't believe. I worked my way into it, and you'll probably need to do the same. A dildo that has 2" in diameter makes for a great start.
Emperor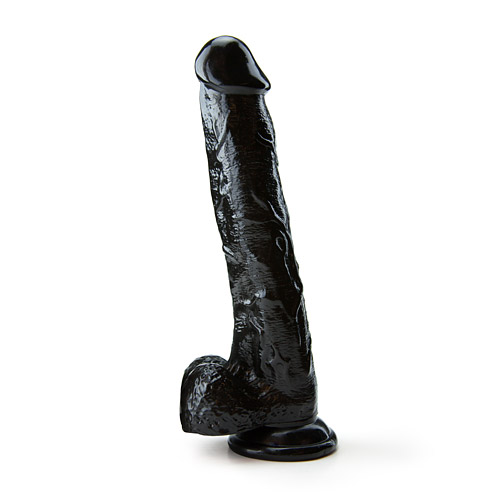 I Recommend:
A good position stool is extremely helpful during extended sessions. It will take the pressure off your arms, free up your hands and let you completely focus big size play.
A Few Handy Oversized Dildo Tips:
A Few More Handy Oversized Dildo Tips:
Be sure you buy a toy with a tapered end. Bulbous toys suck for anal play. When your butt gets slick, a bulbous toy is a pain to get inside. A toy with a pointy end will help you guide the toy inside that tight tush, and that's absolutely what you want.
Go with something soft. A rigid toy or one that is too firm could lead to tearing. A softer toy will caress your insides in all the right ways.
Keep it smooth. You don't want a toy that has so many nooks and crannies that you end up spending an hour cleaning up! That's when you should be relaxing - basking in the joy of your best anal orgasm.
Apply lube to each dildo before use. This helps ease passage through your already lubed entry.
Playing With Oversized Toys
The size of large toys is only a part of the stimulation. It's a mental thing, too. Just think about it - you're taking something so huge, allowing others to watch you do so. You're gaping yourself open afterward and you might even be allowing your partner to look up inside your body after the toy is removed. All of these can tremendously elevate your orgasm.
Seeing a sexy hole spread open is probably one of the best things about advanced anal play.
Gasp - The Gaping Play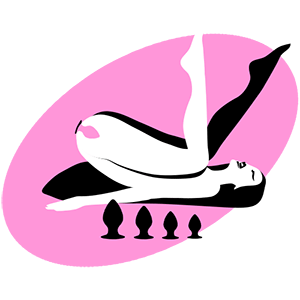 Gaping is the king of all things that are advanced anal. But how do you do it? Practice makes perfect, of course, but big toys are only part of the equation. Remember: gaping is a mental game, as much as a physical one. What comes to the physical aspect, stretching is the №1 priority in gaping. I recommend starting your session with a training set of butt plugs that will allow you to push your limits gradually.
4 step anal training system
4 step anal training system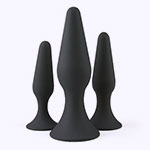 When you get a big toy inside you, your mind will tell you to push it out. It's instinctive. To gape like a pro, you've gotta learn to relax. Relax your inner muscles around the toy. Don't clamp down in any way. When you go to remove it, don't attempt to push it out internally. Instead, ease it out with your hand. Relaxation is necessary because it helps your hole stay open when the toy comes out.
A fun thing to try during gaping is open-end gaping butt plugs. These babies will stretch you out and leave you open, giving you a chance to get used to that elevating feeling. Wanna learn more about how to gape? Read this in-depth guide to gaping.
Spread me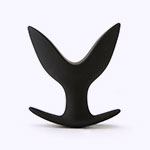 Fisting With A Handful Of Os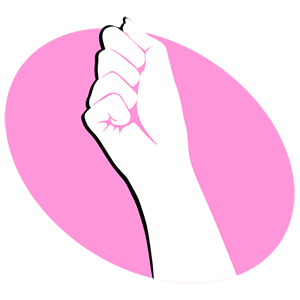 Fisting is the art of taking a partner's fist, and potentially their arm, inside your body. There's nothing quite like the feeling of your partner's fingers writhing inside you and touching you where you've likely never been touched before.
Preparing For Fisting
Mastering large toys is a prerequisite for fisting. Curl your thumb in tight to your palm. Measure across the top of your hand at the widest point. For me, that's 3" across. You need to be able to handle a toy this size before you can fist yourself. If your partner is going to fist you, measure them the same way. This gives you a goal to shoot for.
Mister Fister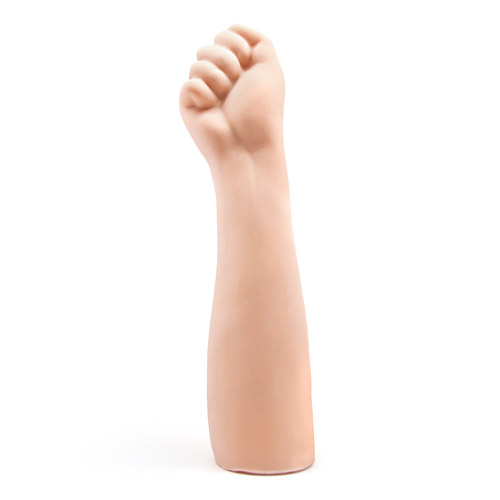 The person doing the fisting needs to trim their nails and smooth down any sharp edges if you are going to be doing this with your bare hands. You don't want to scratch your partner internally or be scratched. You can also use a latex glove for your fist and forearm if you'd like. As with toys, keeping loose and relaxed is important. I've found it's easier to relax when you're doing this with someone you know and trust.
A Few Fingers To Start, Then Dive
You'll want to start with two fingers and work your way up to four. Your hand should be like a spear - ease it in slowly. Close your fingers into a fist once you're fully inside. Above all, remember to take care of your partner – do not let your nails scratch or hurt them.
Keep your forearm generously lubed to ease it in deeper. It's possible to get your entire arm up your partner's bum (yes, really). To be clear though, that's a master technique – don't try that without experience.
Mojo anal relaxing gel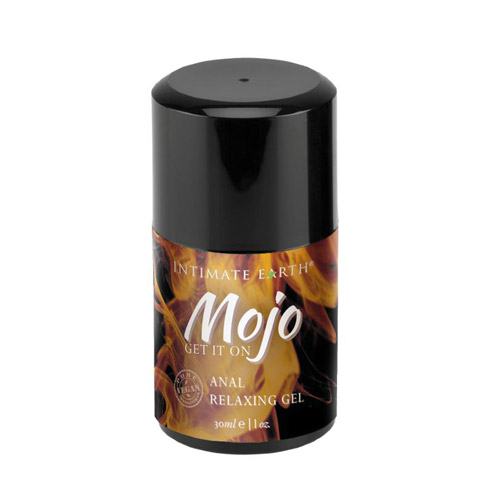 Pegging: Begging The Pegasus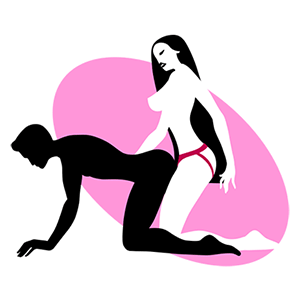 Pegging involves a woman wearing a strap-on and using it on her male partner. It's a role reversal play that places the woman in control while granting their male partner with blissful prostate thrusting experience.
Selecting A Pegging Strap-on
Strapless strap-ons are a delightful win-win - the pegg-er holds it in with their vaginal muscles, acing some fantastic G-spot massage, while the pegg-ee receives a super life-like pounding.
Beginner strapless strap-on
Beginner strapless strap-on
Those who want oversized options may prefer an inflatable strap-on dildo - it grows with the help of a hand pump, making your pegging play push all kinds of sensational boundaries.
Swell cock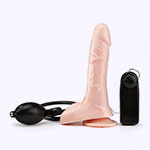 Regardless of which strap-on you use, the power is entirely in the hands of the lady, which can be an aphrodisiac in and of itself.
To feel her hands on your hips as she thrusts within you can be incredibly stimulating for the male partner.
Getting Pegged
Say it with me now - patience is key here too, especially for those who have never tried anal. For first-timers, the best position to start in is doggy, since you'll have an easier time opening up for your partner. This also allows her the opportunity to pull your hair, if it's long enough. To explore other amazing pegging sex positions, hop on this guide to pegging.
The same preparation should be used as listed earlier in this article. Though obviously less preparation is necessary when using smaller toys.
Beginner pegging set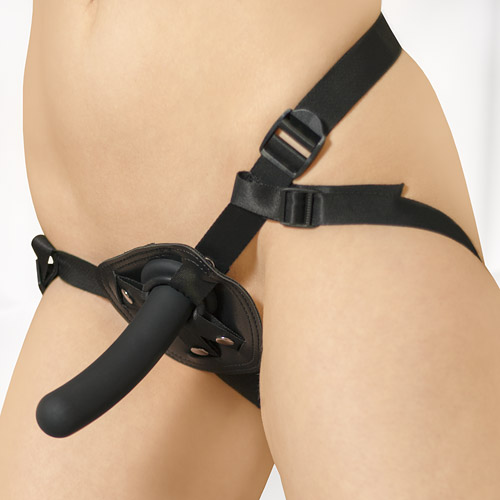 For those who have never pegged, you'll also need to mentally prepare, as it can be an adjustment to give up power and control to your partner. Sometimes it helps to have her wear the strap-on as you play with one another – that gets you both comfortable with the idea.
With the role reversal in this type of play, talking it through beforehand is key to making sure you're both completely comfortable when the time comes.
EdenFantasys recommends:
Setting guidelines from the jump is very helpful. Do you want to refer to the toy as her cock or not? Are you okay with her teasing you and whispering her lust in your ear?
Electro-stim Anal Sex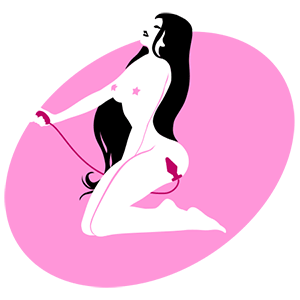 E-stim is an electrifyingly amazing type of play, which is kinky as it is, but when you put it in the butt - it gets kinkier. Electric stimulation can include anything from a mild tingle to sharper bits of tantalizingly sweet pain.
The selection of dildos and plugs for external e-stim play is vast - and fabulous. Of course, like with anything else here, you'll want to use caution. Be sure to read, and heed, all warnings before use. You'll need both an E-stim plug and a remote control for starting with this type of anal sex play - you really have to lean into the sensation.
Elektra plus plug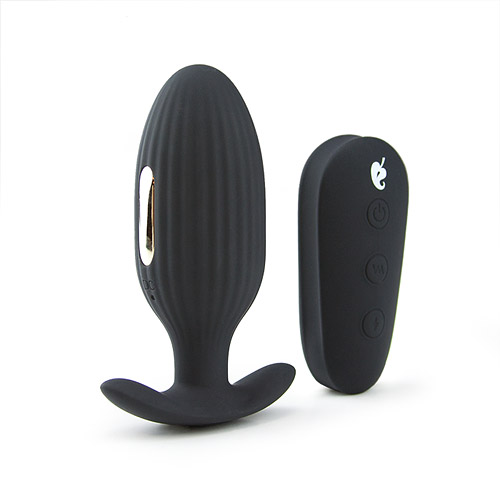 My Best E-stim Tips Include:
ALWAYS learn your limitations with your hand on the controller. Don't let someone else push you too far before you have experience.
EXTERNAL before internal. Practice on external body parts first. Explore all shockingly amazing E-stim toys for external use here.
RELEARN your limitations for each new spot. Every spot on your body is different. Your forearm is different from your inner thigh. Your clitoris is different from inside your anus. You may be able to accept more in one spot than another. Don't assume anything. Read how to enjoy the brightest electro-orgasms with this guide to electro-stimulation.
Anal Hooking To Hook You Up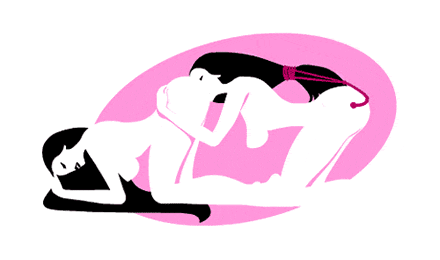 Anal hooking is a practice in BDSM focused on control and position. Your body is fixed in place and kept there with pressure applied within your anus if you try to shift out of position.
An anal hook consists of a metal ball and rod. The metal ball is inserted up your bum, while the rod can curve up along your back. This rod is then attached to a harness, or your hair, to keep you in a position. If you try to slip out of the position, the ball tugs inside you and forces you to correct yourself. The classic anal hook shows the basic design in detail.
Anal hook
While not as extreme as some of the techniques covered, this is still an advanced technique. You are typically bounded and unable to free yourself from the position, and you may need to hold that position for long periods of time.
Anal hooking works best for people who have experience in staying bound for a long time.
You can practice this alone if you'd like, but it is much exciting to do with your loved one. You just need an anal hook, a length of rope and some privacy. Lube and insert the ball of the hook and run the rope up your back. You can hold the rope in hand and practice holding position while holding it tightly. That way, if you need to, you can simply release the rope and instantly remove any pressure as it goes slack.
Hook & Rope Kit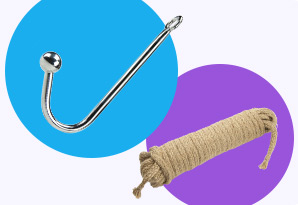 How To Finish Your Advanced Anal Session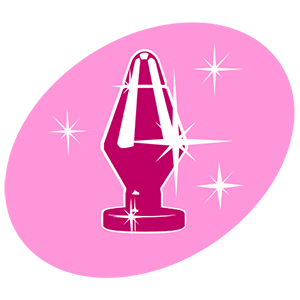 If anal play is sounding all well and good, you may be asking the obvious next question – what happens after?
You had a blast, now it's time for cleaning. Sterilize everything with whatever cleaning methods are appropriate. Cleaning yourself up, however, will be a bit more interesting. First, you'll feel empty inside, while simultaneously feeling like you're still full. A bathroom break (or three) will be necessary, especially after using a larger toy or fist. With water-based lubes, you'll most likely have some discharge of runny, warm lube.
I've often found it best to get into anal play before bedtime. After such an exciting adventure, lying down to sleep can help you come down from the high and relax. And do it all again next evening!