6 Steps To Gaping My Boo Took To "Open Me Up"
If anal stretching was a kingdom, gaping would hold the crown. Gaping isn't your usual anal sex, it's a next-level revelation that changed my perception of satisfaction forever. With my generous partner, we've explored deep and wide inside of me. I've learned what it feels like when your body blooms, and I want to share that feeling with you guys.
These are the 6 fetch and stretch steps to anal gaping my partner used to "open me up" to pleasure.
The Noob Stuff: What's Gaping?
Here's the thing with gaping: It sounds much scarier than it actually is. Let me dig a bit deeper (no pun intended). Each of us has two sphincters up our gorgeous little butts: the outer one, which you can control, hence the chillax you have to achieve in order to start regular anal sex, and the inner one, which is an involuntary muscle that only opens up when you have to poop. Engaging in gaping basically requires a trick that fools the precious ring of your inner sphincter and allows you to gain control over your body in ways you might never have imagined.
Disclaimer for the scaredy cats: If you do it right, it will never hurt. Also, anal sphincters are some of the strongest muscles in your body, so the gaping state will not become permanent. It lasts long enough for you to fully savor the experience and then begins to return to normal.
It takes three to six hours for the anus to revert to its tight state.
The anatomy of gaping may be plain and simple, but the mind games involved are absolutely astonishing. The very idea of trying out the most extreme kinks, pushing your boundaries as far as possible, and even tapping into the impossible... These are the things that gaping is all about.
Why Gape?
I doubt if there are any textbooks on gaping, but I have a few testaments of my own. I truly believe every woman should experience the bliss of gaping at least once in her life, and here are the reasons why:
The Ultimate Boost For His Ego
This is by far the most romantic reason to get kinky and try gaping. Gazing upon that gaping hole will make him feel primal, like he's a sexual beast with a dong so massive it attracts lightning bolts. Seeing his face during our session was one of the most inspiring things I've ever experienced. I felt Power with capital "P" boiling inside him. Isn't that a gift you'd love to give?
A Gorgeous Step Up to Larger Things
With gaping, the route to the finish is just as good as the finish itself. You can't even imagine the number of anal training kits I got when we were working up to it! It's was like ChristmASS. With every next size up, you get an overwhelming, drunkening feeling of fullness on the very edge of pain—so dangerous, so excruciatingly sexy. The coolest thing about the training process was my G-spot orgasms. With all that luscious pressure on all of my lady bits, I was shooting them off like a machine gun.
The Beautiful Act of Submission
I mentioned that during gaping you take control over an obscure part of your body that you usually don't dwell on all that much, but that's not entirely true. It's your partner who has the power, which ups the seductive ante a hundredfold. That sassy inner sphincter with its basic reflexes cannot follow the orders your brain dishes out, but it will obey him. Never in my life have I felt more secure, more loved or better taken care of. It felt like my very nature, something way more primal than my mind, was surrendering to the will of my strong lover. I have to say, for me, it was the ultimate submissive experience.
7 Victory Steps To Our Fab Gape
Clean Your Bum-Bum
Now, I'm a not girl who's big into douching. When doing the usual anal stuff, a regular shower is aplenty. Your anus is not a storage, it's a passage, so there's not much to be worried about. However, gaping is different, considering how deep and wide you'll want to go.
Arm yourself with a simple anal bulb (a.k.a. douche), fill it with lukewarm water and position yourself comfortably over the toilet. Heavily lubricate your finger, slowly insert it in your butt and gently stretch yourself open. I always start with a finger because with nothing but a nozzle you are destined to poke yourself. Next, gently slip up the nozzle right next to your finger, remove the finger and squeeze away! After three to four rinses, the water will come out clear, meaning you're as clean as a whistle. Feel like you need more info on how to prepare for anal sex? Check out this guide and learn how to enjoy anal sex to the fullest.
Pave Your Gaping Road With Os
Gaping is not your usual entree, and you have to be served a couple of orgasm appetizers beforehand. The usual foreplay won't suffice. You need to be dripping wet, hun, to the extent of all the blood rushes south, stimulating and expanding your erectile tissue and making that anus blossom like a beautiful flower.
It's much easier to achieve anal gaping when you're extremely aroused.
If you prefer, you can start by getting yourself off. I won't tell you how to masturbate, but if you need a couple of extra tips, check out our guide on clit flicking techniques right here. Once you're overflowing with orgasmic juices, it's time to serve up the main dish.
I Recommend
Start the gaping warm-up with oral sex - a little bit of rimming gets it going nicely.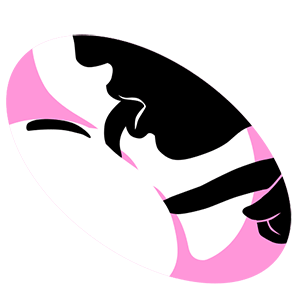 To make the experience more authentic and complete, you can engage your partner in the game as well. My honey and I like to get things going with a delicious oral sex session first. With cunnilingus gracefully turning into rimming, he makes my cute little ass hot and bothered, so we mix up the usual foreplay with some tantalizing butt action. A little tongue, a little finger, then two… and voilà, you're begging for more.
Get Comfy in Gaping Sex Positions
Positioning is everything in gaping. Putting your body at a perfect angle will help you reach the ultimate level of relaxation, which is essential for your muscles to loosen up. Sex positions for gaping vary from advanced and complicated to pretty obvious ones, but I have a few personal faves.
I Recommend
Outfit your thumbs with the robust powers of finger vibes, and join forces on his frenulum - it'll give him an epic climax. Check out the little superhero suits for your fingers here.
The most natural sex position for gaping would be squatting, but we're aiming for visual aesthetics as well as comfort, so no squats for you, girl. Instead, we're going to go for a modified doggy style. Instead of holding yourself up with your arms, lower your head and upper body on the bed (or whatever). Keep your bum as high as you can and don't forget to spread your legs as wide as possible. Not only is this position comfortable, kind of like a yoga asana, it also explicitly displays your whole pelvic panorama, welcoming your lover to feast.
If downward doggy feels off, lie down on your back, bring your knees up to your shoulders and spread them wide apart. Make sure to place a pillow under your tailbone to elevate your pelvis for this super-exposed and a delightfully lazy alternative position.
Go Nuts With Lube
When it comes to anal, you have to check all the lube boxes. The last thing you want is friction and with gaping, the stakes are much higher. Remember: Your natural lubricant lives only in your vajayjay, and your booty has zero of that authentic sauce. A thick anal lubricant that lasts for hours would be my top choice, so for the best experience, be sure to stock up on that gooey goodness.
Let me warn you, lubes with "special effects" and gaping do not mix. You don't want any extra tingling or warming to interfere with your pure indulgence, do you? Numbing lubes are an absolute no-no for anything anal, as they'll strip you of the ability to feel the tortuously delightful lingering of stretching, plus you may not realize it if something goes wrong. Jump over to our fabulous anal lubricant collection specially formulated for butt play and grab yourself a bottle - or three.
Let The Stretching Game Begin
You might have noticed that the concept of stretching has been a consistent thread throughout this text. That's right, you must start to stretch long before you get down to the main business. Stretching begins during the cleanup and moves along during the warmup. If your partner is good with his tongue and fingers, honey, he'll have you wide open in no-time.
When the touchy stage is complete, it's time to bring on the toys. I utterly adore anal stretching kits that offer several graduating-sized butt plugs. These kits are the ultimate way to stretch. With each plug, you feel like you're daring yourself to do more, and you'll be so proud of yourself every time you reach the next level. If you love those booty play stretching kits, too, hop onto this listing and choose one for yourself.
Bust Out The Thrusting Moves
So, the girthiest plug is buried to the hilt and yet you still long for more? Get ready to push the envelope to the limit. It's the gaping time, baby! Your anus may still need some work, but you've already laid a great foundation.
Butt plugs are swell, but they're static, so there's only so much you can do with them. Thrusting is a way to go. Have your lover go a size up on your regular dildo (aka choose the fattest one) and begin moving it around, circling, pushing, stretching. Don't let him get all savage just yet. Start slow, savor every inch as it enters and expands inside your bunghole. Check out these realistic dildos that might get going good.
If you're not in a toy mood, your man's beloved body part is also an excellent tool for expanding your rear horizons. He should thrust as deeply as he can, but make sure he doesn't forget side to side as well as in and out. After all, when your ultimate goal is a beautiful gaping hole, you have to work all the angles.
Make Room For The Glory Whole
The thing I love best about gaping is gaping plugs. I confess, they make my heart skip a beat. These aren't just your average, everyday super-large plugs. No, these bad boys push out the walls of your rectum, opening it up into a treasure trove of pleasures. To insert a gaping plug into your rectum, you must first pinch the ends together. Once it's inside, release the ends and prepare to be blown away by the sensation as it blooms inside of you.
It's one of the most intensely erotic feelings I've ever experienced, but when it's combined with vaginal penetration? Man, I turn into a fireworks display that can totally light up the sky. Check out the gaping butt plugs in this listing, but try not to buy all of them. Leave some for me! The gaping plug will stretch you beyond your wildest dreams, and this, my darling, will be your final gaping destination.
Take Your Time
Yes, girls, gaping sounds absolutely awesome, but it's easy only on paper. In reality, gaping is not a fast kink. It's not a "see the results in under two weeks" type of situash. This extreme form of anal stretching takes time and patience from both partners. So be prepared for two to four months of dedicated practice - not that you won't have plenty of fun along the way.
A full gaping blossom can only be achieved after giving your muscles adequate time to get adjusted, so why not start training today? Who knows? Maybe by the time your next anniversary rolls around, you'll be ready to make your lover the happiest man alive!