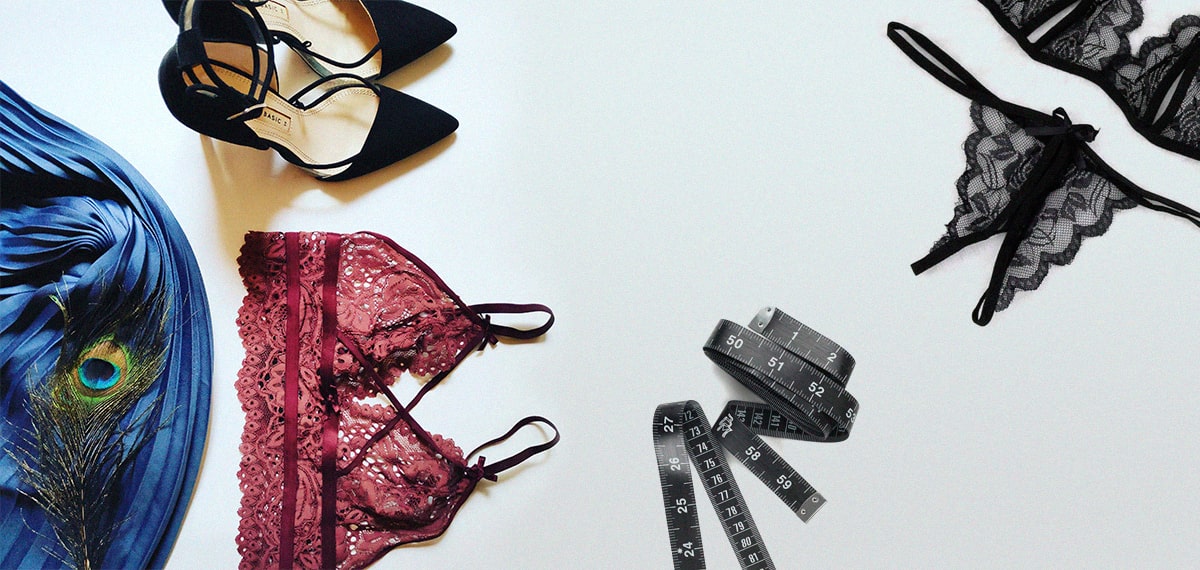 How To Choose The Perfect Lingerie Size And Fabric
The material from which lingerie is made and its size does matter. Not only lingerie fabric affects how it feels on the body, but also how it transforms the wearer's appearance. Use our smart tips and guidelines to find a perfect set of lingerie that will fit her ideally and thrill you both.
Lace
Lace has long been regarded as one of the sexiest lingerie materials of all, and its allure is well earned. Lace incites a sultry, provocative appeal that lets you see just enough tempting flesh, but also masks those imperfections one might be insecure about.
Satin
With a slinky smooth feeling that's like nothing else, satin is another go-to option for bedroom attire. The touch of satin against the skin is highly erotic, but this lingerie fabric has other qualities that make it an excellent lingerie choice. Satin, which reflects light, can add a look of fullness. So, for example, if the bottom is on the smaller side, satin can make that "asset" appear more plump.
Leather / Wet Look / Latex
Just like satin, wet-look lingerie fabrics reflect light and highlight curves. A garment that pairs wet-look fabrics with mesh or lace accentuates the shapes and draws attention to all the right places, so it's always a great choice.
Mesh
Stretchy and highly complementary, mesh and other sheer lingerie materials are perfect for showing off some skin while leaving a little something to the imagination. Mesh fabric, which is often paired with lace for fuller-looking curves, is perfect for those who prefer a bit of teasing attire to full nudity.
Fishnet
Nothing screams "sex" like fishnet lingerie material, and with good reason. Fishnet hugs the body very gently, camouflaging imperfections, yet baring plenty of skin. Despite its somewhat "naughty" reputation, fishnet fabric is still wildly popular - because it's just so flattering!
Bras
To choose a bra that fits correctly requires two measurements: The measurement around the chest just beneath the breasts reflects the band size, and is expressed by a number. The measurement around the fullest part of the bust will tell you the cup size (A, B, C, E, D, DD and so on), so the sizing usually looks like this: 32A, 34C, 36D, etc. Bear in mind that band size is no indication of cup size. A woman with a tiny band measurement can have a huge cup size, and vice versa.
Tip: Do a little sleuthing. An expedition through your lover's lingerie drawer can help you avoid purchasing mistakes. Check the tags for bra and panty sizes to guide you in the right direction.
Panties
Some panties are measured in terms of "S/M/L." This sizing generally corresponds with standard US dress sizes: S is for 2-4, M is for 6-10, and L is 12-14, but different underwear brands use different sizing systems for panties, which can be confusing. Some use a specific panty size (US Panty), some use US alpha sizing, while others use standard US dress sizes.
If you're not sure which sizing method is being used for a particular panty, check with customer service prior to making a purchase.
To find the proper panty size, first measure the natural waist with a measuring tape. Next, take a measurement of the fullest point of the hips and buttocks, approximately 7 to 9 inches below the waistline. Then check out this chart to determine the right size.
Tip: Go for "One-Size" when you're unsure about proportions.
The "One Size Fits All" Solution
If you don't know a woman's size, and you don't want ask, "One-Size" lingerie is the way to go. "One-Size" garments contain Spandex or Elastane, which makes them very stretchy, and accommodating to nearly every body type. Adjustable straps with sliders, fasteners, ties, and ribbons are also helpful when trying to achieve a perfect fit in "uncharted territory."
Measurements
Letters
Sizes
Bust
Waist
Hips
Letters
Sizes
Bust
Waist
Hips
XS
S
size
Size
0
2
4
size
Size
31"
32"
33"
size
Size
23.5"
24.5"
25.5"
size
Size
33"
34"
35"
size
Size
M
6
8
10
35"
37"
39"
27.5"
29.5"
31.5"
37"
39"
41"
L
XL
12
14
16
41"
43.5"
45.5"
33.5"
36"
38.5"
43"
45.5"
48.5"
| 2XL | One Size | Queen Size |
| --- | --- | --- |
| 18 | 6-12 | 12-18 |
| 47.5" | 35"-41" | 41"-47.5" |
| 40.5" | 27.5"-33.5" | 33.5"-40.5" |
| 51.5" | 37"-43" | 43"-51.5" |
Bust - Measure around the fullest part of the bust
Chest - Measure just under the bust
Waist - Measure the natural waistline
Hips - Measure the widest point, 7 to 9 inches down from the natural waistline
If your chest measures:
28-30"
30-31"
32-33"
34-35"
36-37"
38-39"
Then your bra size will be:
32
34
36
38
40
42
If your bust measures:

Then your Cup Size will be:

Your cup size:

33-34"
35-36"
37-38"
39-40"
41-42"
43-44"
B
34-35"
36-37"
38-39"
40-41"
42-43"
44-45"
C
35-36"
37-38"
39-40"
41-42"
43-44"
45-46"
D
38-39"
38-39"
40-41"
42-43"
44-45"
46-47"
DD
37-38"
39-40"
41-42"
43-44"
45-46"
47-48"
DDD/E
38-39"
40-41"
42-43"
44-45"
46-47"
48-49"
F
39-40"
41-42"
43-44"
45-46"
47-48"
G
40-41"
42-43"
44-45"
46-47"
48-49"
H
If your waist & hips measure:
Your panty size will be:
US Panty
US Alpha
US Dress
21-22 & 27-29
2
XXS
00
23-24 & 30-32
3
XS
0-2
25-26 & 33-35
4
S
4-6
27-28 & 36-38
5
M
8-10
29-31 & 39-41
6
L
12-14
32-34 & 42-44
7
XL
16-18
35-37 & 45-47
8
XXL
20-22
38-41 & 48-50
9
3XL
24-26
42-44 & 51-53
10
4XL
28-30
45-47 & 54-56
11
5XL
32-34
These measurements are most comfortable to do on a woman, but if you want your gift to be a surprise, use lingerie from her drawer as a reference point. The highlighted lengths and widths can be measured using her underwear.