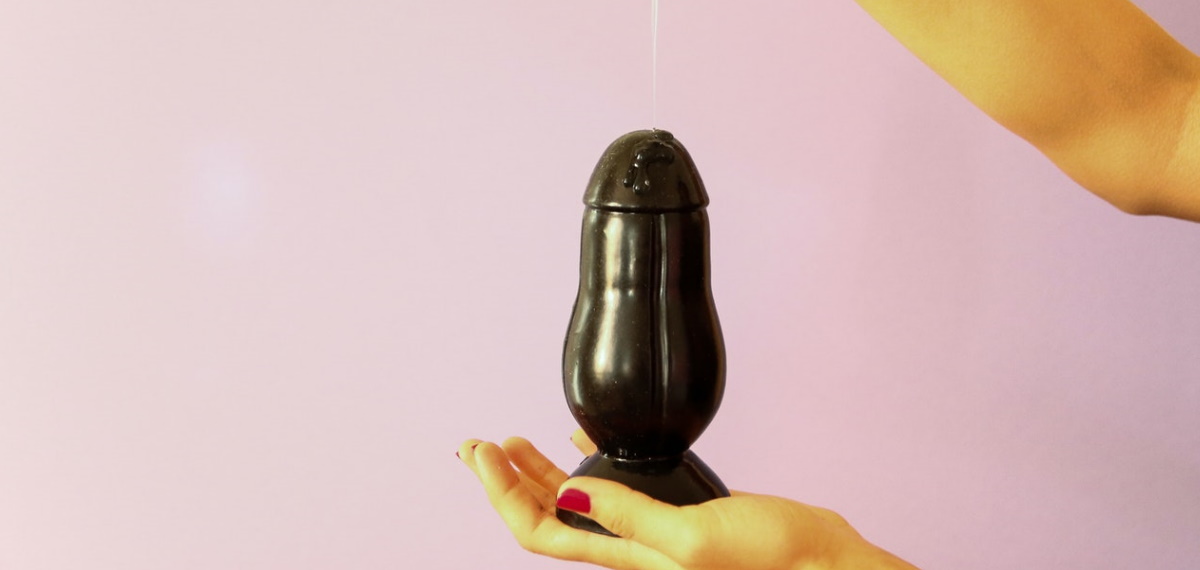 How To Choose Biggest Sex Toys For Intense Orgasms
Long, girthy and oh-so fulfilling, supersized sex toys push all your orgasmic buttons at once. Lube your XXL toy up and slowly slide it in, savoring the satisfying stretching sensation filling you to the brim with orgasmic ecstasy. Follow this handy guide to find the best oversized toy for you and explore it all, from ultra-ecstatic stretching to mind-blowing gaping.
1

Why Should You Go For Super Big Sex Toys?
Nothing can beat oversized sex toys in terms of the delicious fullness they provide. Their size allows them to push and rub your orgasm zones with every slide - and we mean all of them.
They are game-changers when it comes to DP play - wherever you put one, it makes you overflow with sensations. Learn the ropes of a real double penetration experience here.
Queen-sized sex toys also bless you with the fabulous ability to stretch beyond imaginable. The very process of working your way up from an average-sized toy to an advanced one is an orgasmic adventure on its own. Fill your hot pinkness with a well-lubed jumbo pleaser and moan as your boundaries are pushed to the limit. The overwhelming feeling of fullness, the intense pressure on your orgasm zones, and the sheer thought of having something THAT big inside will send you over the edge.
2

Reach Deep With Super Long Dildos
Not for the faint of heart, mega long dongs are a worthy challenge considering the immense orgasmic reward they deliver. Reaching the deepest nooks of your being, they take the intensity of pleasure to a whole new level. Slide your super long dildo in and feel it reaching the orgasm spots you never even knew you had - like the A-spot, or the elusive cervical orgasm. Because why the heck not?
This amazing dildo is nothing but 14 insertable inches of fun! It hits all of your spots when you are riding it.
3

Feel The Stretch With Ultra Thick Dildos
If you are a stretching junkie, ultra-thick dildos are definitely your jam. Boasting the super girthy shaft, these chubsters push your boundaries to deliver overwhelming pressure to your zones of arousal. Many women, btw, report that thickness beats length in terms of pleasure delivery. The thicker the shaft = the stronger the orgasm. Lube your extra-girthy toy up and prepare to be blown away by the sheer feeling of extreme fullness.
Great for Size Queens/Kings Strong Suction Cup Advanced Toy Veiny texture Fairly Realistic
4

Push The Tush With Super Big Plugs
Open your backdoor to WOW-tastic sensations with XXL booty plugs to experience a mind-blowing ass-gasm in its full glory. A fantastic variety of materials and shapes allows you to pick the one that will fit between your cheeks flawlessly. Consider the shape - always lean toward a thin neck since it fits perfectly. And don't forget to warm up! Explore these tips of booty warm-up we've gathered.
Train with gradually-sized plugs. Those step-by-step sets are your go-to when it comes to preparing your bum for jumbo-sized pleasers. Start with the smallest diameter, wear it for a while until you completely get used to it and only then go a size up. It's hard to overestimate the importance of warming up before using mega big anal plugs - after all, you're aiming for intense pleasure, and discomfort is unwelcome. So get yourself some graduated plugs and start your journey to orgasmic booty exploration - one plug after another.
Open up for gaping. If you aren't a novice to booty play and want an ultimate booty experience, gaping is your cup of tea. The orgasmic Everest of butt play, a leap rather than a step to truly jumbo-sized booty toys, gaping requires not only physical, but also mental preparation. You have to be ready to completely give up the control to your bae in an ultimate act of submission. Rest assured, it will be soooo damn worth your while. Read more about gaping in our eye-opening guide.
Women report that the feeling of fullness from large shafts largely contributes to their orgasm
5

Pull For Glory With Gigantic Anal Beads
Put a spin on your bum play with delightfully gigantic anal beads, be it sensual insertion during foreplay or toe-curling beading-off that leads to a bursting climax. Bear in mind that oversized beads require just as much preparation as other jumbo-sized anal pleasers. Use lots of lube and warm your way up to the XXL size by stretching your booty with graduated plugs or probes - or fingers! When you are all warmed up and ready - put them in, slowly, bead by bead. Let them stay in, feel their girth and length. And then, when you're ready to explode - pull 'em out. Just dive in our anal beads guide to learn it all.
For brave folks, this toy provides an incredible experience with sensations akin to fisting and comes highly recommended.
6

Pump Up With Inflatable Toys
Take charge of your pleasure and make your own boundaries with ah!mazing variety of inflatable sex toys. They allow you to be in full control over how stretched or filled you want to be. Start playing with the toy without inflating it and gradually increase its size, challenging yourself to more and more fulfilling pressure. If you feel like it's too much, just push the quick release valve and return back to a comfortable size. With a customized experience like that, sheet-grabbing orgasms are a given. Go pick one now and start enjoying!
Get this inflatable dildo and smile like the Cheshire cat. You won't be disappointed.
7

Throw Inches On With Supersized Extensions
Making your own dong a supersized love monster - YES! Allowing you to add up to 3 whooping inches of length and several inches of girth, these huge sleeves turn your cock into a tireless hole humper. It'll definitely be big enough for your boo, we promise.
Wanna have a little stimulation yourself? No problem! Pick a model with an insertable bullet and get your shaft wooed by lively vibrations. Need a little support boost? Easy! Slip into a sleeve with a scrotum ring or harness and surprise your lover with your mega cock and hours-long thrusting, leading to a mind-blowing "come together". Still not sure which one will suit you best? Check out this awesome penis extensions guide.
Are you looking for that full feeling? Here's your chance.