Tips On How To Get Her Off If You Finished
Have you ever found yourself basking in the glow of orgasm - only to realize your partner hasn't come? Let's face it: by accident or design orgasming prior to your partner is going to happen. Explore our smart tips and find out how to get her to the finish line - and maybe even achieve a bonus orgasm for you. And, since many women are multi-orgasmic, you can keep up the fun until she's exhausted with ecstasy!
Tips On How To Get Her Off If You Finished
Getting her off is a surefire formula to get invited back - and very soon.
Let's Focus On What Works 99 Out Of 100 Times
While your P inside her V might seem the most obvious way to make her see the stars, licking, sucking, and kissing her hottest bits can deliver even more AHHH!-mazing results. Eating her out can make any sex session fantastic, and if you've finished first, it's an ideal time to demonstrate your oral skills. To earn the title of "World's Greatest Lover," no matter how quickly you come, up your skill set with these juicy cunnilingus techniques from this guide. You can also find tons of useful tips on how to lick her to orgasm in this forum thread.
Okay, now say you've come, but for some reason, cunnilingus really isn't your thing. If you still want to get her off, you can't just leave her stranded. Whether you know it or not, your girl likely has a clit wand somewhere - and if she doesn't: A) shame on you for not getting her one, and B) order a good one for her immediately!
Eden rechargeable silicone tongue
Eden rechargeable silicone tongue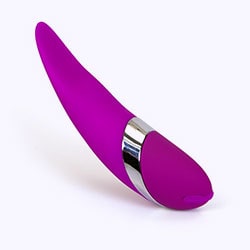 Probably the most important factor to keep in mind with clit wands is how sensitive your partner is. For example, my partner is into power, so although I'll start out teasing her with indirect stimulation, I know direct stimulation is going to be necessary to get her off. If your partner is highly sensitive, you'll need a teaser for gentler stimulation. Direct contact with her clitoris may not be desirable. Don't just ask what she likes. Observe her reactions. You'll soon learn what suits her and what doesn't.
Satisfyer Pro 2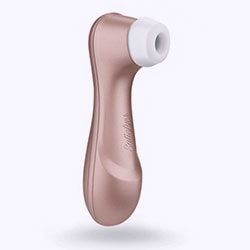 Satisfyer offers something for both sensitive women and vroom lovers, and the unique sensations its touch-free pulsations offer are unlike anything a regular vibrator can provide.
Life Hack: Have her show you what gets her off! If your partner is reluctant, an intimate massage is a great way to get her in the mood. The intersection of a woman's blood, lymph and nervous systems are found in the groin area. A properly executed massage - for which you'll need both hands - will have her primed for an orgasm in no time. Just make sure she participates by using a wand. Again, if you observe what she does, you'll soon learn what she likes!
Make Friends With Her G-Spot And Take It Up A Notch
Even though using a clit wand is a 99% surefire way for her to reach orgasm, if you really want to give your partner something to brag about, try for a G-spot or blended orgasm. Because it involves both clitoral and G-spot stimulation, a blended climax can actually be easier to achieve than a G-spot orgasm alone. Just remember, this method takes two to tango! She'll need to take charge of the clit wand while you focus on her G-spot. If you're not sure where her G-spot is, we're not going to go into an anatomy lesson. Do your homework and practice until you get it perfect. For help, use this in-depth guide to G-spot stimulation to get you started.
Now, getting back to the assumption that you've had your (first) orgasm, chances are she's already aroused. Following an intimate massage or oral stimulation, insert a finger, or two (use lube to make your fingers glide seamlessly), turn your palm up and begin to massage the top (anterior) wall of her vagina with a "come-hither" motion. Massaging this area causes blood to engorge the G-spot (which you can distinguish from the rest of the vaginal wall by its "washboard" texture comprised of several parallel rib-like folds close together).
EdenFantasys personal lubricant
EdenFantasys personal lubricant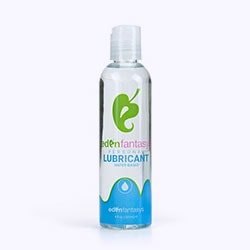 Caution: If your partner's a "gusher" - a.k.a. "squirter" - this is when you'll find out!
Ladies, don't hesitate to offer guidance. After all, it's your orgasm! Educating your lover is a long-term project, and the smarter he gets, the better your sex life will be.
Toys, Toys & More Toys: Technology To The Rescue
High-tech is not just for smartphones, and there's a host of the body - and eco-friendly options that await you. Although everyone's budget is different, in my personal experience, sticking to highly rated toys made from high-quality silicone last a very long time - making them well worth any added expense. When it comes to vibes, rechargeable and waterproof designs make the best long-term toys. This overview can help you deliver reliable orgasms with the toys you can trust to get the job done time and again.
Clit Wands
Although almost any vibe can be used for clitoral stimulation, per positive feedback, the most effective are listed below, and EF offers multiple options in each category:
Magic wands are proven winners in the power zone with a strongly vibrating head and handle.
Air suction wands get the highest rating from women for their innovative technology and are best in making her orgasm.
High-intensity clit teasers that offer pinpointed clit stim, these toys deliver up to 15,000 concentrated cycles per second - assuring an O! in minutes.
G-spot Vibrators
G-spot vibrators are characterized by an upturned tip that facilitates contact with the front wall of the vagina. Like clit wands, they come in a number of categories.
Phallic or non-phallic shafts with the requisite upturned tip.
Rabbit designs with a rotating or thrusting shaft combined with a clit vibe.
Couples' vibes are unique U-shaped devices that provide dual G-spot and clit stimulation.
G-spot Dildos
Although it might seem that vibrators would offer an obvious advantage over a non-vibrating dildo, that's not always the case. In fact, my partner's favorite G-spot toys are metal and glass wands that offer the best combination of smooth texture and firm G-spot pressure - and they don't vibrate at all!
Pure wand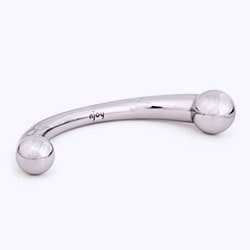 Glass and steel toys add the option of temperature play which many couples enjoy. We especially savor the cool feel of steel or glass on hot summer nights.
Lady killer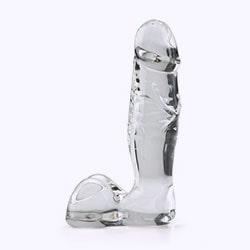 It's great for temperature play... Heating it up adds a nice warmth similar to a partner's warmth. Using it cold adds a new exciting twist to your play.
Silicone dildos are fabulous toys for those who enjoy deep vaginal penetration. Both the anterior and posterior fornix area - where the vagina and cervix meet - are quite sensitive. When stimulated properly, intense and sometimes very wet orgasms result. Softer silicone formulations are especially effective at stimulating this area without causing painful pressure on the cervix.
Dual density stud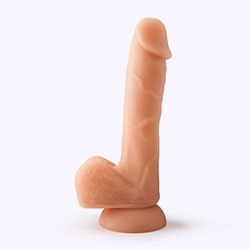 The dual-density Stud is really soft and has a matte, velvet-like finish that makes the toy feel more realistic.
Going For Seconds: Your Reward For Hanging In There
Even if you've already come once, after doing your part to help get her off as well, you might well find yourself ready for Round #2! Speaking from experience, my partner is only too happy to keep the action going almost every time. Whether we leave a couple's vibe in for a PIV encore, or move on to add some anal sex to the mix, the prospect of added multiple orgasms is just too awesome to pass up!
Going for an encore is also a good time to explore a variety of positions. To help her get off with you during round two, you'll want to focus on those that maximize clitoral and G-spot stimulation. Here are some great positions to enjoy both and make her orgasm:
Missionary Sex Position
This old standby can is classic for a reason because it's actually quite effective for lining up your pubic bone with her clit. The addition of a wedge-shaped position pillow extremely helpful for tilting her pelvis to ensure your thrusts are stimulating her G-spot to the max.
Doggie Sex Position
Doggie Style is another favored position that helps women come faster - and my wife is no exception! What makes it so effective is that it allows her direct access to stoke her clit or use her wand. Combined with your thrusting, her orgasm will be a foregone conclusion. In fact, according to this intriguing forum poll, 51% of women reach the most intense orgasms doing it Doggie Style!
Cowgirl Sex Position
Regardless of whatever else my wife and I get up to, Cowgirl is our go-to position. When she's riding on top, she's able to angle herself so that I'm hitting all the right spots as she rubs her clit against my pubic bone. She can even lean back and use her high-intensity wand - often with explosive results. And as an added bonus, I get to play with the radio-dials!
Reverse Cowgirl Sex Position
As with Cowgirl, she controls the penetration and has unfettered access to her clit. Although I lose access to the radio-dials, being an ass man, watching her appetizing bottom accessorized with a sparkling butt plug gem is the kind of trade-off that almost always gets me off.
Final Thoughts: Getting Into The Right Frame Of Mind
For a man, staying in the game, much less rallying for an encore after the first orgasm can be tough. Take my word for it, the older you are, the harder getting hard a second time gets. It's all about physiology. After they climax, men enter a "refractory period" - which is the recovery time it takes before another erection can be achieved. When you're "twentysomething," that window may only be a few minutes, but at 30, 40, or 50, the interval can take a lot longer.
So, what's a guy to do? Regardless of whether orgasm #2 is in the cards for you, your priority should be making sure your partner to "cums" away from your sex sessions with a positive frame of mind. I find that focusing specifically on her pleasure is almost always enough to get me past my post-orgasm desire to pass out in blissful oblivion. How do I do it? By having a little mental contest to see how many orgasms I can give her. Usually, I'm ready to go again before she begs for mercy, and if not, I've sure had fun trying - and so has she!