Like Chica-Cherry Cola!
Why is it like Cherry Cola? I don't know! I just know I really enjoyed this film, especially watching it right after the other porn for the month. It's dark, feminine, intense, and has plenty of variety to bring me back to enjoy it again later. Prerequisite: love women having sex with women, don't care too much about being able to follow the plot (I suppose you should start with Cherry 1), and be horny.
Published:
Pros:
High Quality Film
Good Music
Decent Acting
Cons:
Rough Cuts
Some Scenes Were Way Too Long
Content & Audience
The content of this film is only limited by one thing: it's all women (even the extras). But everything else is variety! Not every scene has only two partners, not every scene has a toy, and not every scene has (non-vanilla) kink. But, again, every scene only has women. So if you love the female form and/or women's sexuality – this one gets an all-go from me for recommendation! What you'll find in this film included, but is not limited to: oral sex, manual stimulation, penetration with a toy, strap-on play, light to mild slapping and choking, foot stimulation, voyeurism, and group sex.
Cinematography
I love the diegetic music. It still ranges, however, from good music all the way down to the generic "cheesy" stuff but I love that it's part of the scene rather than background music that the characters can't hear. The camera work is also pretty top notch for porn, even feature length ones. The angles are purposeful, artistic, enhance the viewing (and sexual) pleasure.
The only downside (there seems to always be one, right?) is that the cuts aren't always smooth and it's WAY too obvious when the extras have been dismissed for a shoot. A little background chatter, shadows, or the occasional extra walking in the shot for a drink would make it more realistic and even more exciting to increase the exhibitionist kink.
Menu & Opening Sequence
I first have to say that I love
Hungry Lucy
(artist that does the menu and opening sequence music) so they get points for that! With that kind of taste, I figured I couldn't go wrong.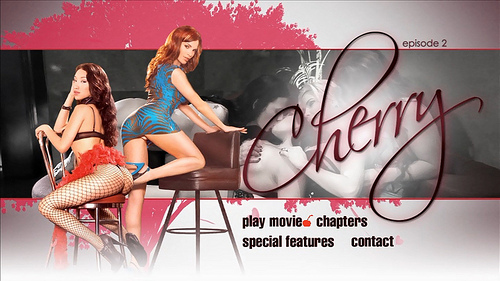 I'm not sure the last time I've seen this many extras in a porn film before! Wait, yes I do. It was another high production film that impressed me. The difference? This one is all women! And the opening scene attests to the artistic attention and quality of the production.
Sex Scenes
1st –
Eden, my loves, there is a toy in this scene! And I have to say that this first scene was amazingly hot! Anyone out there wondering how two women have sex (or trans people too), this is how! Notice it's not much different? Yeah, exactly. Just lust, desire, and bodies going at each other. So no need to ask anymore. (Anyone else get those questions?)
There is strap-on play, oral, fingering, and some light domination with strangling. Oh I love the variety. I wish I could see more of this in all porn, straight or otherwise. There is even the element of a voyeur. This might be my favorite scene.
2nd –
Ok, they're cute women and I love their outfits but their acting needs a little work. Well to be fair, their acting could be right on target if the two characters are absolutely wasted and making little sense. I've heard similar words come out of the mouths of funny drunks.
I really like how they tried to be "secretive" about sex in public and they actually did turn their backs to the camera to hide the fingering. It's like the Hitchcock film quote about the power of the unseen. It's not that it lasts, of course, and it does end up being aimed at the camera for better views but it's the thought at the beginning with the acting that impressed me. And I have to say that I also loved the overhead camera angles!
3rd –
A threesome and more toys! Can I nominate this as my favorite porn so far in Porn Club? There's some definite domination going on again too, which is ridiculously wonderful. But this scene doesn't last long. It's more a warm-up for things to come. But I'm honestly loving that not every scene has to go "all the way" or fall into the traditional "plug n' chug" formula for porn. Tease me all way, Cherry!
Experience
4th –This part may be a foursome but the film starts to lose my interest a bit around this point. It's really, really slow moving, it's pretty much silent, and any character personality pretty much went out of the window. I thought two pairs in the scene would be double the fun but it just slowed it down too much for me. But there were some interesting things in the scene: foot worship, tongue sucking, and voyeurism.

5th – The mystery character from the opening sequence and another unknown character get it on! Honestly, I want to catch up on the story line with Cherry 1 so that this all makes more sense. But anyway, it's pretty hot. It doesn't move as slow and has more personality. Down sides are the silence (for me, at least) and the pretty rough cuts between shots. But I really loved the positions and some of the camera angles! Smokin'!

DVD Features

- DVD and Blu-Ray Disc Combo
- Run-time Approximately 2 hours 23 minutes
- Chapter Selection
- Behind the Scenes
- Slide Show
- Gallery
- Trailers
This product was provided free of charge to the reviewer. This review is in compliance with the FTC guidelines.

Thank you for viewing
Cherry 2
review page!