Cherry 2 : Less talk more action please!
Cherry 2 is a pretty decent movie and I do plan on watching it a couple of more times. I was just a little let down at how they had the movies set up. There was too much personal drama and not enough sex. Cherry 2 would be a good movie for those who like porn with a decent plot. You get two copies of the move, you get a regular DVD, and a Blu-ray, which is pretty awesome!
Published:
Pros:
Quality picture and sound, Decent women, Lots of oral sex, Blu-ray, DVD,
Cons:
Too much talking not enough action, So much going on, Hard to keep everyone story straight,
I don't know any other way to do this so we are going to review the movie scene by scene!
Andy San Dimas & Jiz Lee: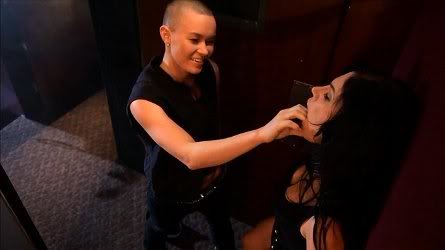 This is the first scene in the whole movie and it wasn't a bad scene at all. The scene starts off with Andy and Jiz eying each other on the dance floor. It' was in a pretty damn obvious kind of way. Without actually saying a word to each other they both end up in a closed room away from the dance floor and blasting music. Andy is the more dominate one of the two and is extremely forceful, which can be quiet sexy. Andy pins Jiz up against a well and is wildly fingering Jiz, who is by the why having an extremely hard time containing herself. The rolls soon switch and Jiz is now in charge, and Andy whips out a "penis" and Jiz processed to perform oral sex on her, Jiz did end up getting a pretty hard pounding before removing the strap on and penetrating the real Andy. The whole scene was filmed with both women standing, which is a little different because you don't see that all the time. The scene was very well set up for it to be taken place in a back room. I loved the aggressive energy that Andy put off.
Dana DeArmond & Evelin Rain: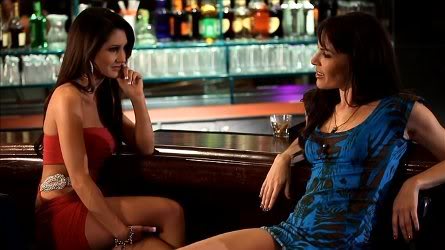 There is a good chunk of time that you do have to wait before you get to enjoy another scene. This second scene has more talking in it then sexual activity, which can be a little boring. Dane and Evelin are sitting at the bar having a couple of drinks and Evelin is complaining about her dead beat boyfriend. Evelin being a good friend really wants to help her with this problem. Somehow Evelin starts hitting on Dane in her time of need, and soon they are kissing and touching. They slowly start undressing each other. Mind you this is ALL taking place at the bar. Before you know it Dane and Evelin are sitting on the bar fingering and kissing each other. It's a quite wonderful shot, but it's extremely unrealistic. Both women were pretty decent looking and extremely busty! The scene ends with Dana sucking on Evelin's toes… They added that in there for those of you with feet fetish!
Vicki Chase, Missy Martinez & Brooklyn Lee: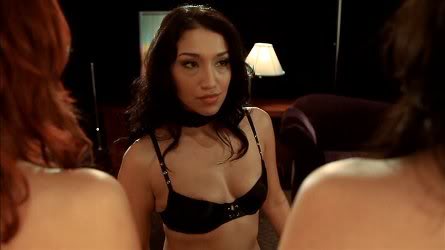 This next scene is a very short scene and takes you into the dressing room. There is a group of ladies talking in the dressing room and training what looks to be new employees. They want to see how good these "new" girls are so they put them to the test, Missy, Brooklyn, and Vicki has them strip and they start sucking on the girls breast. Vicki then whips out some toys and have them use them the other three girls. The boss Cherry comes to inspect the women, and once she sees it's good she keeps going. After this there is more story about the new girl Zoey who is a little scared about her first night. The locker room scene was a nice seen because all the women were extremely beautiful. There also was that control factor of new girl being told what to do, and that personally is a huge turn on for me.
Zoey Holloway & Missy Martinez: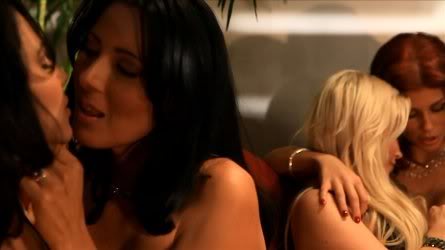 This next scene is stills somewhat connected to the one before it. It continues with Zoey the new girl who is scared and Cherry is still trying to find the right girl for her. Meanwhile Brooklyn was taken too Missy who had been watching her the whole night. All four women were in this room together Zoey, Cherry, Missy, and Brooklyn. Missy and Zoey started going at it without second thought of Zoey and Cherry. While Brooklyn and Missy where busy pleasing and getting each other off, Zoey, and Cherry weren't really doing much but kissing and engaging in some lite play. It was kind of pointless and the scene would have been better without those two in it. The whole scene would have been better if all four girls were equally enjoying it. As that scene comes to an end Zoey was enjoying the last little bits that was on her fingers.. Cherry takes Missy out of the room leaving Zoey behind.
Experience
Diamond Foxxx & Brooklyn Lee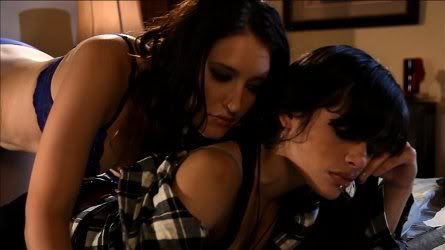 So after two of the better sex scenes for this title we get the big confrontation between Cherry and this mysterious girl played by Kimberly. She's there as a guest of a member who's membership actually expired months ago. Cherry takes her to the bar where the girls have a discussion that is serious without getting heated. Cherry doesn't outright tell her to leave but that's the implication after they have talked. Cherry then goes home where she runs into Tuesday who is wearing a sexy white lace negligee. She follows up the stairs and as they reach the top Cherry catches her and the two begin to kiss-- then suddenly Tuesday is gone so this was all in Cherry's mind. Cherry then hears a noise and goes to the bedroom where she finds Riley packing a bag. Cherry has heated words towards Riley who doesn't speak a word and repacks her case after Cherry has pulled out some clothes and she walks off. This leads to a emotional outburst from Cherry who finds out she can't control everything in her life that people can make decisions that aren't what she wants and now she is having to deal with that.
Kimberly Kane & Tuesday Cross
Cherry goes back to her muse Tuesday and she is shown touching up a drawing but Tuesday is not alone as she is joined by Kimberly so Cherry is having a fantasy that includes her muse but not one with her. Why is Kimberly in this I'm not sure but the two girls eventually come together and give us one terrific scene to close this episode out. Some good kissing and we have Tuesday being the first to work down to licking pussy and fans of a bush will see Kimberly has a nice on here. The girls do a good job too of hugging and using their fingers to please each other and Kimberly does some fine oral herself when the chance arises.
What I thought about it.
I did like this movie when they actually got down to business. I just think this movie has way too much story and it almost played out like an actual movie and that did kind of annoy me. I wanted to see some girls get down and dirty and you did get that much you had to suffer from so much story before you got what you wanted. I love the quality of the movies and I love the idea of the move being fully girl related but I have to admit I did see room for improvement. The scene where nice and clear and the sound was perfect. The women weren't too bad looking; I do wish they had more natural women. I did love that it came with a blu-ray copy!
This content is the opinion of the submitting contributor and is not endorsed by EdenFantasys.com

Thank you for viewing
Cherry 2
review page!