Not My Goddess...
If what you're looking for is an artsy film this is not for you. While Sunny is stunning, the movie seems disjointed at times, the music and lighting were off and it was hard to stay in the moment while watching this. Sunny Leone may be a Goddess but she didn't showcase that in this movie at all. This was definitely not for me.
Published:
Pros:
Sunny is beautiful, great lingerie, nice space where it was filmed
Cons:
camera angles off, music not continuous, spitting, gagging, unnecessary moaning, too much dirty talk
Sunlust Pictures presents the beautiful Sunny Leone, all by her lonesome, well almost. Goddess showcases Sunny Leone stripping, playing with toys, giving blowjobs, and her very first anal scene with a guy.
From the back cover of the dvd case-
The Moment You Have Waited For...
Has Arrived!
Sunny Leone In Her
First B/G Anal Scene.
This Unstoppable
High Fashion
All Sunny Film Is
Unrivaled By Any Other.
Sunny Leone Shows The World Why They Call Her The Indian Princess
The front cover has the Sunny Leone in gorgeous pale pink lingerie, while pale pink smoke wafts around her in the background. The look that is on Sunny's face is almost enough to pull you in right from the start. It is part seriousness and part sexy pout that says, "I know you want me."
Scenes 1,3,5 and 7 are solo scenes where Sunny uses hands or toys to masturbate for the camera.
Scenes 2 and 6 show Sunny giving blowjobs to a faceless man.Scene 4 is sex with another faceless man and scene 8 is Sunny Leone's first boy/girl anal scene ever.
Scene 1- Sunny dances in steel grey lingerie and sky-high heels. A very slow striptease follows that worked very well with the music and camera effects. Sunny masturbates for the camera in a scene that lasted far too long in this reviewers opinion.
Scene 2- After dancing in black and pink lingerie in a cage, Sunny does another slow striptease before giving a blowjob to a faceless man inside that same cage.
Scene 3- Sunny wears the pink lingerie from the cover with gold heels. Sunny crawls across a bed where a fan blows her hair around before she masturbates with a purple vibe.
Scene 4- Sunny does an interview wearing a purple bra and panties. As she begins to masturbate you hear Sunny's voice in the background lightly talking, although I cannot say for sure everything that was said. Sunny has doggy sex with a faceless man before switching positions a few times.
Scene 5- You are treated to slow teasing from Sunny in a black bodysuit in a window and on the fire escape, before seeing her masturbate with a silver vibe.
Scene 6- Another blowjob with a faceless man while wearing a pink & black bra and panties.
Scene 7- Sunny wearing beautiful black lingerie strips before masturbating with a gold dildo.
Scene 8- Sunny's first boy/girl anal scene ever. She is wearing a white bra and panties.
The Disc also features a Behind the scenes, trailers and a photo gallery.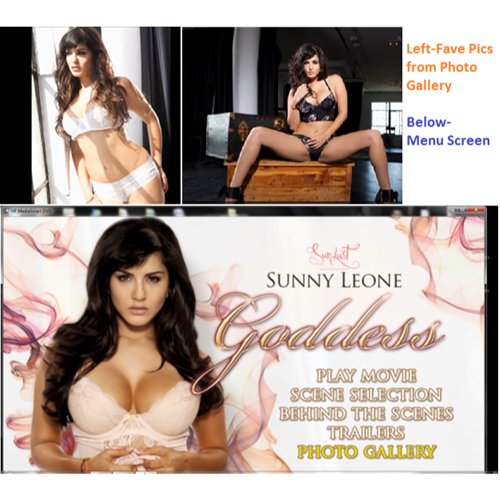 Trailers
-
Lies: "Diary of an Escort"
Gia: Portrait of a Porn Star
Nothing But Sexxx
Nothing But Sexxx 2
Sex Angels
Too Good To Be True
Sex, Sex, Sex
I found the photo gallery very nice, it showed Sunny in the different outifts that she wore during filming.My favorite picture was the black lingerie from scene 7.
Experience
There were so many things that went wrong for me with this movie. It felt like they wanted to give it an artsy feel but ruined it with the overused porn scenes. I am not a fan of unnecessary moaning, spitting and I don't like it when I can't see everyone's faces.

During several scenes the music wasn't continuous. I noticed that it stopped in several spots where I could hear background noise from the outside and then restarted.

One thing that kept pulling me out of the mood was seeing Sunny stop what she was doing to move her hair out of her face or fix her bangs. I also didn't care for how Sunny seemed to be tracking the camera with her eyes during the scenes.

It appeared in several of the scenes with faceless man that he was also holding the camera, which made the camera angles awkward and disjointed.

There were entirely too many porn cliches throughout this movie: spitting, gagging on a cock, which is a HUGE turn off for me and running her tongue over her teeth an excessive amount of times. I didn't find any of this sexy in any way. The scene with Sunny crawling across the bed seemed reminiscent of a teenage boy's wet dream, complete with dirty talk and titty shaking.

Scenes seemed to slow down and speed up for no apparent reason. In a few scenes where she was masturbating her fingers appeared blurry while everything else was in focus. The scene with the gold dildo had lighting issues. One part of the screen would be fine and the other was too bright. The anal scene got extremely loud for me and stayed that way even when I turned the volume almost completely off.

I also wanted to know several things.
* What woman can't undo her own bra from behind?

* What was with faceless man wearing socks during sex?

* Why moan about how good the anal sex felt, then turn around during the behind the scenes and say how much of a beating your ass took?

* Why did we spend several minutes during the Behind The Scenes just looking at Sunny make faces or hearing 2 guys argue about what to do about the train noise in the background?

*If it is your movie and you don't like cum in your face why would you let faceless man cum in your face?

I spent too much of this movie asking myself why things were going on and not enjoying what I was seeing. Sunny is very beautiful but this is definitely not the movie one should see if they have never seen Sunny perform before. It will totally turn some people off of Sunny Leone for good.
This product was provided free of charge to the reviewer. This review is in compliance with the FTC guidelines.

Thank you for viewing
Sunny Leone Goddess
review page!