We won't be worshipping at Her Altar
When it comes to adult movies there are certain things we look for. Production values, chemistry and authentic enthusiasm. These are the things that really elevate a movie and make it worthwhile. Now, not everything has to be in place for a movie to be good but it helps. This movie has pretty much nothing going for it. No real attempt at masking the fact that it was obviously shot quick and cheap.
Published:
Pros:
Sunny Leone
Cons:
Poor Camerawork
Audio problems
Bad editing
Terrible BTS
Male oriented
No chemistry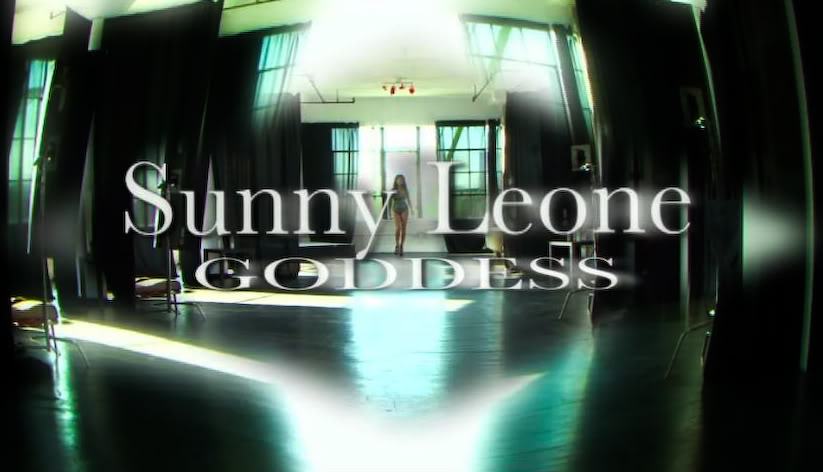 Scene 1-Solo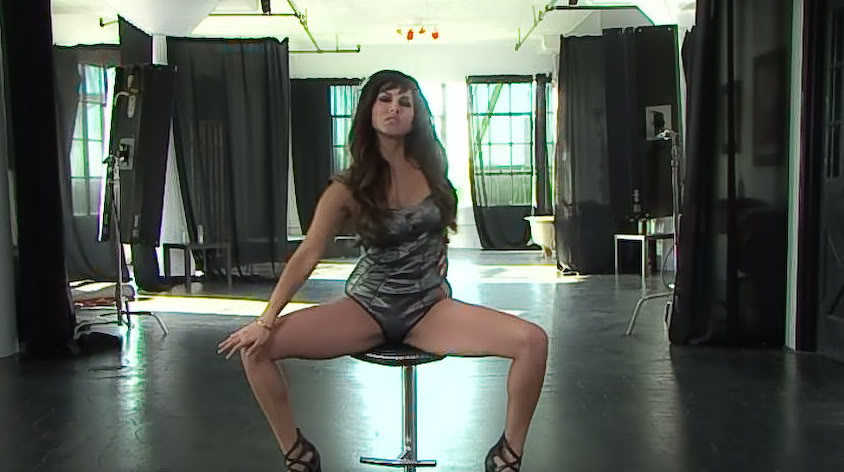 Sunny is strutting around a large studio (this movie's one location) wearing an unflattering metallic grey teddy. Leads into a solo scene.
(16 minutes)
His: * 1/2
That outfit...whoa. This is my first time watching Sunny Leone and I have to say that is she is a very beautiful woman. This scene is too long and I started to lose interest long before the clothes came off.
Hers: *
I think Sunny is an exceedingly attractive woman. However, the lingerie and the awkward stripping do her no justice. The seduction portion of the scene is so long that by the time the masturbation started I was already bored.
Scene 2-Fellatio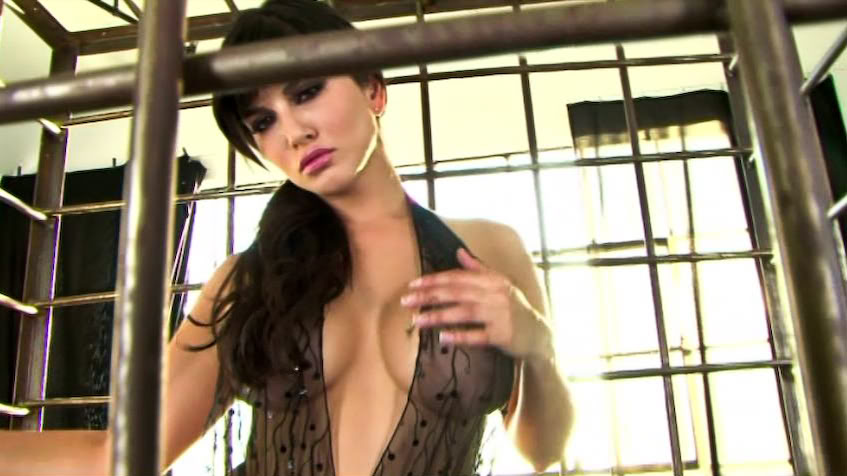 Sunny is dancing inside a cage. After stripping down the cage opens and suddenly...the music stop and the BJ scene starts.
(9 minutes)
His: * 1/2
It seemed like this was going somewhere with the cage but my hopes were dashed when the door opened and the music stopped. Just an average BJ scene. The male fantasy like focus on the viewer threw me off. It worries me that no one seemed to consider the fact that Sunny probably has female fans as well and this could be a HUGE turn off.
Hers: *
I had hoped for something edgy, but the cage was misleading. No kink... The fact that the man is more of a prop than a participant also threw me off. This wasn't advertised as a POV movie, and I was distracted by the way she talked to the camera instead of the man she was blowing (whose face we never see), using male oriented-specific language no less... Also, I hate when music stops abruptly.
Scene 3-Solo/Toy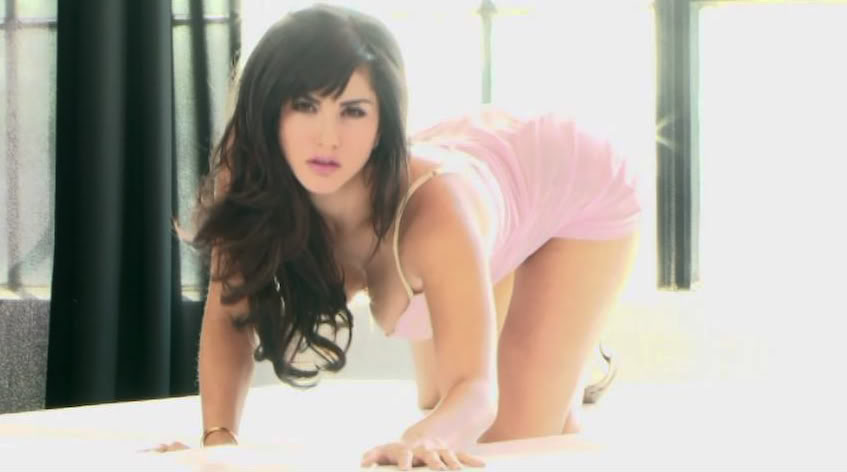 Sunny looking pretty on a bed. A few minutes later she starts her solo scene and invites the viewer to make her cum. She uses a purple vibe instead.
(19 minutes)
His: *
Well, this started off nice with soft lighting and some subtle wind blowing her hair...but things quickly got dull and went downhill from there...
Hers: * 1/2
I love how this starts out. Once again, Sunny is very lovely and if it weren't for that this scene would have one star. The solo action isn't too hot. By this time I'm losing any faith in the authenticity of her orgasms...
Scene 4-B/G Sex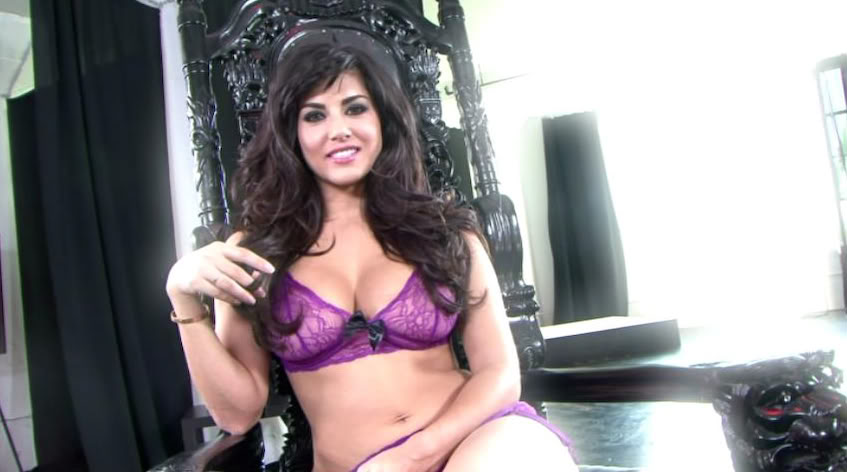 -Before the next scene begins there is a brief two minute interview.-
Begins with another slow tease. After 4 minutes it cuts to the sex without warning.
The camera focuses primarily on the genitals and Sunny's ass.
(8 minutes)
His:*
The sex is pretty standard. This is so poorly shot. You only see Sunny's face a few times and the rest of her body (non genitals) remains out of frame for the most part.
Hers:*
The interview seems oddly placed. The slow tease is worn out by now...As for the sex, I'm not a fan of POV-style porn and the fact that I can't actually watch the action as a voyeur is annoying.
Scene 5-Solo/Toy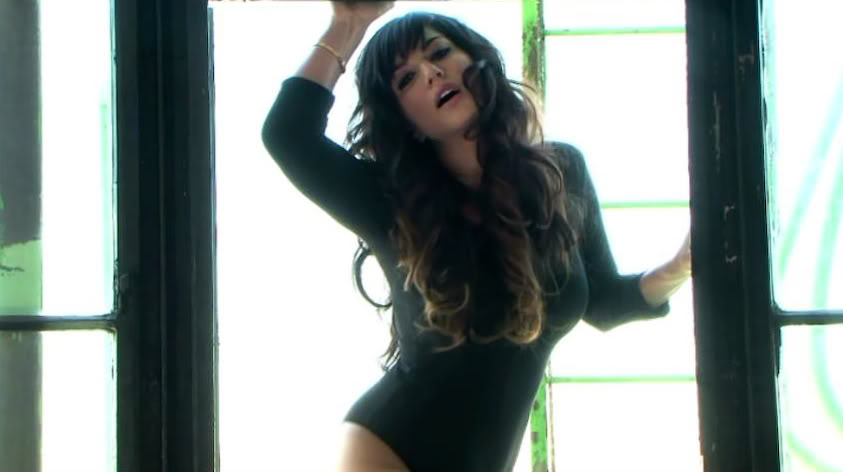 Starts out with Sunny on a balcony/fire escape. She's wearing a black bodysuit while posing around the windows and frames. After 11 minutes Sunny starts using a silver vibe (with stickers still attached).
(20 minutes)
His: ** 1/2
This is the best scene thus far, as Sunny looks very pretty here. I like the bodysuit. It's simple and form fitting. The location is a little different from what has been shown so far. They really should have taken the stickers off of the vibe. Also, this scene is too long!
Hers: **
This scene almost seems to pay homage to Andrew Blake erotic art. The teasing is more interesting to me thanks to a little scenery change. I actually liked it more before the solo action started. If the scene had been half as long I would have enjoyed it more.
Scene 6-Fellatio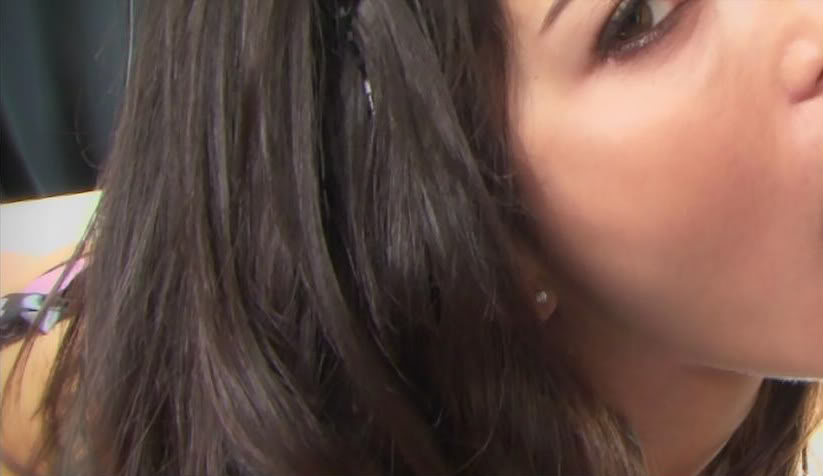 Sunny is laying on a bed next to on open and waiting pair of pants. During the scene the camera angle changes and is way too close. Soon the angle changes again to where you can see what's going on.
(14 minutes, followed by a brief one minute interview)
His: **
Sometimes I wonder if anyone is even behind the camera for some of this scene. I think they just propped it up and pressed record. This is a better blowjob scene than the first. I liked that there was a little ball play and some teasing involved.
Hers: *1/2
I just could not get past all the technical problems in this scene. Between the clumsy camera angles, the slow-motion for no reason and the lack of audio control it was hard to enjoy.
Experience
Scene 7-Solo/Toy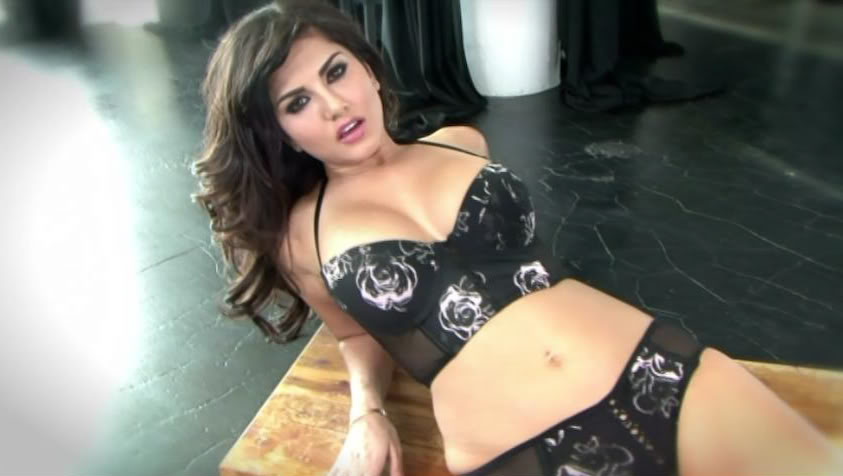 More teasing and seduction. Sunny is wearing a retro inspired two piece set while laying on a wooden crate/box. This goes on for a while until she strips off her clothes and produces another toy. This time it's a gold, realistic dildo. She uses it for the rest of the scene.
(11 1/2 minutes)
His: *
Cute lingerie, odd color choice of dildo. More solo stuff...wake me up.
Hers: *
Nothing interesting to report here.
Scene 8-B/G Anal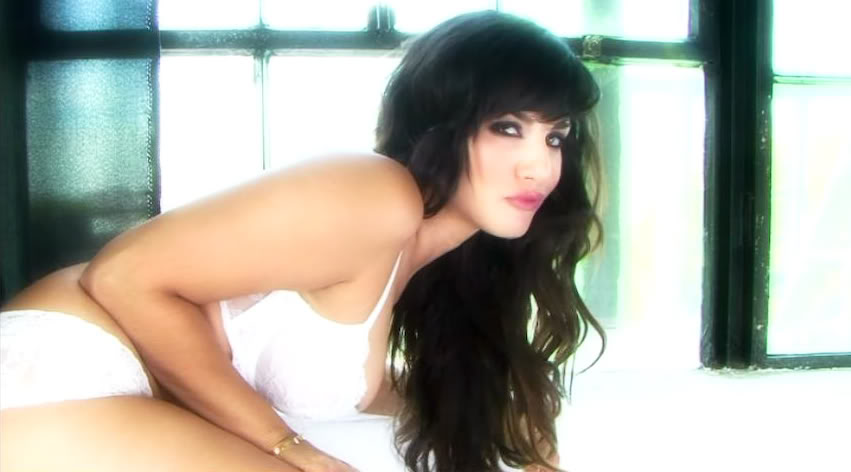 Begins with Sunny asking the viewer if they want her ass. Cuts to the faceless man fondling her ass. He gently finger her with one digit and then tries two. When two won't go he goes back to using one finger and...then we are suddenly watching the actual anal sex. In less than five minutes we have gone from intro, to warm up (a very lame one, at that) to anal. There are TONS of audio problems with this scene. Sunny's audio is way too loud and there are all kinds of vehicles passing by and noises going on in the background.
There are a few position changes and it ends with Sunny on top doing Reverse Cowgirl and Cowgirl until the finish.
His: *
Wow. If this is the moment fans have been waiting for... that's just sad. Not only is the sex barely lukewarm but the chemistry is obviously not there. Not only is the male still just a faceless dick, but while watching it is VERY obvious that this is definitely not something Sunny is honestly into. Maybe if her partner had been a little more receptive to her body language and less concernced about getting it over with, perhaps this wpould have been a more enjoyable scene. It seemed forced and I was distracted by hearing the guy mumble in the background. I think I heard him at one point say "Tell me how you like it." or "Tell them how you like it.". This scene also suffered some of the worst editing. There are lots of sudden jumps and cuts that are very distracting.
Hers: *
If I could give this scene less than one star I would, but in keeping with EF's usual star score system I'll give it one. I felt very uncomfortable throughout this scene. For starters, when he tries to use two fingers and she protests, instead of showing patience or using a toy to gently prepare her the scene cuts straight into the anal sex. The viewer has already seen that she wasn't ready yet, so what's the use in pretending? Then, she never really seems to fully enjoy the sex. She looks uncomfortable and her moans and explitives sound forced and fake...especially when we hear the man telling her what to say. Even though she's having anal sex (not just giving a BJ) we still don't ever get to see the man's face and I never saw or felt any chemistry between them in any of the scenes. If I were a big fan and had waited years to see Sunny's first anal scene I would be bitterly disappointed in this mess.
Follow-up commentary
1 day after original review
The video quality is very soft and seems highly compressed. The lighting and the camera work are a mess. Both aspects jump around a lot in this feature. Lighting will be soft and elegant and then harsh. The camera will be shooting at an almost cinematic quality and then jump to video, so the framerate is being changed constantly with little concern for taste or style.

The audio is by far one of the biggest issues. The sound cuts in and out, overlaps, is out of sync in some spots and the list goes on. Sometimes we can clearly hear traffic, airplanes and general white noise in the background and it can be very distracting.

Performance wise, there's very little variation from scene to scene in her solo work. In the sex scenes there is no way to feel any chemistry between the two involved as she continually refers to the viewer and looks into the camera the majority of the time.
Now, if this is what you are looking for you may enjoy it but with the movie not being advertised as a fantasy/POV style film it wasn't what we were expecting.

Extras:

Behind the Scenes:
This could be one of the worst behind the scene features I have ever seen in any type of film. Sunny looks less than thrilled, the cameraman isn't very articulate and seems in a hurry and everything feels...awkward. By watching the behind the scenes you start to realize how little control the director had in the process and it belittles her participation in the film. There are a number of scenes where she doesn't know she's being filmed and there are some things that are left unseen. This behind the scenes feature took what was already a lackluster production and plummeted it down further than possible. The one star rating is almost too much for this disappointing movie that includes such a frustrating and annoying BTS feature.

Trailers:
Lies, Diary of an Escort
Gia: Portrait of a Pornstar
Nothing but Sexxx
Nothing but Sexxx 2
Sex Angels
Too Good to be True
Sex, Sex, Sex

Photo Gallery:
Images from the set of Sunny Leone GODDESS
This product was provided free of charge to the reviewer. This review is in compliance with the FTC guidelines.

Thank you for viewing
Sunny Leone Goddess
review page!