The Major Disappointment 3.
Kayden Kross is hot, and at times her and Samantha Ryan's acting is commendable. But overall, this video really set me up for disappointment. The introduction promised something different, funny, and very hot. What Digital Playground delivered, however, was a poorly filmed, half-assedly acted, poorly scripted porn, complete with next to NO plot, though it promised one, and the same 'cunnilingus, fellatio, military, doggy style, ejaculation, end scene' formula throughout.
Published:
Pros:
2.5 hrs of film, crisp picture, Blue-Ray and DVD, behind-the-scenes feature
Cons:
Sex predictable and repetitive, inaudible dialogue during sex, bad acting and production
From the sexual playground of Digital Playground comes The Masseuse 3: a 2.5 hour tale of sexual scandal in the workplace. Previous installments of the Masseuse series brought us the ever-naughty premise of a sexy professional masseuse making housecalls which turn into booty-calls. The film stars the lovely Kayden Cross, Scott Nails, Samantha Ryan, Mick Blue, and other DP favorites. An innocent massage turns into a wild lusty roleplay. A doctor's office is steamed up as a patient waits impatiently outside. A doctor making housecalls finds his patient scantily clad in bed, ready to reel him in with her oversexed appetite.

With the production reputation of Digital Playground, I wasn't sure to expect. I'd never seen porn with a high budget, or really much scripted porn at all. I anticipated a high-quality film similar to a romantic comedy, but whose sex scenes were steamier, longer, and more X rated than those starring Cameron Diaz or Julia Roberts. I hoped for convincing acting, creative plots, and an overall exciting experience, beginning to end.

But oh, Digital Playground, how you disappoint me so! The Masseuse 3 promised so much, and delivered so little. The opening menu and intro is flirty, sexy and funny, but the rest of the film is anything but. The 'back story' shows a masseuse and his assistants arguing over the just-spilled-beans: the assistants have been having sex with clients! The boss ain't too happy at first, then agrees to let them proceed, as long as he can guide them in this dangerous endeavor.

The opening scene with Kayden is initially silent, artistic, sexy and intriguing. We see her through dim, sensual light as she dresses in army garb. As her exposed curves are tended to, she is shifty and on-edge, apparently waiting for someone. Unfortunately this sexy scene jarringly switches to a harshly lit, cheap looking scene, complete with Kayden's fake toy gun. She apparently thinks she's in the military, and treats the masseuse who's come at her request as if he's trespassing on enemy grounds. An interesting premise, but quite ruined by the painfully awkward acting. The actors show no chemistry between them, and lines are delivered almost as if they were being read aloud. The viewer is left wondering what happened to the whole 'masseuse seducing the client' premise, and is pressed to continue watching for a possible explanation.

The sex scene that follows is simply put, bad, and indicative of the entire rest of the film. Kayden whines intolerably throughout the uninspired thirty-minute sex scene. Sex is repetitive, vanilla (penis-in-vagina, penis-in-mouth, clitoris-in-mouth... and the occasional anal pounding) and actors only use 2 or 3 un-inventive sexual positions. Someone please throw a Kama Sutra at these kids! Because despite my initial interest in the 'disappearing premise act,' I'm falling asleep over here.

The second scene is jumped into with no segue, and we're left wondering again what is going on. A hetero couple is engaging in slow foreplay. Consistent with the rest of the film, actors' lips but their words are unintelligible or completely inaudible. Overhead microphones would've solved this, but DP just wasn't paying attention. The camera focuses at length on random body parts, missing the 'action' occurring elsewhere. When the scene finally comes to an end, the couple emerges, only to meet a pissy 'girlfriend' who's been waiting outside the whole time. Catching her man in the act, Samantha Ryan delivers an awkwardly written, awkwardly executed accusatory scene. Close scene. We're still bewildered, bored, and feeling pretty sad about having our expectations shot down by Digital Playground. Note that all these feelings are the opposite of turned on, intrigued or entertained.

Actors maintain pained facial expressions throughout their entire 30-minute sex scenes. Shaved pubic hair is shown as stubble and unsightly bumps, pimples recently popped are blaring red. The camera actually focuses on this for an impressive part of one scene. In brutal honesty, the actors look like they smell bad. Then again, harsh lighting coupled with High Definition production would make anyone unattractive. DP would've been wise to be careful when shooting in HD to attend to every detail to show off their actors' best side.

Samantha Ryan, the most natural actress in The Masseuse 3, earns the film one of the two stars I granted it. Her scene is the most passionate and believable. It's the only scene I came close to consider watching again. Samantha's deep-throat skills are quite impressive! The kisses between she and her seduced masseuse (who only got so far as to give her a hand massage) are passionate and really sexy. But once again DP's lack of skills during shooting and post-production miss the chance to make a better film. The shots are too long to be interesting. Cameras miss the action again during Samantha Ryan's scene.
Experience
(Continued from above)
Her gentleman is masturbating during his entire 10-minute cunnilingus session, but you can only see his arm moving, the view blocked by Samantha's hiked leg. DP would be wise to invest in another camera to incorporate more shots from other angles and/or shoot scenes in more than one take.
The fourth scene is intended to be a 'hot quickie' between doctor and wife in his office. It turned out to be neither hot
nor
quick, nor dangerously secretive, as one would expect sex in your husband's office to be, while his patient (Kayden) waits impatiently just outside the door.
The fifth scene finally brings us the long-anticipated massage. We're granted a bit of music for this, though it's even cheesier than the stuff they actually play at my massage therapists' office. Oddly enough, despite the naughtiness of Kayden's exposed lady bits coupled with the 'sensual' music, there is
no sex to be had!
So disappointing! The trailer and premise have set us up for one 2.5 hour block of confusion.
The dialogue, plot and acting all come together and greatly improve in the sixth and final scene. Kayden's looking her best. Her acting is quite convincing as she falls into the throes of yet another imagined role and asks her doctor (whom she thinks is her husband in her delirium) to play 'Brad and Angelina' with her. There's even music! But it stops as soon as the fucking starts. Alas, it appears we simply cannot expect much of DP here. I suggest you mute the film and put on your own favorite 'sexy time' music. I found this to greatly improve the film.
I have to say my favorite feature in this movie was fast forward. However, there were some very comical, entertaining, exciting trailers of other DP movies, as well as a look behind-the-scenes. Samantha Ryan is caught singing and playing piano here, and boy can that girl
sing!
Honestly, watch out, 'Adele!' She's got soul. It's great watching the porn star outside of the bedroom. If only her acting skills were as good...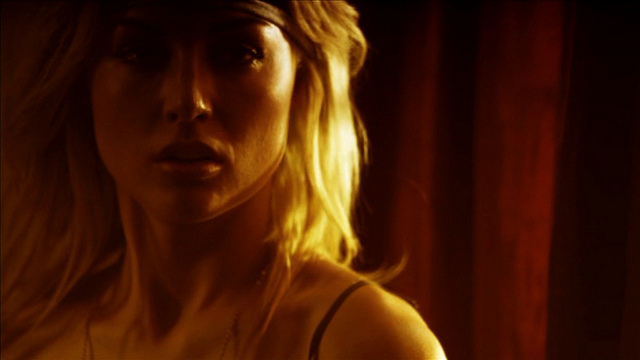 Kayden in her first scene. This first minute introduction is artistic, sexy, and intriguing, but quickly falls away to a much lower standard, which is then used throughout the movie.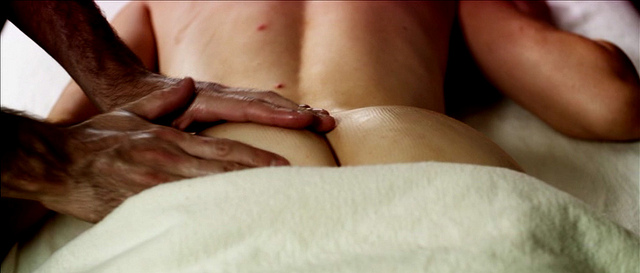 Kayden's panty patterns have created an impression on her bum here, and her poor back has acne that looks as if it's been freshly squeezed. Makeup department! Step it up!!
Another case of the details being simply overlooked.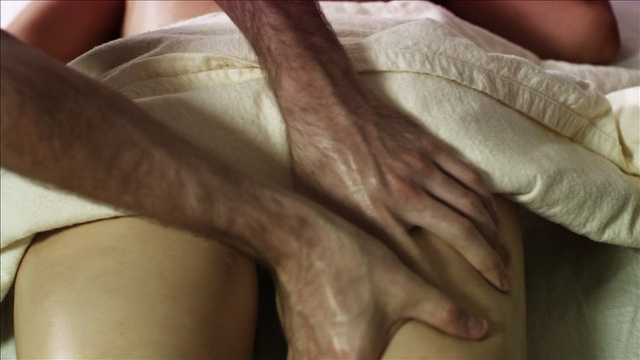 A warm filter on the camera lens and perhaps not-so-furry man arms here might make this seem less like an alien-bear attacking an innocent and more like a sexy masseuse oiling up his next playmate... er, client.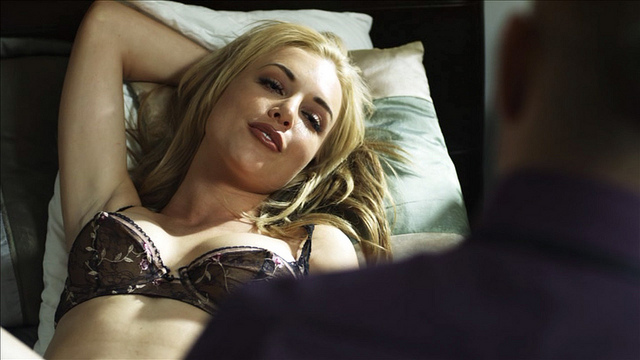 Kayden's acting improves along with her dialogue towards the end of the film. Here she lies in her underwear, conversing with her psychiatrist just before seducing him. We have to admit, she looks pretty hot here.
In conclusion, this really put my boyfriend and I to sleep. Nary a labia was wetted nor a member stirred. He actually asked me about 10 minutes into it, 'Why are we still watching this?' 'I have to review it!' I admitted, a bit embarrassed.
Follow-up commentary
2 months after original review
Sold it on Ebay. It just wasn't something I was ever going to watch again. Good news, I got $20 out of it. So it was good for something.
This product was provided free of charge to the reviewer. This review is in compliance with the FTC guidelines.

Thank you for viewing
The Masseuse 3
review page!