What Masseuse? There Was A Masseuse?
While the word limit cut me off for everything I had to say in this review, it all boils down to me being disappointed. It just wasn't my style and did next to nothing for me. If you want sensuality, plot, or to escape into a lovely sexual fantasy world - this ain't it.
Published:
Pros:
DVD & Blu-Ray Combo
Cons:
Everything Else
Content & Audience
This porn supposedly has a plot centered around "the masseuse". But it seemed to me that maybe the first installment had plot and by the time they made the third it became only about how many different pairings of the characters they could get to have sex. Plot gets a 1 of 5 stars for me. The content of this porn consists of male-female sex pairings with nothing out of the ordinary. The only variety you'll see is whether a woman is completely shaven or just neatly trimmed.
As far as audience, I'd say it's for someone that likes more average, realistic sex rather than something artistic or fantasy-like. For me, it was nothing special – not the quality of the film or the actual sex. If 'eh' was a star rating, this would be it for me.
Cinematography
The cinematography was mediocre. There was no background music, the camera angles were often very unflattering and didn't focus on the main point of interest, the transitions were choppy, and everyone appeared sweaty and/or dirty. So I know these might have been purposeful choices for the tone of the film. If so, it didn't work for me. It made this film seem un-stylistic and rushed, as if there wasn't enough time to retake scenes, clean the stars, or to spend longer in editing.
There is seriously no better word to describe the way this film felt but
raunchy
. It's not the glamorous, romantic, sensual, or powerful sex that is often built up in pornography. It's raw sex in its natural (and sometimes ugly) form. Sex when you're sweaty, when your make-up is running, when you're tired at the end of a long day, or when you're hung-over and past looking "pretty".
Menu & Opening Sequence
The first impression I got was the acoustic music on the menu screen. It didn't quite match with the very raunchy tone of the video clips it was showing but the music gets thumbs up for me. The rest of the menu screen is only ok. The image of Kayden is cute and the red tint is sensual. But what ruined it is the video clips playing on loop. It's very random, bawdy, and not at all like the rest of the menu. I just wish it matched so I could have gotten a feel for the tone of the porn early on.
So the film starts off with a synopsis of the previous installment of this series. (Remember – this is a '3'.) It's... confusing. But I won't go into it because it's the sex everyone wants to know about! (But I will say that the toy gun is hilarious. I honestly couldn't tell if it was supposed to be funny because the character is holding a toy gun and is supposed to be crazy or if she's supposed to be really armed with a weapon and the set could only afford a toy gun.)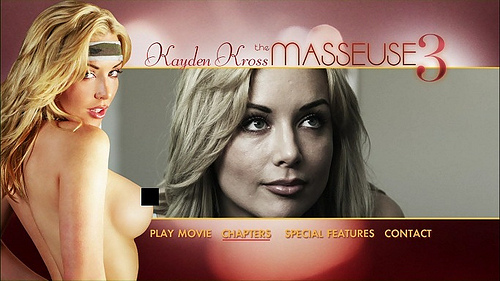 1st – Kayden Kross & Scott Nails
But enough worrying about that because it doesn't last long. By now I knew you do need to see the first two to make sense of this film. I didn't understand what or why for anything. And if there's going to be plot in my porn, I want to be able to make sense of it. But I didn't yet realize that it just wasn't going to happen.
Down to the sex. It begins with cunnilingus, which doesn't seem to do anything for me. Maybe it was the sudden departure from crazy-ville or the lack of background music but it didn't pick up for me personally until past the fellatio and into the actual penetration. But then I found myself being distracted by reading emails on my phone. This scene lasted too long for its lack of interesting elements for me (little did I know...).
2nd – Yurizan Beltran & Tony Ribas
You wanted a second sex scene right away with absolutely no plot in between? Sure! This scene at least has a more sensual, intimate feel than the first one. I felt like the sounds weren't as noisy or exaggerated and that the sex was more genuine, leaving the viewer to be more like a voyeur rather than like merely watching a scripted scene.
It begins with more kissing and manual stimulation before going into the sex, which I much appreciate. What I didn't like? The random close-up on her armpit while there is more interesting things going on! If you want to be artistic, that's fine, but pick something else to zoom in on! Maybe her fist clinched in the bed sheets? Her toes as they curl with pleasure? Why the armpit?! (This is why I feel like the cinematography was sloppy rather than artistic.)
Experience
3rd – Samantha Ryan & James Deen

There is an attempt for plot but it's only vague. This plot isn't a "jump in the middle and you'll catch up" kind. But thankfully the sex doesn't take long to get going after some so-so acting. This is the first scene to actually include a massage! Though, don't get too excited, it isn't much and isn't sensual so much as, you guessed it, raunchy. But at least there's about, oh, 30 seconds of that music in the beginning.

The foreplay here is, again, pretty expedited. But at least they don't jump the gun too much and there is some build-up to enjoy. There is also a little bit of spanking and anal fingering. But this scene is louder than the last and a little bit sweatier too. So I was a little put off. But some of the positions and camera angles are decent so that it wasn't a total disappointment for me. But it was at this point that I began to decide this style of porn just wasn't for me.

4th – Francessa Le & Mick Blue

Ha! So I finally discovered that the crazy toy gun wielding Kayden really is a nutcase! But enough plot, right? (If you could call it that.) It goes back into an immediate sex scene – this time in a doctor's office. The characters kept talking about taking only 10-15 minutes and I found myself actually hoping they meant it. If they had been able to include a realistic quickie in the film, I would have been impressed. There's something sexy about having a fast romp in a location that's supposed to be professional with your clothes still halfway on as you try to hold all the sounds inside.

But sadly, they strip down naked, seem to have plenty of time for fellatio and cunnilingus before penetration, and don't bother to muffle their moans. In fact, this sex sequence took 28 minutes. What I did like about it was that it seemed so much cleaner than the last scene with less sweat, dirty environment, or spit.

5th – Kayden Kross & Mick Blue

Three men with Kayden? Oh this was looking like it was going to be interesting! But then it let me down and didn't include all three. But I did enjoy the actual only massage scene! It was sensual and relaxing, complete with background music that lasted minutes! But then when the sex (sorry, only a pair of people) started, it went back to being silent.

So while this scene wasn't as sweaty or gross, it still didn't appeal t me. I was probably a bit jaded and bored of this film by the end so perhaps it wasn't fair to this scene to come after all the others. Some of the positions were pretty nice but then I noticed they were copies of the other scene Kayden was in at the beginning of the film (camera angle and all). Oh well, can't enjoy every porn.

DVD Features

- DVD and Blu-Ray Disc Combo
- No Protection Used
- Run-time Approximately 2 hours and 30 minutes
- Chapter Selection
- Behind the Scenes
- Slide Show
- Gallery
- Trailers
This product was provided free of charge to the reviewer. This review is in compliance with the FTC guidelines.

Thank you for viewing
The Masseuse 3
review page!