The Novelty Of The Game Is Short-Lived, But Fun While It Lasts!
I really thought this game was going to be ridiculous and something I did not enjoy...
It actually WAS ridiculous, but in a silly, fun way... and I DID enjoy it!
You do not need to know anything about weed in order to play and enjoy this game. It's really easy to learn and will keep you entertained for a bit. The novelty does fade so it is not a game you'll play all the time, but when you do, you'll have a good time.
Published:
Pros:
Price
Entertaining
Does not require knowledge about marijuana
Humorous
Cons:
Novelty of game fades quickly
I purchased the Weed Card Game awhile back for my partner so that him and his friends could play it. I had no interest in the game, and purchased it with the intention of never having to play. It just seemed like something my partner would find fun and I would not. He never ended up playing with his friends, so finally I had decided that in order for him to try it out, I'd have to play too.
The cards measure in at 3 ½ inches long, and 2 ½ inches wide. The deck of cards fit snug into their cardboard box packaging (similar to a regular deck of cards). The front of the box has the product name and photo. The back of the packaging shows a few example cards, a brief summary of the game, and a disclaimer. The disclaimer reads: This game is for fun and not meant to encourage drug use. Be smart and don't smoke pot. It's illegal for a reason.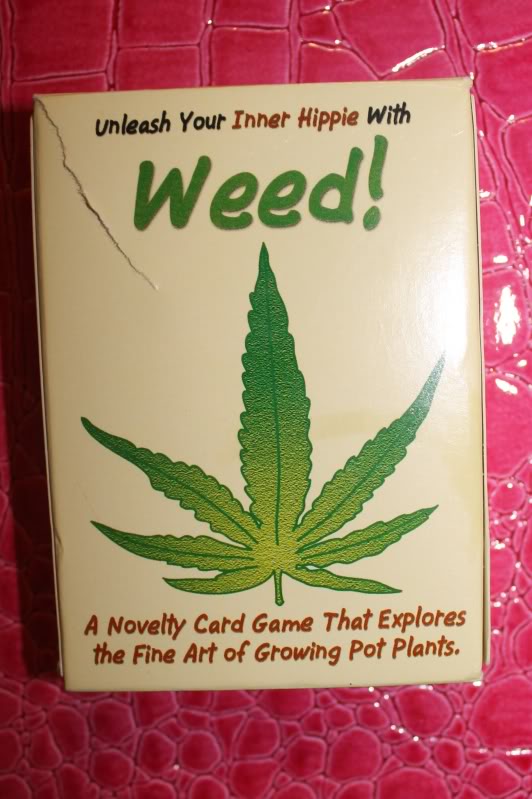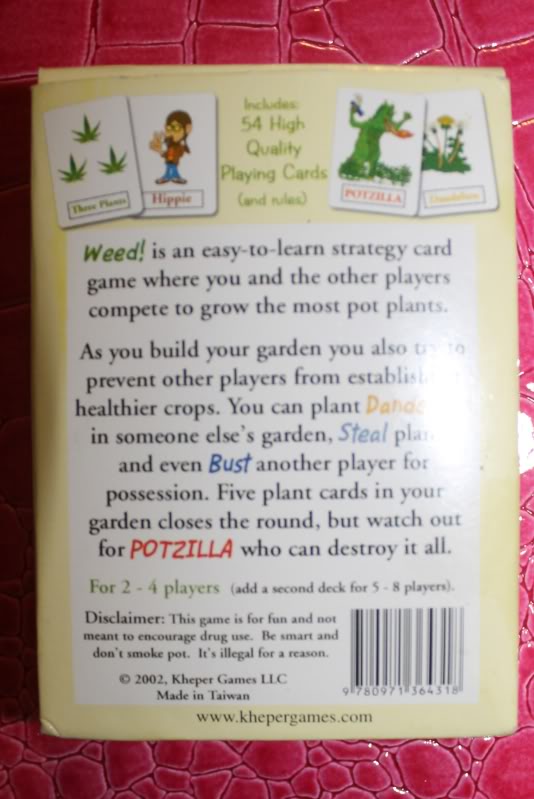 The one deck of cards is good for a game between 2-4 people. When my partner and I had played, it was just the two of us. It would have been a bit more fun with an extra person playing with us.
There are a total of 54 cards in the deck. The cards are glossy and in colour (except the rule cards). The cards are of the same quality as a regular deck of playing cards. They will not tear any more, or any less than a regular deck would. The Weed game is intended for adult use only.
The objective of the game is to fill your garden with five pot plant cards before any other player does.
How to play:
1. To begin, each player receives 5 cards for their hand.
2. On a player's turn, they pick up a card from the deck, and then must either play a card from their hand, or discard one of them.
3. Each player's "garden" is just a place in front of the player where they can lay down a plant card on their turn.
4. Once a player has 5 plant cards in their "garden", they win.
Of course, this is a really vague summary of the rules. In the deck, there are 3 cards dedicated to explaining the rules. After we had read the rule cards, it was simple to play. The game is extremely easy to learn.
The deck also has quite a few obstacle cards in it. The obstacle cards allow a player to weaken another player's garden.
Card Description:
Steal: You can steal a plant from another person's garden and add it to your own.
Busted: The cops confiscate a plant card from another person's garden and then it is discarded.
Hippie: A hippie smokes a plant card from another person's garden and then it is discarded.
Dandelion: Takes up one space in another person's garden and cannot be removed until the player has the "weed killer" card.
Weed Killer: removes a dandelion from your garden so you have the free space back.
Potzilla: He wipes another player's garden out. All of the garden cards are then discarded.
The rest of the deck consists of plant cards, which have 1, 2, 3, 4 or 6 plants on them. These are the cards that you want to place in your garden.
Card breakdown:
Steal Card x5
Dandelion Card x5
Busted Card x2
Hippie Card x3
Potzilla Card x1
Weed Killer Card x5
Rule Cards x3
Plant Cards x30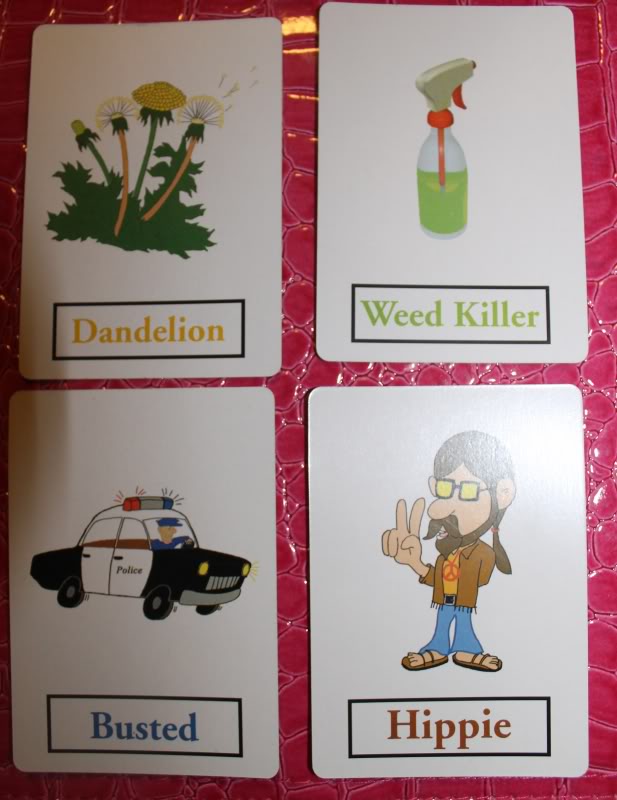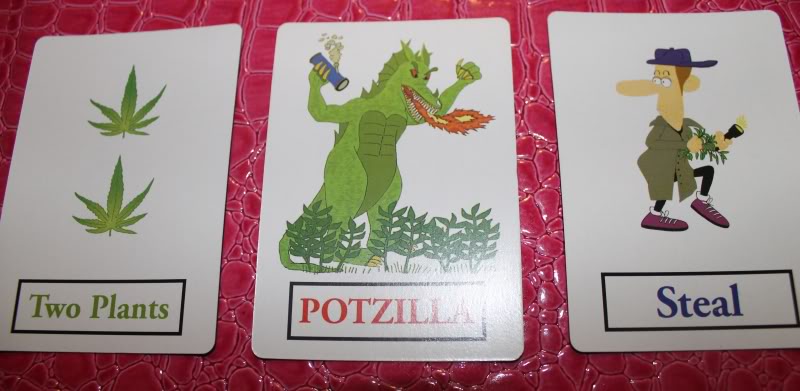 You do not need to know anything about weed in order to play and enjoy this game. It is a tad bit corny, but it is a nice change from the regular card games we play. Based on our experience (see below), we both decided it deserves a 4 out of 5 stars. The game is simple, humorous, and entertaining. Also, it's only $5.99. We will most likely play this game again when we have a few friends over.
Experience
I really did not expect to enjoy this game, especially not as much as I did. I don't know much about weed, and I don't care to. I assumed that I would have to know a bit about it in order to come up with a strategy for the game (this is before I read the rules). With that assumption, I had no interest in playing.

One evening we were having a couple drinks at home, and I decided that I would give the game a shot. After I had won the first game, we decided to play best out of five. Surprisingly, I won.

The games don't last very long, maybe about 10 minutes a game. This is probably due to the fact that it was just him and I playing. I think it would have been a bit more interesting with an additional person playing with us.

We had fun though, and laughed a lot at the obstacle cards. Especially when either of us had the Potzilla card and could completely wipe out each other's garden.

The reason we did not give the product a full five out of five stars is because the novelty of the game does not last very long, and I think that if we were not drinking that evening, it would have faded even quicker. It is not a game we would want to play all the time.
Follow-up commentary
3 months after original review
We still find the game fun, but we don't bring it out that often. If we have friends over, we'll bring the game out, but other than that it sits in our room. Our friends get a kick out of this game!
This content is the opinion of the submitting contributor and is not endorsed by EdenFantasys.com

Thank you for viewing
Weed card game
– adult game review page!