A premium anal syringe
Wanting an improvement over our inexpensive anal syringe, we decided to give this anal douche a try and though it costs more the quality/safety of materials and the fact it is more comfortable to use make this product worth the slight premium of costing more than our earlier solution. I would highly recommend this if you are looking for such a product.
Published:
Pros
Silicone
Easy insertion
Cons
3 holes
So both with my current girlfriend and with my ex-gf we would use a Faultless Goodhealth Rectal Syringe to flush out any particulates prior to anal play/sex. Though anal sex is never "clean" and you could risk it actually being messier if you over did a flush, this was something that we always felt made things a bit cleaner than not. We only ever used warm water as using "cleansing agents" could impact the ecology of the colon.
The Faultless had a very narrow insertion tip that could pop out of the bulb, this product; however, is far superior as the tip screws into the bulb, insuring that it won't become detached during use. This product is also body safe silicone so makes us feel more confident in the safety and ability to sterilize the product.
The insertion end of the douche is very smooth and inserts easily. My girlfriend was a bit hesitant to use it since it is significantly larger than the rectal syringe we had been using up to this point; however, she indicated that it inserted very easily and was actually more pleasant than the Faultless in comfort while inserted.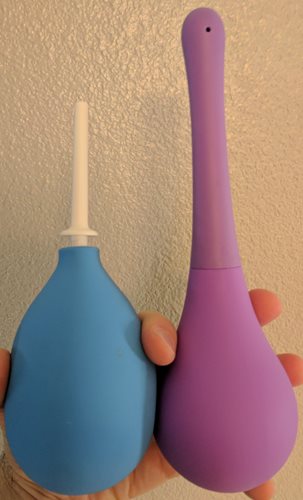 One thing to note, the Elite douche has 3 exit holes, two on the sides and one on the tip. You can see one of the side holes in the picture above with it side by side the Faultless Rectal Syringe. The second side hole is directly across from it. This results in water spray in 3 directions during use; however, if you aren't careful or start squeezing before the end is fully inserted this can result in more of a mess as it'll spray externally and not internally as desired. My girlfriend indicated that she forgot this initially and it resulted in some surprise/clean up after first use.
To help inserting this toy you may wish to use lube; however, only use water-based lube as this is a silicone product and silicone lube could damage it. Even though this toy is silicone I would not recommend sharing it as it is difficult to clean the inner parts of the toy fully and may mean it is imperfectly sterilized.
This content is the opinion of the submitting contributor and is not endorsed by EdenFantasys.com
Thank you for viewing
Elite silicone douche
– anal kit review page!