I Love my Love Pacifier!
This is a great little 100% silicone butt plug. It is flexible, yet has a firm bulb where it counts. Its tapered design makes insertion comfortable and the difference in size between the bulb and the small comfortable neck helps the plug stay in and provides a satisfying POP when removed. Easy to use and easy to clean. Great plug at a great price.
Published:
Pros:
100% silicone, great size, large safe ring, flexible, tear drop shaped
Cons:
may not reach the prostate of most men, otherwise no cons
The Love Pacifier Beginner by Cal Exotics is a great little butt plug made of silky soft 100% silicone. It would work well as a plug for those just starting out with anal play, or for those more advanced players who do not want a huge plug. From my experience, a smaller plug allows for PIV sex or vaginal toy insertion to be engaged in along with the plug. Too large of a plug, and in many women, most of the room is "used up" and vaginal penetration may be impossible. So, this is a great plug for those women who enjoy anal penetration by a toy during PIV or during oral sex along with a phallic vibrator or dildo, or even on one's own.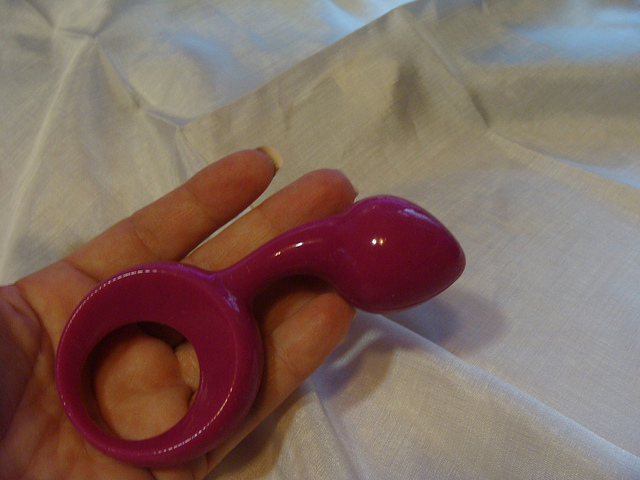 For men, the plug is a nice starter plug, although not having a prostate myself, I am not sure if this toy would reach it. The insertable length is about 2 ¼ inches, so it would depend on the man's physiology whether this smaller plug would work for prostate arousal.
The toy is about 4 ½ inches in length, from the tip of its sweet little teardrop shaped bulb to the end of the adorable tapered removal ring.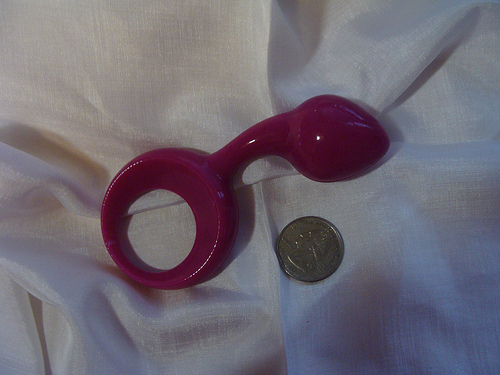 The ring is very flexible, large and safe.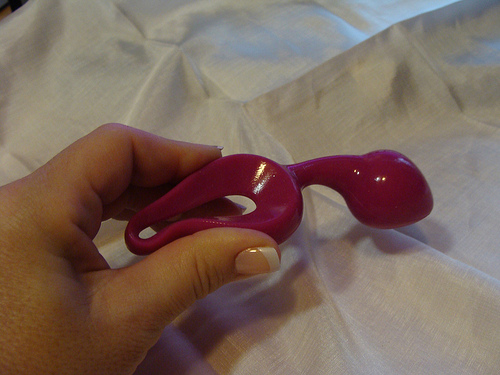 It nestles nicely and is more than large enough to assure that it will not "get lost" in the body. The ring actually tapers with the thicker portion towards the body, but this is most likely to give more strength where it is needed most. A stronger ring near the body will prevent any accidents or breakage, as the rectal muscles can often be quite strong.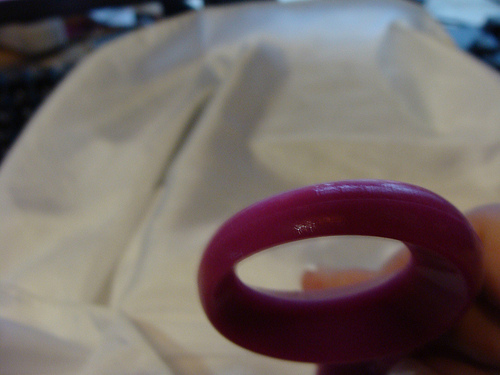 The neck is also very flexible and is only about ¾ inch in diameter.
Compared to the 4 inch circumference of the bulb of the toy, this variance in size assures the plug will stay put and stay comfortable. The bulb is gently tapered for comfortable and safe insertion, and offers a slight "pop" sensation when removed.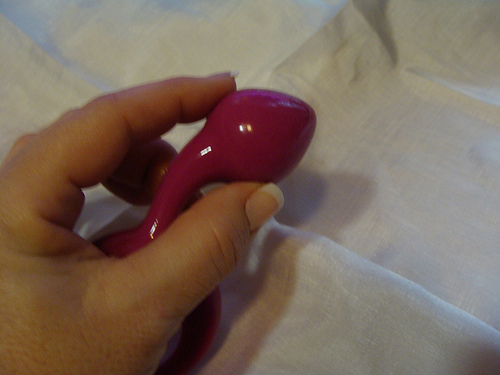 Being 100% silicone makes this toy even more safe and comfortable. The silicone has just enough give to work with the body and yet is strong enough and dense enough to provide enough needed pressure when wanted.
This toy should be used with water based lubricant. One may try a small drop of silicone based lubricant on the handle of the toy, as many newer silicone toys are pure enough to withstand silicone lube. If there is any melting or deforming of the spot where the silicone lube was placed, do not use this lubricant again. As so many of our toys are silicone and I like them too much and really love water based lube, I have never actually tried this myself.
This little plug is fun for use during oral sex (either performed on the person using it, or while giving oral to your partner.) It also doesn't get in the way during PIV sex, especially if the handle is pointed
up
away from the vagina towards the spine. This plug seems to stay in pretty well during PIV and other activities, although some stronger orgasms may push the toy out. This is not uncommon for some people. You or your partner can just push it back in if desired.
We've used it for quite a long time during oral sex, through other play and into PIV intercourse without having to reinsert it many times. If you do want to pop it out, try for the POP during an orgasm if you or your partner can manage it, as the feeling is indescribable!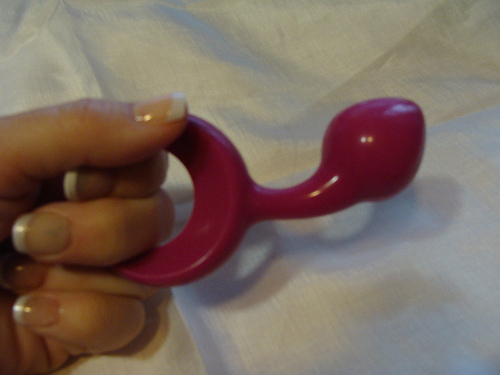 Cleaning requires hot water and soap or body wash. There is no worry about ruining this toy with water, as it is all one molded piece and also can be cleaned with a 10% bleach solution, quick boiling or my favorite for deep cleaning; Clorox Hard Surface Cleaner. Please rinse carefully after cleaning any toys with bleach. If you do clean it with a toy cleaner, I do advise cleaning it before the next use with hot water and soap to prevent irritation from the cleaner chemicals.
Experience
I bought this to add to our collection as I found I prefer teardrop shaped plugs to more finger shaped ones. The Love Pacifier Beginner has become a replacement for my once beloved
Plug Der Lust
small by Orion. I "outgrew" the Plug of Lust and this little plug by Cal Exotics fits so nicely, is so cute (I have the pink, although it also comes in purple) and I love smaller anal toys so much that I think it will remain a part of our toy collection and in regular use for a long time.
I have read many reviews about the dreaded "Cal Exotics Seam" in these plugs.
I have to say that my plug has NO detectable seam
, and I have never had any irritation or scratching from it. It was comfortable the first time I used it and has been since.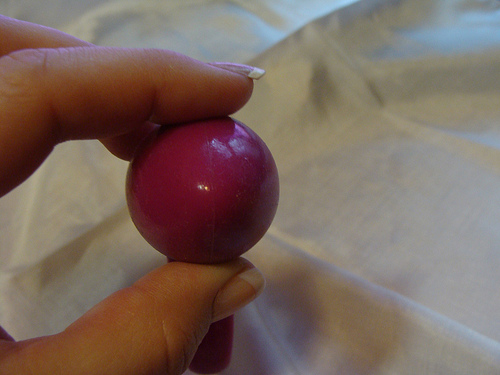 I have not had to alter or file it in any way, and have enjoyed it since right after the first wash out of the plastic clamshell container it came in.
I store it wrapped in a handkerchief, in a Edenfantasys toy bag, with a few other anal toys.
I am not really one to wear plugs for long term wear. My plugs are used during sex play almost exclusively. Its just my thing. However, I do wonder if the ring might get in the way for some people. Being that the ring is SO flexible, and we've never had a trouble with it during sex play, my guess is that for most people, the little ring would gently conform to the body after only a short time of wearing.
I love this little plug. And even though I am not a "beginner" to anal play anymore, I have no intentions right now of moving up to the "Advanced" size, as this little "Beginner" plug still gives plenty of just the right stimulation at exactly the size it is.
Follow-up commentary
4 months after original review
We keep this little gem in one of the Sugar Saks in My Man's drawer. I never know when he's going to pull it out for me, and sometimes I don't even know he's chosen it until it's on the way in. I always find myself even more aroused when this beautiful, sensually shaped toy is put into use.
It is holding up wonderfully. We've never had a problem with a seam, it fits perfectly for me, the handle is large enough even for his "Ham Hands" to man handle, and even washing it afterwards is a sensual experience. Sometimes I just hold it in my hand, because the shape
is
actually calming, as well as arousing.
This little plug has been one of the best uses of twelve dollars and ninety nine cents ever.
I may or may not go up to the
Love Pacifier Advanced
size, which has a 4 3/4 circumference, to Love Pacifier Beginner's 4 inch circumference. But, for now, the Beginner size is perfect for our needs, and my heart always quickens when I know he's pulling this toy out for play.
I'd recommend it to any beginner or intermediate anal player. It's cute, comfortable and is just the right size and shape to let you know it's there: the blunt feeling of the rounded tear drop end as it approaches, a little stretch, settling onto the stem and then the arousing POP when it's removed. Perfection in a butt plug. I
love
this Pacifier.
This content is the opinion of the submitting contributor and is not endorsed by EdenFantasys.com

Thank you for viewing
Love pacifier beginner
– butt plug review page!