It's Pico-Sized Plug!
This is a great vibrating plug or bullet for someone new to plugs (or toys in general). It has wonderful silicone on the top and uses easy-to-replace AAA batteries. But if you're a serious toy-owner or plug-user, it's not worth its price tag because it's small, not easy to wear around, you can't change the setting while it's inserted, and that darn seam will make clean up downright annoying.
Published:
Pros:
~ Silicone
~ Normal-Sized Batteries
~ Quiet
~ Great for Beginners to Plugs
Cons:
~ Plastic on Insertion Part
~ Seam Hard to Clean
~ Can't Change Setting Once Inserted
Now I must preface this and say I love LELO products. My
Massage Candle
was wonderful, my
Siri
is quite nice, and my
Insignia Soraya
is magnificent! The
PicoBong
is downright adorable, has some quality components to it, and thankfully does not use crazy tiny, odd-sized batteries. But I feel that for the price, this bullet just doesn't
quite
hit the mark and doesn't live up to the other LELO products. But it's cute, nonetheless, and not a total loss.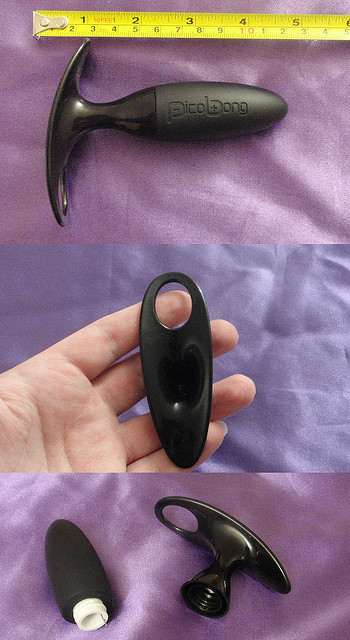 The Good
The majority of the plug surface is made of silicone. It's not the kind that will attract lint like static cling either. It's silky and requires very little lubricant. The silicone makes it safe for anal play because it can be thoroughly cleaned and will not hold onto that unwanted butt smell.
The other half of this plug is a shiny plastic with a nifty little handle for retrieval. It all depends on your body and what previous plug-types you used that determines how comfortable this base feels. To me, it's only ok. I can't move around with this base comfortably because there's just too much of it but it's just fine for stationary fun.
The girth and length are best for beginners to plugs and just perfect for standard bullet use for anyone. The neck is thin enough to make for easy holding into your body and the small tip with gradual increase is very, very easy to insert.
To put in your AAA battery (which, by the way, is
awesome
since it's not a watch battery or other itsy bitsy sized one) is super easy. Positive side down, you just slide it in and click the cap back on. It's designed to lock in the same position every time so that the engraved "PicoBong" is perfectly on the same side. It's also interesting to note that it does a quick small vibration pulse when I screw the cap on, essentially letting me know I put in my battery correctly.
The Functions
Ok, ok, before the functions list, I want to let you know that LELO
did
do a great job in making one AAA battery crank out plenty of power for a bullet while keeping it gosh darn quiet. The vibration is a slightly higher frequency than what I prefer for taking me "all the way" but it's suitably pleasurable for foreplay and great for the majority of users. But if you're sensitive, this certainly will be enough. I also feel it's most felt right around, but directly on top of, the tip.
And the cutest of controls are located within the engraved name on the side of the silicone. I do like how they're artistically done and I do like that they're internal controls to keep there from being more seams to worry about. There is a
+
in the "b" and a
–
in the "p". Just hold down the
+
to start it up! It should start on a low, steady vibration, which is barely audible, even if you're holding it to your face. Then if you continue to hold it down, it will increase to maximum speed on its steady pattern. Still fairly quiet and quite a bit more power! Go, baby plug, go!
Unless you read the instruction book first or were pre-warned by someone else, you would not find yourself accidentally stumbling across the patterns on this bullet plug. At least, I didn't. But outside of the steady vibration setting there are 11 other patterns as well. Nifty, huh? Way more than I'm used to some standard vibrators having, much less bullets. To get to them, you need to reach the highest steady vibration setting and then hold down the
+
button for another two seconds to start the first setting. After that, just click it again for your desired number.
1.
Slow pulse from low to high
2.
Fast pulse from low to high
3.
Fast pulses of high
4.
Super-fast pulses of high
5.
Slow gradual increases from low to high
6.
Medium gradual increases from low to high
7.
Slow rollercoaster
8.
Medium rollercoaster
9.
Slow increase followed by two pulses
10.
Medium increase followed by four pulses
11.
Erratic pulses
The Bad
I know I'll be re-covering some previously mentioned topics but I thought it was important to specify the details about this otherwise charming toy that caused it to lose two stars for me.
Experience
1. The cute "PicoBong" engraved in the silicone can be extra work to clean to ensure all bodily fluids, lubricant, and soap are rinsed out.

2. The fact that the controls are on the insertable portion of the plug means: if you want it on, you need to insert it on and if you insert it off, you have to remove it (bodily fluid, lube, and all) to turn it on and then plug yourself back up! Ugh! I hope you don't like to change between patterns multiple times during foreplay cause that will be quite annoying.

3. Though the main part of the toy is silicone, a portion of the toy that actually gets inserted is plastic. It would have been nice to continue the silicone through to the neck of the plug.

4. The seam between the plastic and silicone are downright annoying! I don't know about anyone else's but mine is most certainly not waterproof. Splash-proof, maybe. But I had to clean lubricant from the condom I used on the toy from in between the two halves that came all the way to rest on the internal plastic compartment. If that had been water, which is less viscous, it would have gotten into the battery for sure.

(And I did use a condom with this plug when using it for anal stimulation but I am just that extra careful when it comes to my toy being any less than 100% pure silicone, glass, or steel. But that's completely up to you if you want to go through that extra trouble. And for this little thing, it really was.)

Packaging and Care

The packaging is super cute but definitely not the same quality as the more expensive of LELO's products (though, for this price, why not?). It does at least come with a brief user guide, which lead me to find the vibration patterns. And the box isn't the best storage container for your little plug. But thankfully, it doesn't have many issues with how it's stored. Just be sure to use only water-based lubricant with it and clean it thoroughly after each use.
This product was provided at a discounted price in exchange for an unbiased review. This review is in compliance with the FTC guidelines.

Thank you for viewing
Tano
– butt plug review page!