More Texture Than I Expected!
For anyone who already likes texture for vaginal or anal play, this would be a great toy to try. It's beautiful & has a heart shaped handle, as well as plenty of nubs. The size isn't intimidating & should be good for most people. In addition, as with all glass, it is good for temperature play & has such easy cleaning & maintenance. The only drawback, is that the texture is much more intense than I expected & therefore, I would not recommend this as someone's first textured toy.
Published:
Pros:
texture, beautiful, handle aids control, easy care/cleaning, great for the chemically sensitive
Cons:
Perhaps more texture than is comfortable for some! The included pouch is flimsy
I had such success with my first glass dildo, the
Icicles No.8
, that I decided to branch out into the different styles I could find. Not knowing whether or not I'd like texture, I chose the Rainbow Heart because it is affordable, pretty, has non-scary-looking bumps & has a nice handle, (something I thought would be helpful during use).
It arrived wrapped in bubble wrap & inside a thin, red velveteen, drawstring pouch. The pouch is nice for keeping the dust off, but offers little protection for the toy. I have not had any problems other than the closure failing to prevent the toy from falling out. You can knot the string loop to help keep it closed, but just be aware of the limitations before storing in it. Some people use the bubble wrap it came in, or socks, as padding before putting the dildo into the pouch. You can also buy a better padded pouch for it. Fortunately, glass doesn't react with other materials, so there's no need to worry about it coming into contact with other surfaces while in storage.
The toy itself is a glass cylinder with an attached light pink handle shaped as a heart. This handle provides a very comfortable grip on the toy, at least for my relatively slender fingers. I don't think most people would have any difficulty fitting two fingers through the handle and at the very least, you can use just your thumb. The shaft is clear glass & has raised nubs that look like cabochons on the surface. These nubs are in various colors in progression down the shaft, starting with red at the tip, followed by blue, then amber & finally green toward the base. It is a strikingly pretty piece & that is one of the reasons I bought it!
As for the feel of glass, I have discovered that probably due to the rigidity of it, the size feels much larger when inserted than a similarly sized dildo of a softer material, such as silicone. I wrote in the measurements that I recorded for my Rainbow Heart in the photo below. Since this glass dildo is handmade, I expect there to be variation between items and this is something to keep in mind when buying any glass toy.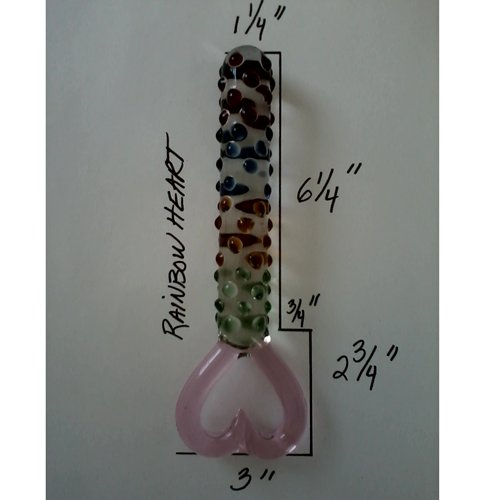 This dildo is made of borosilicate glass, as is bakeware, and is resistant to breaking, as well as being very easy to clean. If you have chemical sensitivities, as I do, then you owe it to yourself to try glass! You can use soap & water, wipes, toy cleaner, bleach solution, boil it or pop it in the dishwasher. One thing I would like to point out is if you use an antibacterial soap or spray you need to leave the product on the surface to be cleaned for a minimum of two minutes in order to get the antibacterial effect. Otherwise, you may as well be using regular soap & water!
Some benefits of glass as a sex toy material include it being non-porous and requiring little, if any, lubricant. It is also fine for use with any kind of lubricant you prefer! Another benefit that I enjoy is that glass lends itself well to temperature play. I especially enjoy warming it beforehand in a bowl of warm water, or just enjoying the naturally cool temperature it has when inserted. I do not recommend microwaving or putting it in the freezer. Temperature shock is one way to weaken glass toys and if you're not careful, you can hurt yourself, or a partner. A bowl of water with ice cubes in it is sufficient to cool it & it can be kept near you to re-cool the toy during play. Another way to warm glass toys, other than a warm water bath, is to use an electrical heating pad, but be careful to monitor how hot it is getting & test it on your skin, say on the inside of your forearm, before use.
You can use this toy vaginally & I also think this handle qualifies it as anal safe, (although I am no expert, so keep that in mind). I would be careful if using this anally because anal tissues are thin & delicate, so use plenty of lubricant! That said, if you already know that you enjoy texture anally, this would be a great toy to try due to the ease of cleaning & sanitizing. It is also an interesting addition to a body massage!
Experience
I think this is a beautiful looking & feeling glass dildo. I really enjoy the handle & find it easy to hold & maneuver the toy. I wish other glass dildos came with this feature as it really helps when the glass gets slippery in use. I am surprised to say that this dildo was good for regular body massage! With the handle & rounded tip, I had good pin point control & the nubs were surprisingly comfortable used with massage lotion on my shoulders & back.
Unfortunately, despite what I expected, I was ill prepared for the feel of this texture vaginally! I was very warmed up & went ahead and used lube, even though I didn't think I needed any. I can only describe the sensation while inserting it to be extremely abrasive feeling & bordering on painful. There was no way I could comfortably thrust this, so I decided to pause & give myself some time to adjust. After a few minutes, I tried rotating the dildo slightly & that hurt, too! The withdrawal was even worse than the insertion, probably because I was already irritated. I even tried it for external, labial stimulation & just found it too rough for my tastes.
Now, if you already know you like texture, I think this would be a fabulous toy to try, especially because of the wonderful handle which increases your control! But, if you have a sensitive vagina, or don't know if you do, then I would suggest trying something much less textured, or maybe in a different, more yielding material.
This is so pretty, I have not been able to part with it, even though I have even more glass toys than I show in the picture below.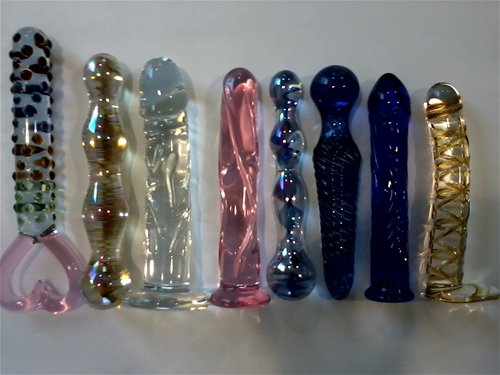 I have found that the selection & affordable prices at Eden Fantasys, makes experimenting possible for me. And I will be honest, even with silicone & other softer materials, nothing is as comfortable for me as glass & I often don't even need lube which is a big plus for me with all my sensitivities to ingredients! I am giving it 4 stars because it is perfect except for being too much texture for me. However, that does not mean it isn't a 5 star toy for someone else; I can only rate based on my experience with it.
Follow-up commentary
2 days after original review
I had never tried any type of textured glass and was under the impression that the bumps on this would be smooth. Well, they were smooth enough to the fingers, but holy bejeezus,they feel more like rough stone pebbles when used vaginally - and I didn't even try thrusting or anal! If you know you like texture, you will hit the mother load with this one! I did later buy and try the
Golden G
(discontinued), and the toy on the far right in the picture above. That was much easier on me despite looking intense. I recommend anyone trying glass for the first time to try various textures before deciding what does, or doesn't, work for them. Until you get familiar with texture on glass, it's pretty hard to estimate based on pictures alone.
P.S. I only did the review recently, but I have had this toy since January. Even though I am doing the follow-up review so soon, it has actually been months.
This content is the opinion of the submitting contributor and is not endorsed by EdenFantasys.com
Thank you for viewing
Rainbow heart
– glass beaded probe review page!